READ IN: Español
The Louvre Museum was the setting for the Louis Vuitton Spring/Summer 2023 collection show designed by the men's team. A tribute to Louis Vuitton, a reinterpretation of the brand's classics and a live performance by Kendrick Lamar with the Marching 100.
Imagination, at the heart of Louis Vuitton, is a visual manifestation of our hopes and ideas, it has the power to heal, regenerate and uplift us. The SS23 menswear collection was conceived and created by Louis Vuitton Studio Prêt-à-Porter Homme: an ever-evolving ecosystem of creative minds, which welcomed Virgil Abloh to the Maison in 2018 and expanded during his eight seasons of artistic direction.
Studio Prêt-à-Porter Homme is a living testament to Virgil Abloh's talent for bringing together the people who populate a creative playground with more than a century of development. At the timeless core of the Studio de Louis Vuitton is the belief that imagination – creation, craftsmanship, showmanship – can move and unite its audiences around the world.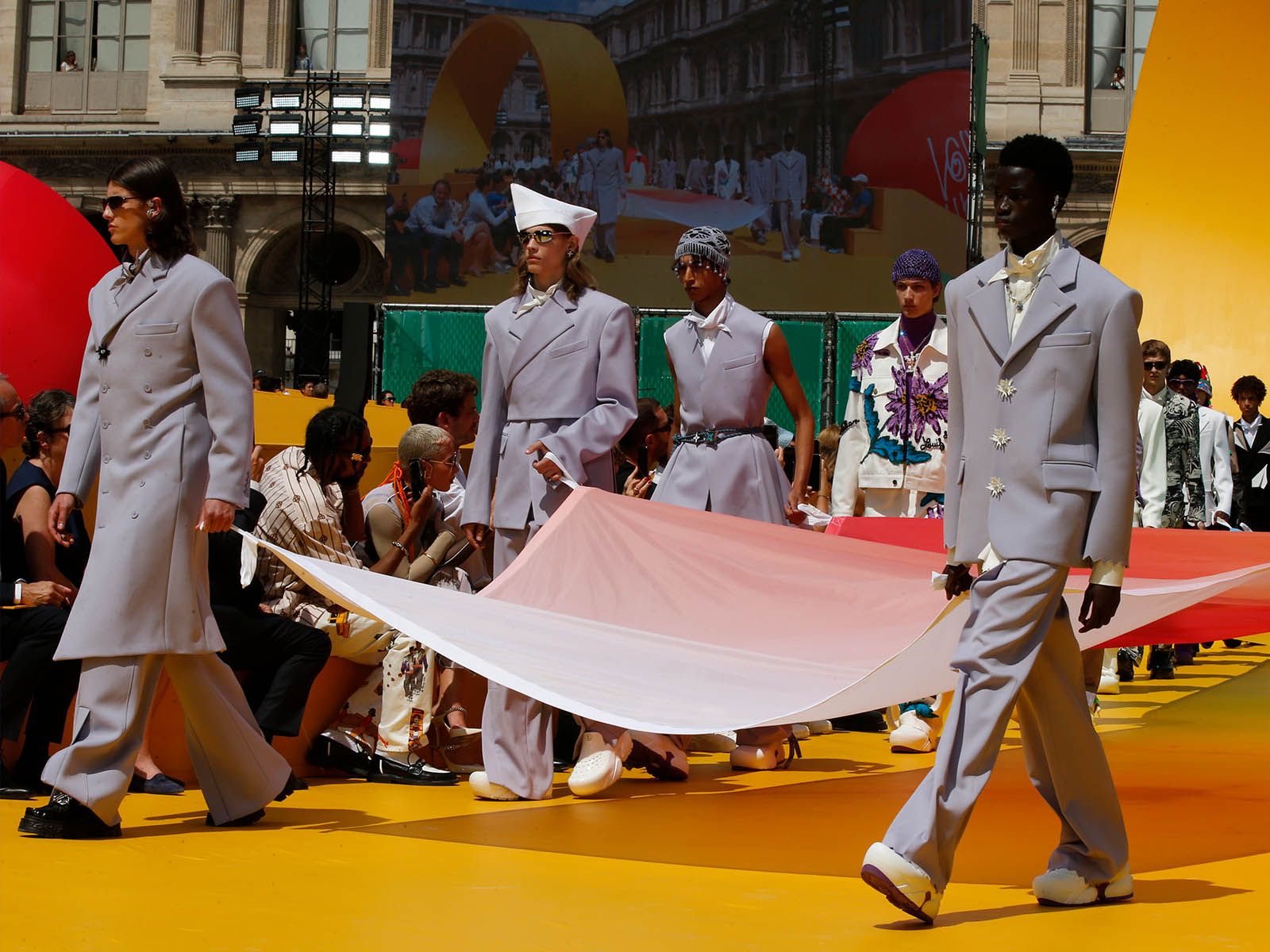 It is the heritage on which Virgil Abloh based his practice at the Maison and the philosophy that continues to drive the Studio Prêt-à-Porter Homme. As a creative community that shared a monumental experience, they approach the SS23 Men's Collection as a cathartic process: a proposal created in the spirit of all the human minds that shape Louis Vuitton.
The event was attended by a host of well-known faces including Justin Timerlake, Jessica Biel, Kendrick Lamar, Tahar Rahim, J Balvin, Omar Sy, Naomi Campbell, Tyga, Edgar Ramirez, Pierre Gasly, Samuel Umtiti, Joel Edgerton, Rauw Alejandro, Bloody Osiris, Dave Omoregie, Russel Westbrook, Victor Cruz, Headie One, Dan Carter, Shai Alexander, Lucas Jagger, Riles, Lucien Clarke, Eddy de Pretto, Lucas Jagger, Sayyid El Alami, Don-Won Gang, Nissy, Mory Sacko, Lil Dre, Ella Emhoff and Jalen Green, among others.
Singing to "Virgil", Kendrick Lamar soon turned the catwalk into a live show that, throughout the show, served to pay tribute to his friend, artist and late Abloh with his songs. An ode to one of the most transcendental people in the fashion industry that we know today. Luckily we were able to enjoy his latest work which was translated by Louis Vuitton's menswear design team for the SS23 season.