READ IN: Español
The firm presented its La Décadence collection in Madrid to coincide with the men's fashion show calendar.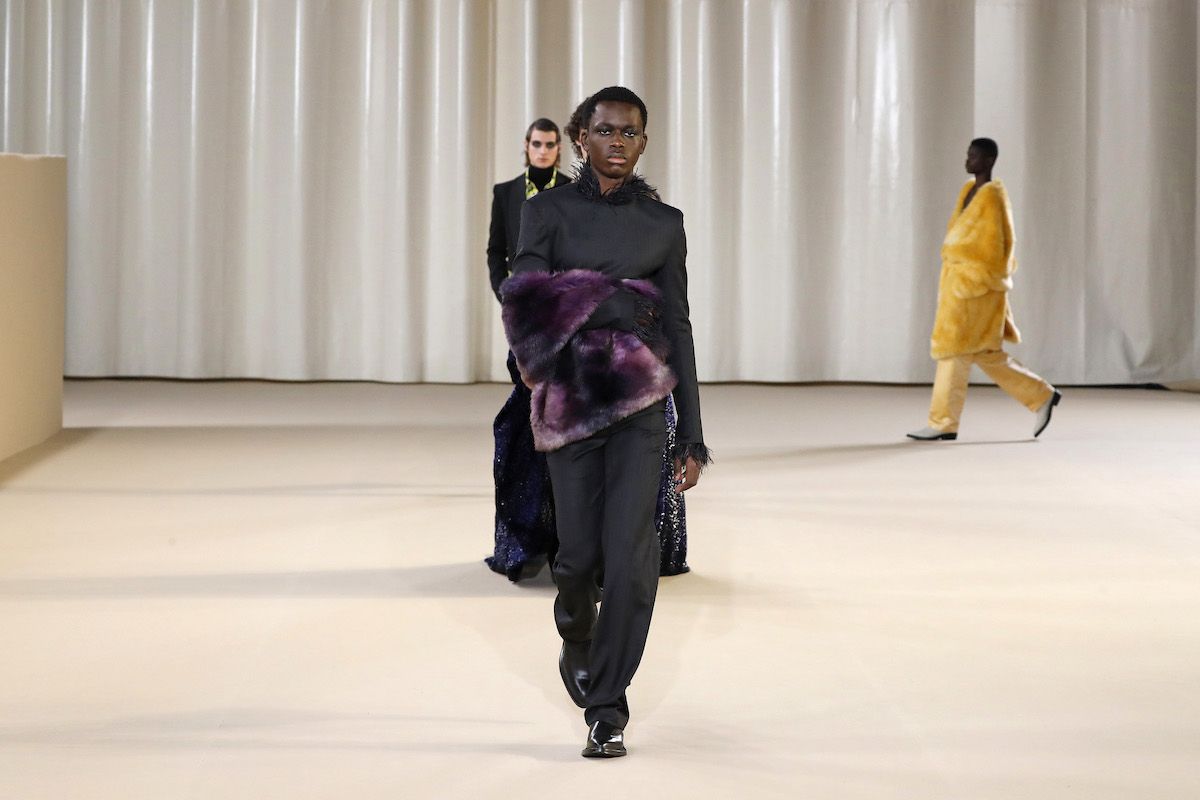 Season after season, whether in large formats or in more intimate spaces, Mans demonstrates his mastery when it comes to revising the limits of traditional tailoring to create garments with unlimited possibilities with a very personal style that breaks with gender conventions.
Avoiding confrontational positions, the designer Jaime Álvarez is committed to surrealist enjoyment in clothing elevated to its maximum volume. Extravagance, luxury and sexual debauchery: La Décadence is a collection based on nostalgia, but also curious about what is to come. The madness of glamour is definitely the answer to an uncertain future and finds its raison d'être in difficult times.
Mans continues with the aim of decontextualising fabrics and bringing them into tailoring. The cuffs of the classic shirt are lengthened with a twin effect without being so, and the collar is enlarged to make way for the tie. Blazers emphasise the waist, some with peak lapels and others with large cuffs on which rest a "classic Mans" with eight buttons like those of the gangsters of the 1920s. The military blazers with a slim-fitting cut and an ill-fitting collar are reminiscent of the charlatan era and reveal the contours of the body. Trousers fuse a modern and classic silhouette with a straight cut that falls from the waist with a large pleat at the front. The fur coats, short or knee-length, have decidedly unconventional bourgeois accents. This striking mix is chic yet warm, protective and comfortable.
The vibrant colours, prints and silk, sequins and even delicate feathers look like something out of a movie. Dandy greys and browns mixed with burgundy, greens and pinks reminiscent of a decadent cabaret. Pleated collars topped with ruffles, puffed sleeves with a batwing effect and teardrop details that expose the skin of the chest. It's all glamorous, seductive and slightly dangerous.
The clean staging underlines the contrast between minimalism and maximalism and in it the models are portrayed as a work of art by Tamara de Lempicka who uses bright and luminous colours to perfume the elegance of the models walking on a beige carpet with the Madrid skyline in the background. A fashion show definitely charged with nocturnal seduction.
In La Décadence there is a touch of romanticism and a strong dose of Velvet Goldmine. Post-punk attitude, raw humour and a belief in the superiority of creativity. A decadent cabaret directed by Jaime Álvarez.