READ IN: Español
Electronic music returns to the capital of techno. The NEOPOP Festival will take place from 10-13 August in Viana do Castelo, Portugal. 

Dancing is the most natural act of collective celebration and, in 2022, NEOPOP Festival wants to do just that. After two years of pandemic restrictions that have forced us to stay still, Portugal's most emblematic electronic music festival returns and does so with a big party. Between 10 and 13 August, NEOPOP Festival will celebrate its 15th anniversary in its birthplace: Viana do Castelo, dancing to the beats of Peggy Gou; Richie Hawtin; Honey Dijon; The Blessed Madonna; Solomun; Cobblestone Jazz live; Amelie Lens; Loco Dice and Dax J, among many other artists.
Many stories and memories have been forged in this location between the Fort of Santiago da Barra and the shipyards at the mouth of the Lima River. And once again, this event will once again position Viana do Castelo as the Capital of Techno. The impressive line-up combines with the historical, gastronomic and natural treasures of this region; known for its strong character shaped by the presence of the mountains and the sea, and adorned with idyllic beaches and breathtaking landscapes.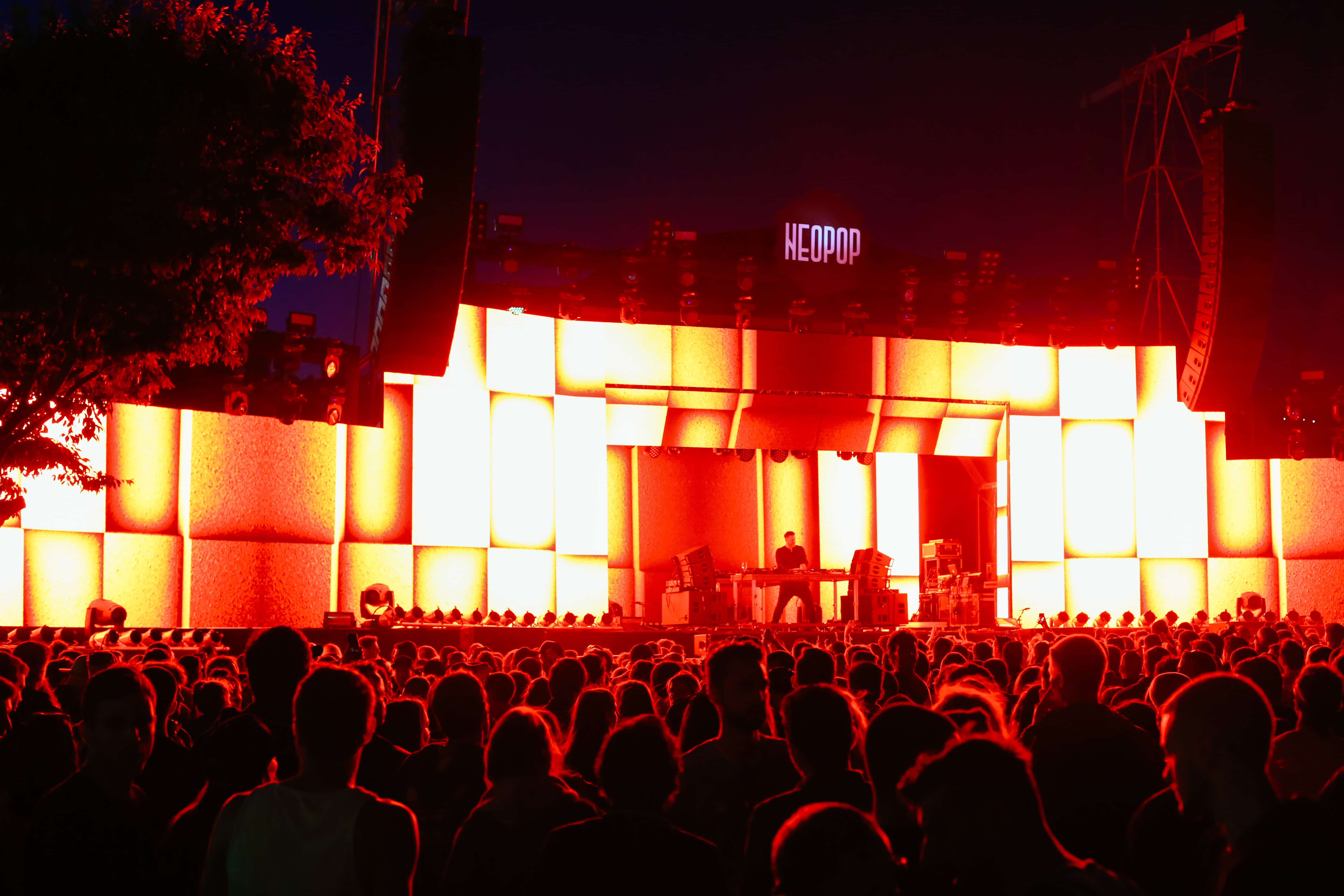 Peggy Gou is an icon of fashion and club culture. Her creative instincts and curiosity could have led her down many paths: designer, pianist, writer or publisher. However, she distilled each of these passions into a celebration of electronic music and alternative culture. A personal vision that has resonated internationally and has helped her become one of the world's leading DJs. She is also the founder of Gudu, a music and fashion label, whose name is inspired by her Korean ancestry. In addition, studying in London and experiencing the Plastic People club during its glory years have made her honour this electronic music heritage and add her own touch to it. He is currently working on his debut LP.
To speak of minimalism is to speak of Richie Hawtin, the pioneer of 90s minimal techno. Always on the cutting edge and exploring the conceptual limits of his aesthetic (take his iconic ENTER experiences for example), this English DJ who grew up in Canada is considered one of the pioneers and leaders of the dance scene. Whether under his own name or his alter egos Plastikman and F.U.S.E, Hawtin's sublime vision has led him to cross over into other artistic fields, collaborating with greats including Anish Kapoor and Italian choreographer Enzo Cosimi. In 2013 he was invited to create a performance at the Guggenheim in New York, a moment he describes as one of the best experiences of his life. Richie Hawtin is the founder of Plus 8, the iconic label that on its 25th anniversary presented 'From My Mind To Yours'; a collection of new tracks produced from various recordings he had been saving over the years.
When it comes to the growth of house culture in Chicago and its expansion to New York, one of the inescapable names is Honey Dijon. Not only has she excelled in the most prestigious underground clubs, but also in fashion, collaborating with Kim Jones of Dior and launching her own label HFD. This connection between fashion and music is central to Dijon's career, yet she has never abandoned her roots in the nightclub scene, playing electrifying sets with great elegance and subtlety.
The Blessed Madonna, a true force of nature, defied convention and broke barriers to become one of the best DJs on the planet. From her residencies with Frankie Knuckles at Chicago's legendary Smartbar, where she was the first female curator; to her appearances at some of the world's biggest festivals including Coachella and Sonar Festival; as well as her remixes for artists such as Robyn, Dua Lipa, Georgia and Tiga; The Blessed Madonna has taken everything and everyone by storm. In 2016 she became the first woman to be voted "DJ of the Year" by the prestigious Mixmag. For her, social struggles are just as important as her music, which is why she flies the flag for LGTBQi causes, the feminist struggle and refugee projects.
For Solomun, music is not just a tool to make people dance, but is as diverse as life itself, with many nuances, moments and memories. Music triggers emotions, and it is exactly at this intersection that Solomun casts his spell during his performances. His 'Solomun +1' residency at Pacha Ibiza began in a very relaxed manner, basically doing whatever he wanted. This included moving the booth to the centre of the club to be closer to the people on the dance floor. It also introduced a concept that in 2013 was unprecedented on the island: a shared night with a single friend. 'Solomun +1′has been a household name for many not only in Ibiza but around the world, from Berlin to New York to Tulum thanks to the launch of 'Solomun +LIVE'. With that same energy in 2006 he launched Diynamic, a label that would become the springboard for many artists' careers.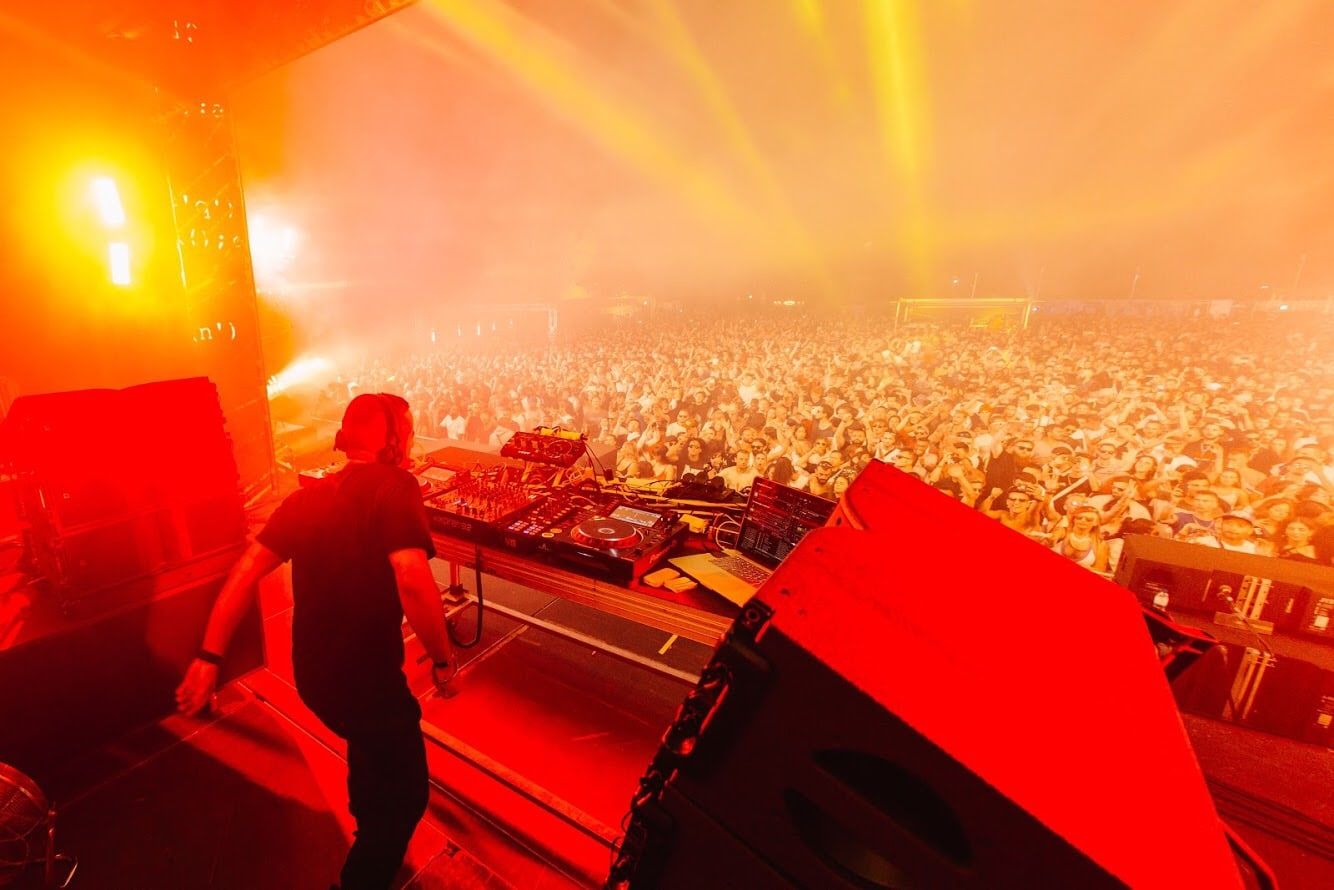 The festival will take place over four nights with renowned names and emerging artists from the national and international electronic music scene. This year NEOPOP Festival will welcome Cobblestone Jazz; the Canadian trio of geniuses Tyger Dhula, Mathew Jonson and Danuel Tate who fuse the principles of improvised jazz with a minimalist aesthetic. After a long hiatus, the three musicians have reunited for a small, select tour and did not want to miss the Portuguese festival.
Belgian DJ and producer Amelie Lens is at the forefront of today's techno scene thanks to her labels Lenske & Exhale Records; the curation of EXHALE parties and her own radio show. He started organising his own parties in Antwerp, playing under various pseudonyms. But his debut came on the Italian Lyasse label, followed by a trio of releases on Pan Pot's Second State that brought him international recognition. Today Amelie is a regular headliner at festivals such as Sonar and Timewarp, and performs up to 6 nights a week at some of the world's best clubs such as Rex, Mondo Disko, fabric and Printwork. Between her residency at Ibiza DC-10 in 2022 and her weekly radio show, available via streaming, Amelie is establishing herself as a reference in the global techno scene.
Loco Dice grew up in Düsseldorf under the influence of funk, soul and hip-hop. In the '90s he toured with Ice Cube and Snoop Dogg. DJing came later in his life, spurred on by names like Timo Maas and Martin Buttrich. His first electronic release was 'Phat Dope Shit' in 2002. Since then he hasn't stopped with collaborations with artists such as Disclosure, Moby, Basement Jaxx or Mousse T.
England's Dax J has gone from pirate radio to the covers and polls of the most prestigious magazines. It has been his raw, uncompromising techno style that has brought him substantial growth and notoriety. He is a regular headliner at the best events and parties. In fact, he has been the star of several epic performances such as a 10-hour set at Berghain, the world's most prestigious techno club, in Berlin.
Also confirmed are DJ and producer Ricardo Villalobos, one of the most important names in minimal techno; Adiel with his hypnotic sets; the unpredictable duo 999999999 [live]; the erratic Héctor Oaks; the overwhelmingly energetic Anastasia Kristensen and many more.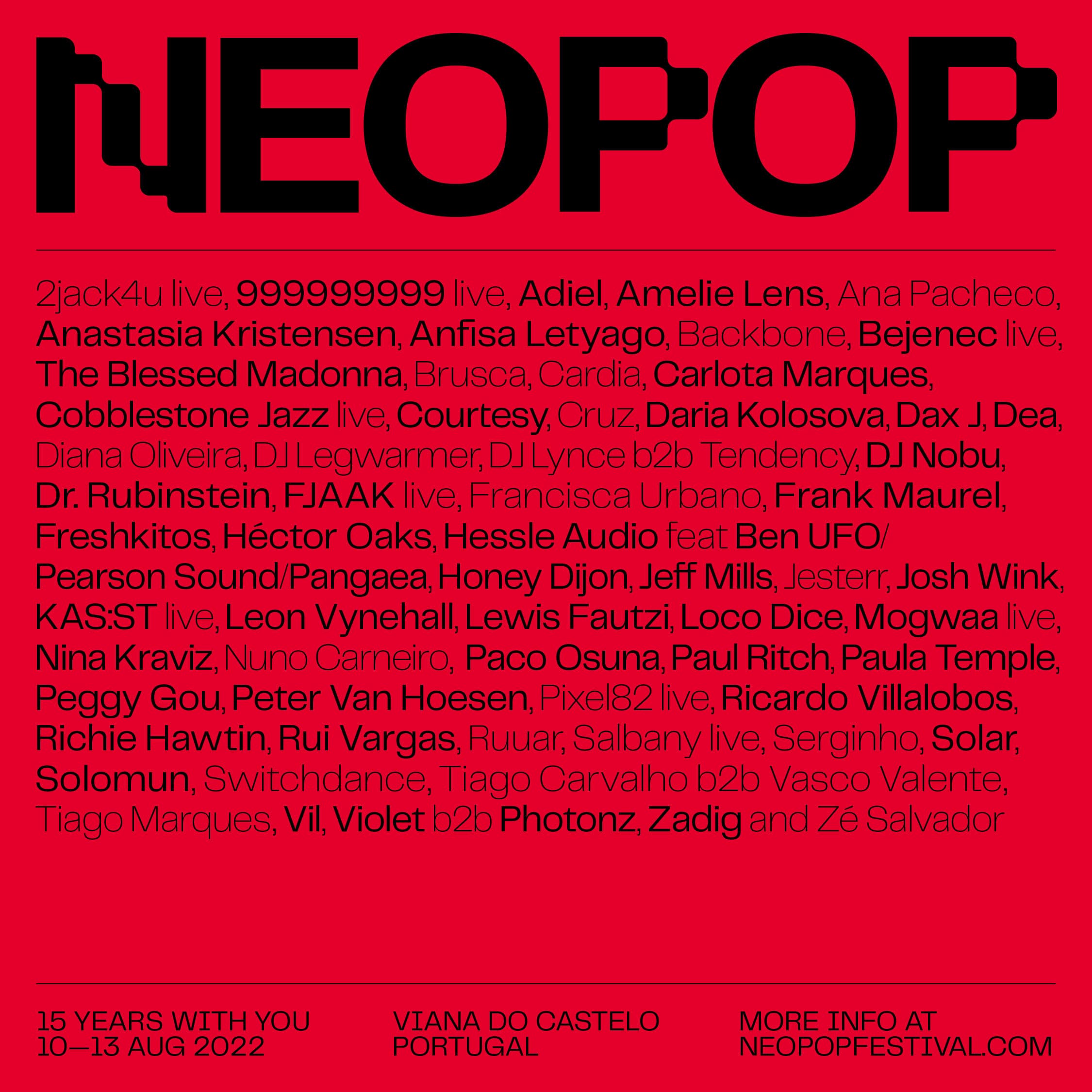 The full line-up for NEOPOP Festival 2022 can be found on the festival's own website, where four-day tickets are already on sale at a price of €105. Tickets purchased for 2020 and 2021 are valid for this edition.