READ IN: Español
It's obvious that this year is Rosalía's year. We've seen her performing in NY in a sold out function, winning her first Latin Grammys, making history at Coachella and recently killing it in the legendary Glastonbury. There's no stage she is not conquering.
In the process of creating her glowing persona and going hand to hand with names like J Balvin (@jbalvin) or James Blake, her booming career is proving her ability to make hits in any style he decides to sing in. From deep flamenco tunes, to reggaeton and trap, her portfolio is never not growing.
In today's El País printed edition was possible to see an advert announcing her new production where you could read in capitals "FUCKING MONEY MAN" and the release time.
Today she just dropped her new song and video called "Fucking Money Man" +"DIO$ NO$ LIBR€ D€L DIN€RO", resulting in an amusing fusion of teenage pop and rumba from the first track, and the elegance of the second one where she performs with a lyric approach, showing once again the exquisite of the Spanish singer's voice.
The particular feature of this new production is that Rosalía is back to her roots, bringing back the times when she used to sing in Catalonian. "Fucking Money Man" shows her in a TV show scenario, overcoming funny challenges alongside the TV host, being the 100€ bills a main character in both this first part of the video, and the second one, where the green European notes rain over Rosalía while she's singing in a black and gold look with PVC boots and Moschino belt and bracelets.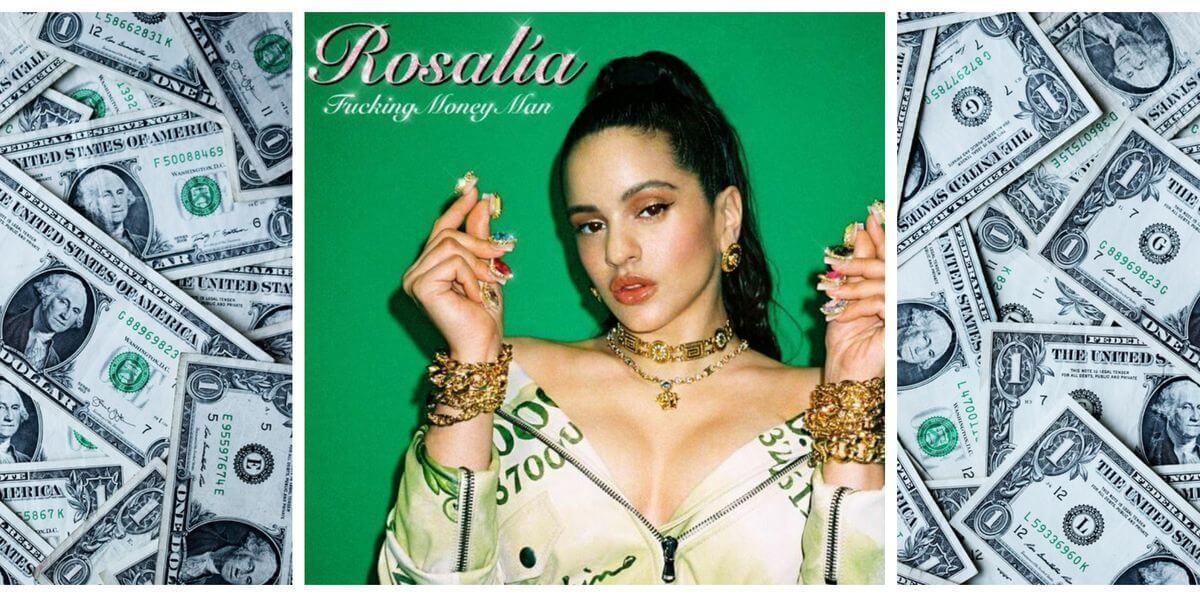 La Rosalía (@rosalia.vt) never gets tired of being in the hotspot.
It looks like she is developing a passion for stashing too. Tra tra!