READ IN: Español
Javier Rodriguez of Always Grateful Tattoo, one of the most established tattoo artists on the international scene, tells us first-hand about his concept of this artistic discipline as well as his plans for the future and his recent arrival in the capital.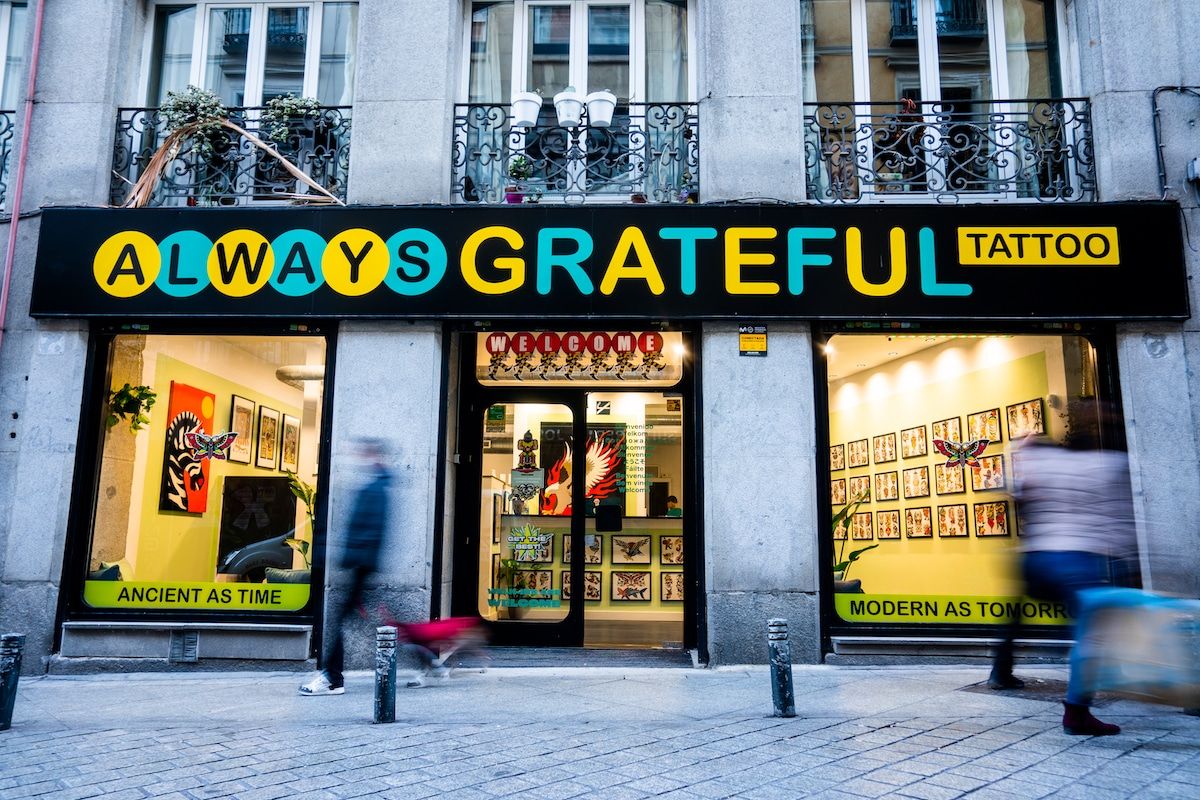 HIGHXTAR (H) – Seventeen years in Barcelona, in one of the best known studios in the world? Why did you create Always Grateful here in Madrid?  
Javier Rodríguez (JR) – Well, starting from the fact that Madrid is my city, I always wanted to return, and thanks to the determination and help of a friend of mine, I saw the opportunity to form something new. I think Madrid is a good location. It seems to me to be a very powerful city artistically and in constant trend.
(H) – How is it being received in the city?
(JR) – It's been good, considering that all start-ups are hard and the current moment doesn't help. But thanks to the support and encouragement of my colleagues and friends from other sectors, everything is going better than expected.
(H) – You have become one of the most important tattoo artists in the world… How did you get here? How do you gain respect in the world of ink?
(JR) –The tattoo world has evolved a lot. It used to be very different in terms of tattoo culture. It wasn't as accessible as it is today, there wasn't as much consumption and there weren't as many references as there are today. You tried to find your own way, yourself, your identity, your style or however you want to define it.
I would highlight that one of the reasons that has made me grow in my career or trajectory is travelling and being able to meet and, at the same time, work in different places with different people of all styles. Examples include Sang Bleu London, Smith Street Tattoo in Brooklyn, Temple Tattoo in Oakland, Three Tides Tattoo in Osaka, Japan… among others. Working with people like Bert Krak, Maxime Buchi, Freddy Corbin… for me it's a source of inspiration.
(H) – What do you like most about your job, and do you still have dreams to fulfil in this profession?
(JR) – I like everything about my job: dealing with clients, working on the designs, the visits…. I like everything related to tattooing. I feel very grateful. Every day I tattoo is a dream.
(H) – You've tapped some very well known people. From Action Bronson to Messi… Any anecdote that we can know? What has been your biggest goal as a tattoo artist?
(JR) – I've been very lucky when it comes to tattooing people who come from different backgrounds, but in the end I'm grateful that they choose you as their tattoo artist.
I was tattooing Dani Alves' hands when he told me that Messi wanted to get a tattoo. Even though he's a Madrid man, it's an honour to tattoo one of the most famous legs in the world.
Tattooing Action Bronson was a blast. He's a very easy person to connect with and he's always joking around, which makes your work more enjoyable and fun.
My ultimate goal is to be able to continue to do so for many years to come.
(H) – Always Grateful is your creative project… Where does the barrier break between a tattoo studio and a creative brand like for example Sang Bleu and now yours? Plans for clothing, watches, etc. in the future?
(JR) – I think that nowadays for me there is no barrier as such, between tattooing and music, art or fashion, as the tattoo world has grown and evolved a lot and it is easy to find tattoo stuff on clothes for example and vice versa.
When Sang Bleu was born it was something that was unheard of in the tattoo world because of the mix he did, he fused music, fashion and tattooing. He put it all in the same context.
I think that tattooing is such a global artistic act nowadays that anything can be a tattoo, and tattooing can become anything.
We are currently working on different designs with Always Grateful and have a few collaborations in the works. Watches? I would love to work with Swatch. The first watch I had as a child and I think any kind of design looks great on it.
Lately I've been working on larger paintings, I'd like to go deeper into that underworld.
(H) – If you had to describe Always Grateful, how would you do it?
(JR) –When I opened the studio I wanted to take into account everything I have learned over the years tattooing and travelling. I wanted it to be a studio that breathed tattooing above all else. I was always attracted to the idea of old flash studios, with so many designs that leave you no room for imagination.
With the appearance and meaning of Always Grateful I would like to refer to those old studios full of tattoo designs, but with a fresher and more colourful touch. An open space where you feel comfortable to come and get tattooed, see the designs or come and talk to us about any of your ideas.
(H) – At what age did you get your first tattoo?
(JR) –At the age of 18, in Triburbana in the back room with a tattoo artist called Juanma lying on a sofa. The beginnings were difficult, not bad, but difficult.
(H) – Barcelona and Madrid are cities in your long career… In which city in the world is the tattoo school more solid or is the idea of wearing tattoos more normalised?
(JR) –  Of course New York. I start from the Punk&Hardcore scene. When you're a kid and you buy your first records, you freak out when you see the covers with all those tattoos: Agnostic Front, Madball… and many others.
When I had the opportunity to work there, first at New York Adorned and finally at Smith Street, you realise the potential and how ingrained tattooing is in that city and the people there, it has so much strength.
(H) – Face tattoos… Yes or no?
(JR) – Of course you can, as long as you know what you're doing. Face tattoos have been around forever, the only important thing is to be consistent when it comes to getting them.
(H) – You have opened in the centre of Madrid, do you want to be a meeting point?
(JR) – Yes, I'd like to see different personalities come together here in the end.
(H) – You love fashion and we know you love Rick Owens… (just kidding). Your favourite clothing brands and a single sneaker?
(JR) – Rick Owens is not exactly my favourite. On that level, Prada of course. My favourite brand above all others is Acne Studios. Carhartt in basics is perfect.
As for sneakers, it's a close debate between the 97 and the 93. I think I'll go with the Air Max 93.
(H) – Plans for the first months of the year… Any celebrities about to get a tattoo? (Only if you can say so)
(JR) – Finish settling in Madrid and start with the parallel clothing project I told you about before. All this added to the publication of my flash book and to continue painting.
ALWAYS GRATEFUL TATOO
C/ Espoz y Mina, 13
MADRID