READ IN: Español
María Becerra is one of the urban pop artists with one of the most prolific careers in the current scene. The singer is within the list of most listened Argentine artists on Spotify and has collaborated with the greatest at the international level: J Balvin, Becky G, Bad Gyal… Now, she has made her debut with the Spanish public. We talked to her about her sensations after her first tour.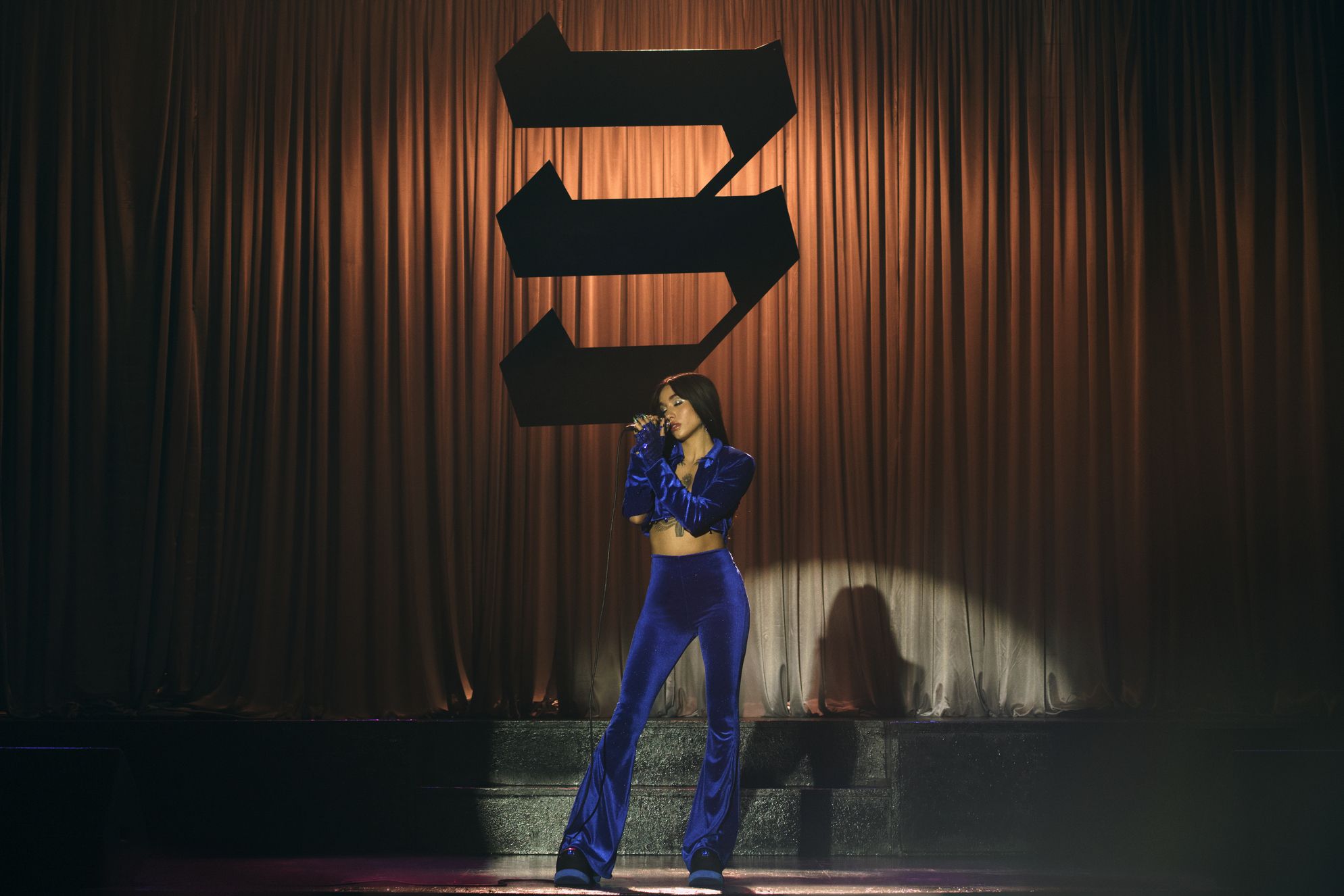 Highxtar (H) – First album & first tour, what has it been like to make your debut with the Spanish public?
María Becerra (M.B) – At the time I was very nervous. I am used to the Argentinean public and more than fans, they are more like hooligans. There really is a lot of euphoria. I have always been told by colleagues that the difference is noticeable, not for bad or for good, but it is noticeable. You also have to understand that they are different types of cultures and everything. So yes, I was nervous because sometimes I am not very aware of how many people listen to me in each country.
(H) –Tell us a little bit about the album, how was the process, the inspirations…
(M.B) –  I think the inspirations for the album were mainly my new stage, my new life. I feel that since certain things happened to me, both on a personal and work level, my way of being has changed a lot. I feel that I am much more self-confident, my self-esteem is higher, a lot of self-esteem, more empowered…. Before, I was in a comfort zone, and I delegated a lot, I was not aware of some things. Now I am more conscious, I have more control. Actually, everything comes with growing and evolving in the end. I feel that I am a more mature woman in many aspects, and that is reflected in the album. There is a change in my image, in my clothes, in how I compose etc. There is a growth in all aspects and that is what people can see.
(H) – What is the most positive thing that Animal has brought you? And the negative?
(M.B) – In terms of positive, a lot of things, from experimenting with a lot of genres, to having my first album with a total concept, a complete relationship between everything?
The bad thing, which I don't know if the album really brought it to me, is that I wanted to do it very fast, although in the end it took a year to do it. I feel that I was anxious to get it out and maybe I didn't give the time it deserved. But everything is experience in the end. In "La Nena de Argentina", the next album, that has not happened, so I am very proud of that.
(H) –  Precisely in the song with Cazzu you say that "you don't want a pacifier who wears Dolce, you want someone who knows how to combine". At what point is Maria's relationship with fashion?
(M.B) – The truth is that I don't have much idea, I would like to have more. In fact, I've already talked to my stylist. I want us to start going to more fashion shows, so that my eye can sharpen and have more criteria. I am much more involved now. In "La Nena de Argentina" the aesthetics is very fine, and we think about everything, from materials to colors. Everything has to make sense. We use ecological leather, Chaqueño cotton… so we experiment with materials that are not cruel to animals or the environment. All in all, learning a lot.
(H) – How did you suddenly become a singer when you were a YouTuber?
(M.B) –  Actually, I've always been a singer, it was my lifelong dream, since I was very young. In fact, the other day my sister sent me a photo and told me: "Look, your diary when you were 12". In the photo, I had written down "Goals for my life: to succeed with the best in music, to be the best singer in the world, to fill a Luna Park…". Those were the goals of my life but at 18 I made the decision to make them happen and try. I came from Youtube, and also I already had a super loyal audience who liked my covers. That also made it easier.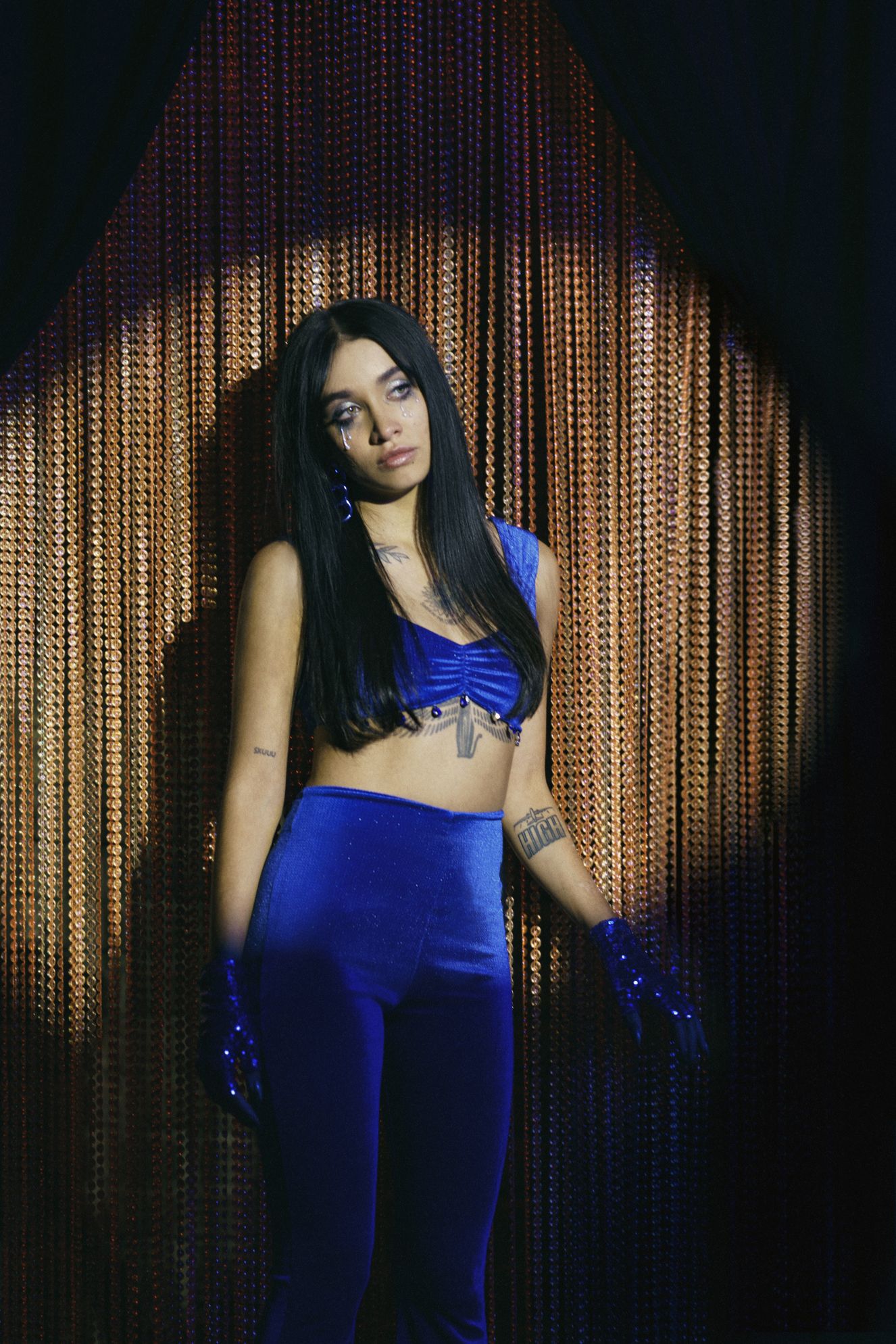 (H) – Nowadays men are still the most successful in the music industry, but there are more and more women in the top positions. In the list of the 20 most listened Argentinean artists on Spotify, 15 are male and 5 are female . What is it like to share this piece of the cake with greats like Nathy Peluso?
(M.B) – The truth is that I feel very proud that there are more and more women both in the industry and leading charts, both nationally and globally. It's tremendous what is happening with Latinas, and to see all that is being achieved. It's a tremendous pride that suddenly the leaders of the movement are women like Karol G or Natti Natasha, and I'm happy that they are colleagues.

(H) –Although you have collaborated with artists like J Balvin, you collaborate with many female colleagues. Does it come naturally or do you like working with women because of the message that is sent to the world?
(M.B) –Both. There are things that suddenly come out more business, because well, obviously it's work and there are a lot of people behind. Sometimes the proposal comes out colder, more through the teams. I don't know who's manager talks to you, and if you like it you record your part. Sometimes I would like the deal to be closer, which in many cases it ends up being something more personal.
Anyway, I don't want anyone to be my friend, or to get along forcibly, and that everything comes naturally. Sometimes you do the song and you don't talk again, but respect and admiration is always there and it is a work that we both defend.
(H) – In Spain, you can imagine that, being a national artist, we are dying for Bad Gyal. What has it been like working with her on BOBO?
(M.B) – I adore Bad Gyal, the truth is that I've admired her since I was 19. She was one of the first women I heard in the urban genre, and also the first Spanish woman. She's a flash, I think she's very tough. I feel she has a unique way of composing, of saying things… and love that she kicks it so much and she does it in a very fine way, you understand, very fine bitch (she laughs). I think only her has that style, and only she can do it that way, at least for the moment. In BOBO we had very good chemistry, very good relationship. From the beginning she was, as you say here, "muy maja", and when I came to Barcelona we agreed to do a session. It was pure chemistry; she is super respectful and the truth is that a divine song came out. 
(H) – Are you already used to the fame or will it take you 5 more albums to get used to it?
(M.B) – I feel I'm quite used to it. There are things that haven't happened to me yet, like being followed by paparazzi, or suddenly being on a boat with friends and being photographed, which I've seen happen to a lot of artists. Luckily I haven't had my privacy broken into so much, and there are things that haven't happened to me. I can't say I'm completely used to it, but I am used to some of the things.
(H) – What does María Becerra miss the most from when she was not known?
(M.B) – Being anonymous. Being freer to say what one thinks. Inevitably, as I am a public figure, there are people who follow you in everything you think, as if it was the holy word. There is a great responsibility when it comes to communicating.
That everything I say or think doesn't have so many consequences, that I didn't ask for, that's what I miss.
(H) – What did you enjoy the most in Spain during your days on tour?
(M.B) – I had time to get to know Barcelona a little bit, and I was in the coves of the coast. I was in Roses, Cadaqués and I was fascinated. I really liked the tranquility there. Here in Spain I go out and I can be very calm, so I had a great disconnection.
Photos: Courtesy of UMO Agency