READ IN: Español
YENDRY is the new promising voice on the scene. Dominican Republic-born singer and songwriter is releasing her debut album with RCA Records and Sony Music Latin. The artist gives us a few minutes in the middle of the recording of her album, which is very close to its release.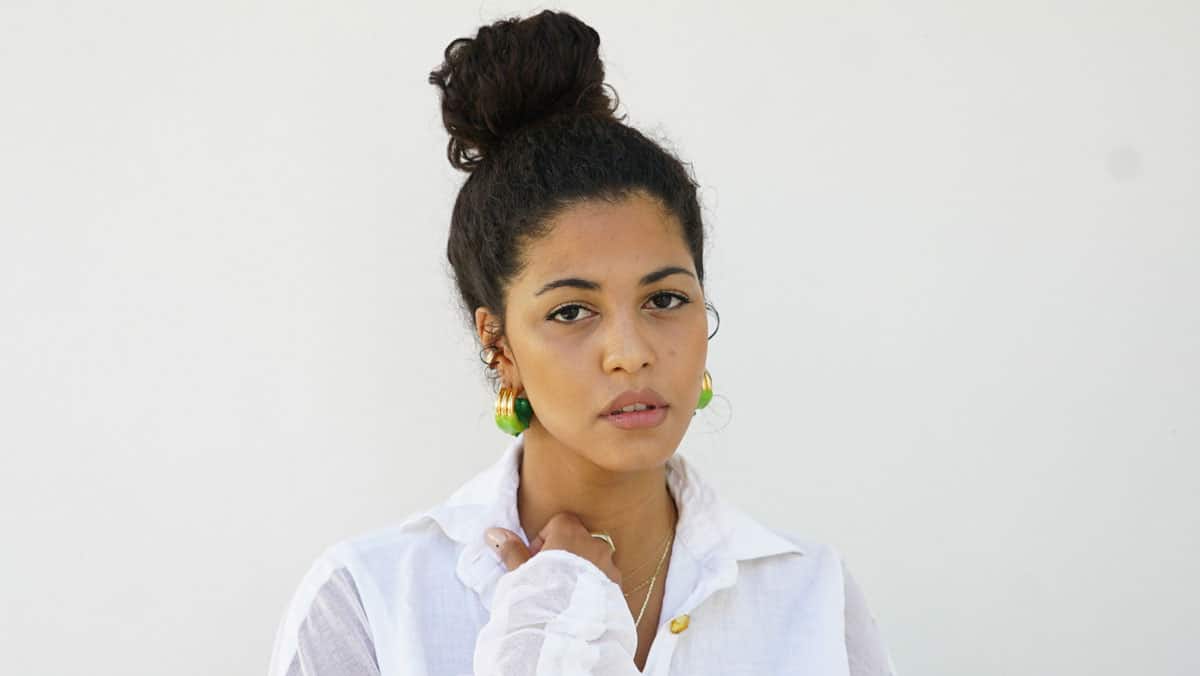 Yendry moved to Italy when she was 4 years old. At 18 she participated in Factor X Italia and it was there that she became known. Despite a year's hiatus due to problems in her vocal cords, the artist launched her solo career and today seems to have become one of the most promising voices coming out of the Dominican Republic.
We chatted with her to find out how the album is coming along and how she sees her future in music after her debut project.
Highxtar (H) – How is the album going, do you have a lot left or is it almost there?

Yendry (Y)– Almost, almost. But you know the more time you have the more you record and more. You always want to change something. You are never happy with what you have. I would say I almost have it, but you never know…. I'm sure I'll get a song out sooner. I'm still working on the video and everything, So I still don't know when the complete work is going to come out, but I can't wait.
H -In many interviews you have said that you were a little reluctant to make an album because you didn't know if young people would accept it very well, now music is consumed very quickly. Has it happened to you that as you have been working on it, you have been losing that fear or do you still have that insecurity in that sense?
Y– I think fear is almost gone. I still think that the new generation is not used to listening to something so extensive, but I also think that since I am very versatile and I like to experiment a lot, I think that an album can let the public get to know me better. By just putting out songs that are so different from each other…people might be confused.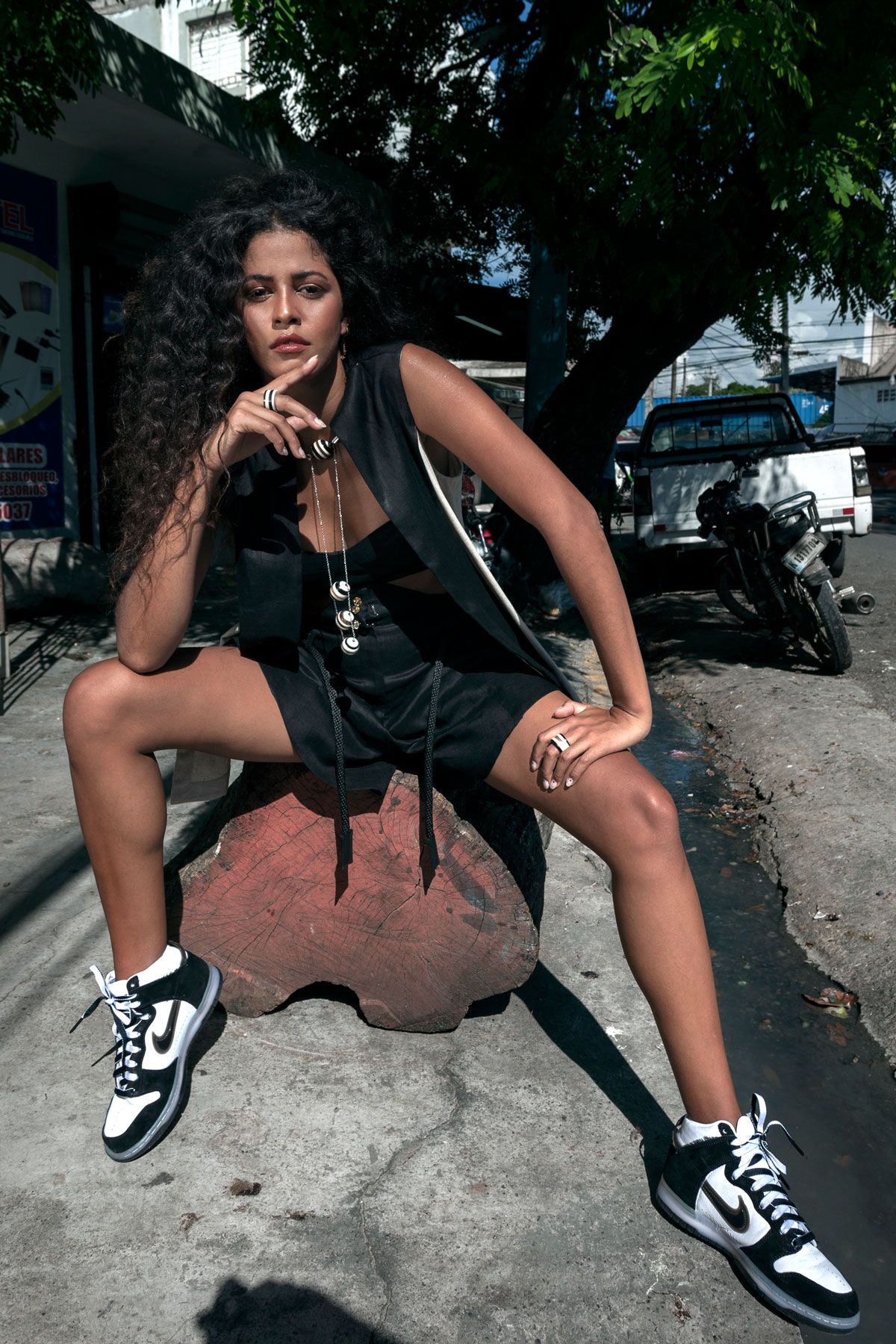 H – Do you want to try several genres or do you feel more comfortable in one in particular? In R&B, with Latin rhythms, since you are Latin…
Y– I think my voice is very melodic, so my music has to be very melodic. In the end that's what I have as an influence from all the music I listen to. But I also want it to be accessible, because I listen to a lot of weird music, which I realize may not be very accessible. For example, my cousins don't understand it and don't listen to it. Sometimes it's very difficult music to listen to. As I am a musician, I stop to listen to this kind of music, but there are many people who don't, so I would like my music to be accessible to people.
I am experimenting with Latin rhythms and sounds, and when I say Latin sound, I mean salsa, bachata, merengue, because there is much more than reggaeton. What I didn't want from the beginning was to be pigeonholed in reggaeton for the simple fact of being a Latin woman.
It seems that urban music is just that, but in truth there is much more and thank God the new generation is experimenting a lot. There are a lot of interesting things now… 
H – Nowadays thanks to the Internet, even you as artists can also experiment in that sense, knowing that people are going to listen to different things.
Y– Exactly.
H – And now that you are signed to Sony Latino and RCA, how is it going, do you feel you have to live up to certain expectations or do you think being signed will give you more freedom when it comes to creating?
Y– I think I have more possibilities for sure. I know it's awful to say, but sometimes when you say you're with a label it seems easier to get a lot of people to collaborate with you. It has nothing to do with the label, even if I don't get signed, I always want to do better, that desire to do better, to do more. I am a hard worker, the expectations are what I set for myself.
H – Was it a long process to choose with whom you wanted to sign or was it an easy decision?
Y– It has been a long process, because you really talk to many people, with many different labels, some are independent, others are big. And the truth is that I was also afraid of signing with a label, because sometimes if you don't already have a vision, they can influence you too much. I signed with RCA because when I talked to them, it seemed to me that they are the ones that give more importance to the music than anything else. So I'm quite happy.
H –Do you feel that you have to work harder – we are precisely today on Women's Day- or show twice as much because you are a woman, or do you think that the road has been easy?
Y– So far it hasn't happened to me. I can't say that I had any ugly experience, not even in the studio. Sometimes I don't know if it's because I already have a clear vision and I know well what I don't want to do, what is not part of my project, etc…. But I do feel that there is a prejudice anyways. When you talk about female artists, there is always a prejudice and you always have to think about it a little more. I mean, not to work more, because I think this work is super, super, super difficult for anyone, man or woman, but I think… and also now there are many female artists who opened the door for us. But sometimes, sometimes you have to think twice: how you dress, how you present yourself… not because you have limits, but because sometimes there are prejudices.  Over the years I have learned not to give much importance to what people say. I do what comes from my heart and what I feel comfortable with. Also in the dressing room. I dress the way I want.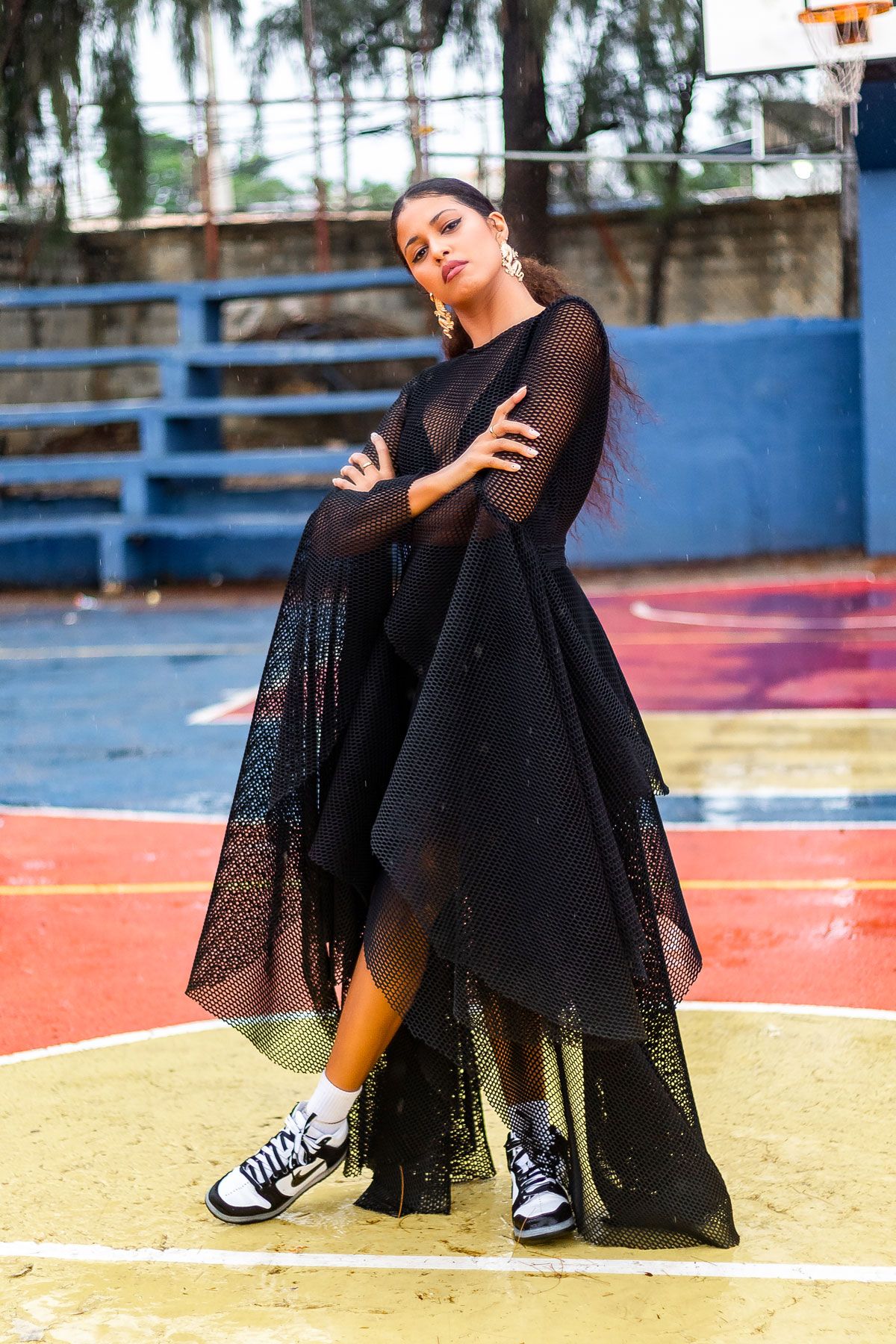 H – Normally, when you choose your looks, do you always choose it with the opinion of professionals or do you always have a clear idea of the image you want to give and then the creatives work from there?

Y– So far I've always dressed myself, even in my videos. The video of "El diablo" is more fashion, the stylist is a friend of mine who helped me develop my vision. In the end the wardrobe always comes from me because I have to be comfortable. Being a Latina woman sometimes people think you want to wear heels or dresses… They always tend to give you the diva image, don't they? JLo, Beyoncé? I don't like girly dresses very much…. I dress very comfortable, come on, like a man. Sometimes it's hard for me to find a stylist who understands my style, but now I'm starting to work with more people. I'm working here in Miami with a stylist, her name is Norma Castro and she usually dresses for example Nicky Jam, Sech… She dresses men! She already understands me…
By traveling I will meet more people. I think my style will grow little by little.
H – I wanted to ask you about Factor X. Here in Spain, the artists who come out of programs like OT or Factor X usually renege a lot about their time in those programs. You came out of Factor X Italy, has your experience in the contest been more positive than negative, or do you see it as something rather anecdotal?
Y– Well, what I can really tell you is my personal story and my experience. I went when I was very young. I still didn't know that I really wanted to sing, I did it as a game and then it was like a 50/50. It was really nice because of course, I met a lot of amazing people and amazing musicians that helped me on that path. It made me see more or less the rhythm of life and work behind all this. It helped me a lot professionally.
I also think, and I tell all the guys who ask me, that first you have to develop your own identity. You have to understand well what you want to do, how you want to develop your project, what music you like? Because then they can't influence that vision. Sometimes they give people an image that is not what you are because you are 18 years old and you still don't know what you like or how you want to present yourself to the world. So that's what happened to me.  I was not ready at that time. My voice wasn't ready, I had two knots in my vocal cords… For a year I didn't sing, I didn't speak much or did exercises to breathe and learn how to breathe. 
So I would say yes, it's very nice but you have to think about it very well. There are people who at 16 already know very well where they want to go and what they want to do. At 18 I still don't… I also did it in Italy and I never wanted to sing in Italian. If you're going to do something like that in Italy and you win, you're screwed because you're going to sing in Italian. And that's what I didn't want to do. 
H – So, after X Factor, when the whole vocal cords thing was solved, did you start training musically?
Y–  After Factor X I went to the University of Philosophy for a year and I also worked in a bar. Besides, I played with my band, with my Jazz band and my experimental electronic music band. I was doing too many things, I didn't have the money to study music, which is what I wanted to do. I never studied, but kind of having been in these two bands gave me the experience to now do what I'm doing.
I am very grateful and sometimes I feel sorry for not being able to study and I think that when I can I will start studying, because sometimes that gives you confidence, right? Now I sing, right now I sing and there are people who also tell me producers that I have very good voice control, but I don't know what I'm doing, I do it naturally.
H – Did you always know that you were going to sing solo, even though you belonged to a band, like "Materianera"?
Y– I always wanted to do something alone, but I also liked playing with my band. The thing is that I realized that when you are in a band, the music doesn't always reflect who you are. But because of course, it's three different people sharing their vision. I also realized that they did it as a hobby and I wanted to do it as a job.
But come on, they are like my brothers, I talked to them and that's it. They told me "look, if you want to do it, you have to do it now, so don't worry about it". They are very supportive and I decided to start on my own.
H – In your song "Se acabó" and in the documentary you made in Santo Domingo, your hometown, you went back to your roots, what was it like to come back, spend time and record in the land where you were born?
Y– It was… I don't know… very exciting. Before, every time I came back I stayed at my grandmother's or my aunts' house. And I was always with my people, right? I didn't have my music out yet back then…. I still didn't realize what my roots were, for me it was something ordinary.
Now it's different because I came back with my music and the video of the last song was recorded there in my neighborhood, and I saw the love from all the people, from all the neighbors… everybody helped me with the video. They prepared food, and my cousin helped me also with the costumes and everything was amazing.
I realized how much love you have from a community. In Italy it's all colder. Although I have always been the Dominican in my neighborhood in Italy. So when I am in my neighborhood there I know everyone and I greet them in the street, but it is not like in Santo Domingo. In Santo Domingo I feel the community and the love.
H – We also saw your mother and grandmother in the documentary talking about you. I see that you have a very close relationship with all the women in your family. How is the relationship both with your mother? What is it like to be surrounded by women?
Y– I think with my mom now it's like we are friends. She was 24 years old when I was born, so she was very young, a single woman, and she was always taking care of me alone. So I think that relationship is stronger just because of that, because when she left me and went to Italy to look for a better life for all of us, she didn't say anything to me. She told me "see you tomorrow" and she left on a plane to Italy!
Then I got sick and kind of ate but my body didn't want to work. After a year she came back and we went all the way to Italy together. She gave me a lot of responsibilities since I was little, but not because she wanted to, but because it was just the two of us. We almost grew up together.
 She always gave me that sense of empowerment. She always gave me advice that right now I am very grateful for and I try at the same time to pass this advice on to my cousins. "No one can tell you how to dress, your dreams are not too big," and to study and to keep them informed of what's going on. I mean, I always try to pass this on to them, because I believe that the little ones are the key, in the end they are the future.
H – You've been asked a lot of times what your influences are, but I would like to know which artists you see yourself collaborating with or which ones you would like to collaborate with. 
Y– I love Frank Ocean, he's like my dream, but I'm also a huge fan of Nathy Peluso. I've been following her for years, she sings and empowers people, I love it. I also like C. Tangana a lot. I love what he is doing in music because he is not really giving much importance to the commercial music.
H – What's the first thing you hope to do when this whole COVID thing is over?
Y–A concert! And I really need it. I miss singing in the crowd, the energy it gives me is different. I've been doing digital platforms but it's not the same. The energy you get and the live music is different. I can't wait to perform on stage. And visiting my family, of course.
FOTOGRAPHY: uMO AGENCY