Que mejor manera de empezar la semana que con un nuevo HIGHCHART. Esta vez nuestro protagonista es el productor venezolano Cardopusher.
We start the week with a new HIGHCHART. This time our protagonist is the Venezuelan producer Cardopusher.
Afincado en la ciudad condal, Cardopusher nos gusta por su capacidad para crear cosas nuevas y desafiar la escena nacional de una manera extraordinaria. Desde nuestro punto de vista estamos ante uno, por no decir el mejor, de los productores de música electrónica de nuestro país.
Settled in Barcelona, Cardopusher likes us for his ability to create new sounds and challenge the national scene in an extraordinary way. From our point of view we are facing one, if not the best, of the electronic music producers of our country.
Abriéndose camino a través de sellos respetados como Hyperdub, DVA Music, Tigerbeat6, Zodiac 44 o Zone… Ha terminado por afianzar su sonido acid y agresivo en el sello de Alex Ridha, Boys Noize.
He developed his career through respected labels such as Hyperdub, DVA Music, Tigerbeat6, Zodiac 44 or Zone … He has finally secured his acid and aggressive sound on Alex Ridha's label, Boys Noize .
A lo largo de su carrera ha conseguido crear auténticos rompepistas que son un must para todos los amantes del techno, acid o breakcore. Ya sea como remix o producción propia, lo cierto, es que Luis Garbán (Cardopusher) sabe dar en la tecla exacta para convertirlo en algo especial.
Throughout his career he has managed to create true masterpieces that are a must for all lovers of techno, acid or breakcore. Whether as remix or own production, the truth is that Luis Garbán (Cardopusher) knows how to give the exact key to make it something special.


#mustlisten
Nos encanta todo lo que ha publicado… Aunque sentimos predilección por sus dos últimos LPs "Manipulator" y "New Cult Fear" publicado el pasado día 14 de Julio. Ambos discos han sido publicados bajo el paraguas de Boys Noize Records.
We love everything he does but especially his two latest LPs "Manipulator" and "New Cult Fear" released on the 14th. Both albums have been published with Boys Noize Records.
Además de producir, Cardo también ha creado su propio sello junto al también productor y amigo Nehuen. Bajo el nombre de Classicworks lanzan sus apuestas personales además de producciones propias.
In addition to producing, Cardopusher has also created his own label along with also producer Nehuen. Under the name of Classicworks they are publishing their personal bets as well as their own productions.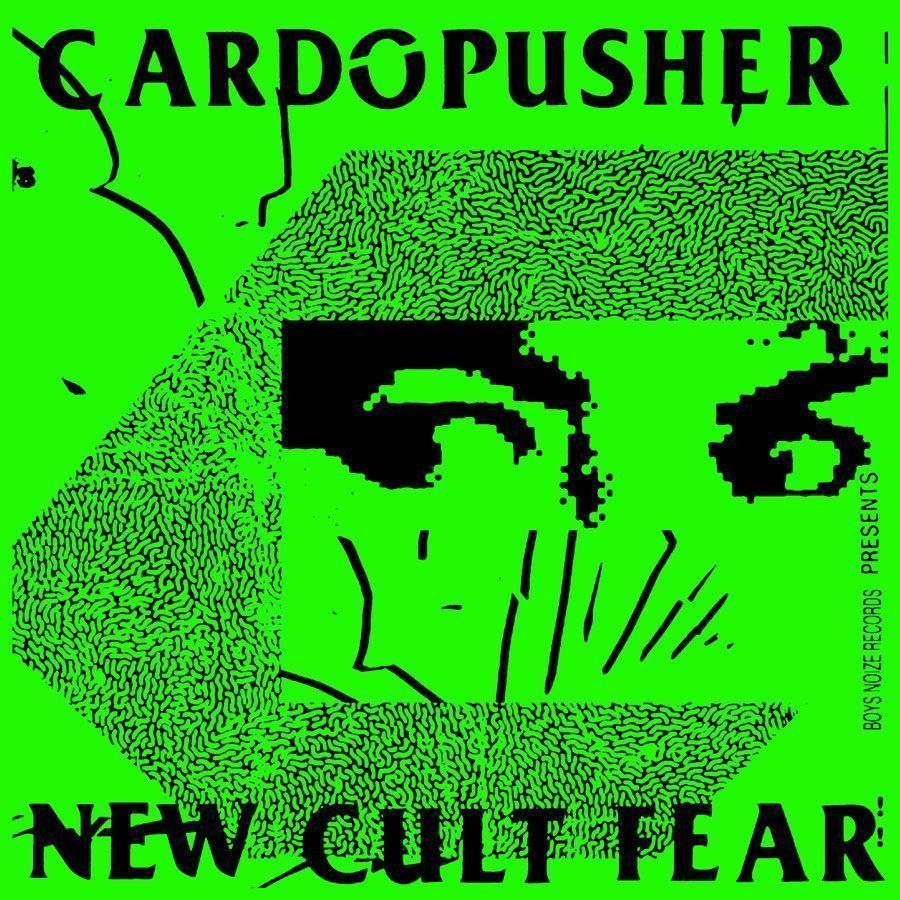 Tracklist:
01. Dreamjumping
02. Llegue Por La Noche (ft. Otto Von Schirach)
03. Crystal Nightcap
04. Mind Eraser
05. Drunken Incapacitants
06. Idol Warship
07. Just One Fixx
08. Rigid Body Dynamics
09. Forbidden Zone
10. Wanderlust
11. Falso Progreso
12. TYC
En lo que respecta a su último trabajo, "New Cult Fear", convence desde el primer tema, Dreamjumping, hasta llegar al último, TYC, dónde te da la sensación de haber vivido un auténtico fiestón y de haber realizado un viaje al sonido más underground de nuestro país. Es un álbum que te obliga agitar la cabeza y que consolida un sonido único que Europa adora pero que en España no acaba de calar, es un clásico… Aquí no sabemos valorar lo que tenemos hasta que fuera dan el pelotazo (Ejemplo: John Talabot).
About his latest work, "New Cult Fear", It convince from the first song, Dreamjumping, to the last where you get the feeling of having lived a true festival, a trip to the most underground sound of our country. An album that forces you to shake your head and consolidates a unique sound that Europe loves but in Spain people do not understand.
Cardopusher nos presenta una playlist que nos lleva a la esencia del artista, donde los sonidos de los 80s, se mezclan con pinceladas de acid, jungle y cajas de ritmos atropelladas que nos recuerdan a algunas de las mejores producciones del venezolano.
Cardopusher presents us with a playlist that takes us to the essence of the artist, where the sounds of the 80s are mixed with strokes of acid, jungle and hit drum machines that remind us of some of the best Luis's productions.
Highchart. #12 - Curated by Cardopusher
-

Tracklist 
- 
1/ Shana - I Want You
2/ Clay Pedrini - New Dream
3/ Raz - Amour Puerto Riqueño
4/ Gene Hunt - 909 vs 707
5/ Cybe - Bali Pulau Bagus
6/ S.O.N.S - Acid Dreams (Trance Jungle Mix)
7/ Jeannette Rosario - Latin Lover
8/ The R - What´s Going On (In Your Mind)
9/  Joe Bataan -  Muchacho Ordinario
10/  Ween - She Fucks Me

Suscríbete para futuros Highcharts: Youtube & Facebook
Subscribe for future Highcharts: Youtube & Facebook
–
Cardopusher: facebook.com/cardopusher
Instagram: instagram.com/cardopusher
Soundcloud: soundcloud.com/cardopusher
Classicworks:  classicworksrecords.com