Today we talk with the producer, designer and artist Cora Novoa, SKTVT creative director and pioneer of the "concept brands" of our country, Spain. We all know his role as producer of electronic music, but not everyone knows that Cora is changing the way the art and fashion projects are conceived in Spain.
Hoy hablamos con la productora, diseñadora y artista Cora Novoa, directora creativa de SKTVT y pionera de las "marcas de concepto" de nuestro país. Todos conocemos su faceta de productora de música electrónica, sin embargo no todos saben que Cora esta cambiando la forma en que se conciben los proyectos artísticos y de moda en España.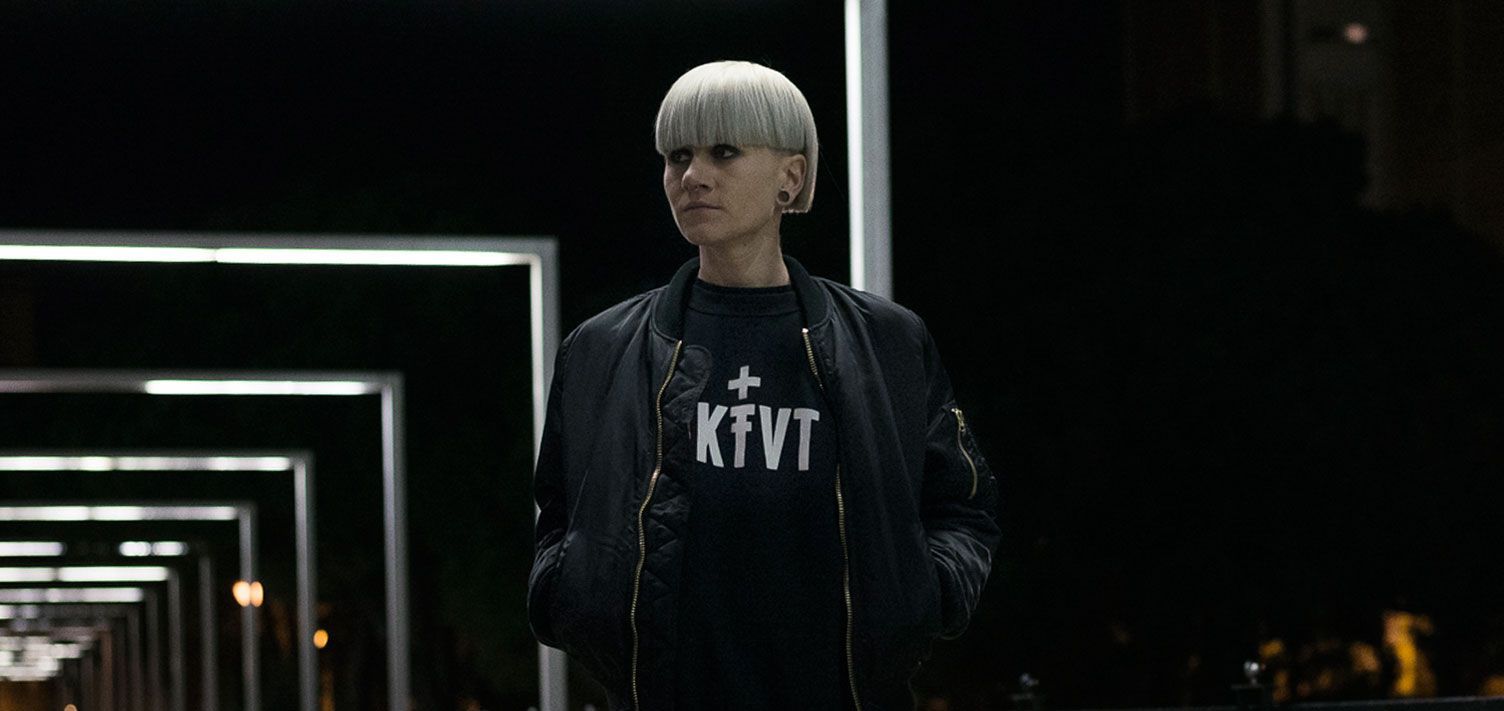 Seeking The Velvet is the orchestra and Cora Novoa is the director…
Seeking The Velvet es la orquesta y Cora es la batuta…
#mustfollow: Cora Novoa: Instagram / SKTVT: Instagram

English Interview | Entrevista Español
–
Highxtar (H) – With only check your appearances on magazines, your Instagram or see your performances … Anyone can deduce that you are a successful music producer and also follows that you are a lover of fashion and trends …but above all, you are a "concept fashion" lover. We've seen you wearing clothes from Sang Bleu, ARMES or Holtz.re … Concept brands that have achieved recognition in their respective countries and Europe … Sometimes we get the feeling that you are one step ahead, as did you get know these groups? Could we say SKTVT takes a little of each of these projects that you support?
C – I have discovered all these projects  through Internet. SKTVT is inspired by all these projects and many more. Both fashion, music or art. It's great have been born in this decade; Internet has changed everything, has made such different projects do not feel orphans, it has also generated a scene… It has meant that everything has a meaning and evolution.
H – We know that SKTVT is a record label, but the clothes are also taking much prominence. Increasingly the music labels expand their vision through fashion … Do you think people understands difference between merchandising and brand / clothing brand within a label?
C – There are people that understand and people that not. But what is important here is not if people understnd the difference, the most important is what you want to do and what you're willing to fight for your vision.
When I started the project, many people and close friends, they told me that I was crazy, "Cora make a label and a project like you're telling me it's crazy today. An investment in unnecessary time and money. " Many people not understood anything. But believe me, SKTVT is one of the best things I've done in my life. I know that the global vision that I have of the project will take a few years, but I know I'm on the right track and I'm super satisfied with the results.
Some people will see the shirts as merchandising others do not. Anyway, the important thing is that I understand all and there are many other people who understand. The nicest thing is that people start to join the project, and it is happening slowly. Some start with the buying a music release, acquiring a print, etc … You have to generate curiosity and create new challenges that motivate people to want to investigate and take things a step further.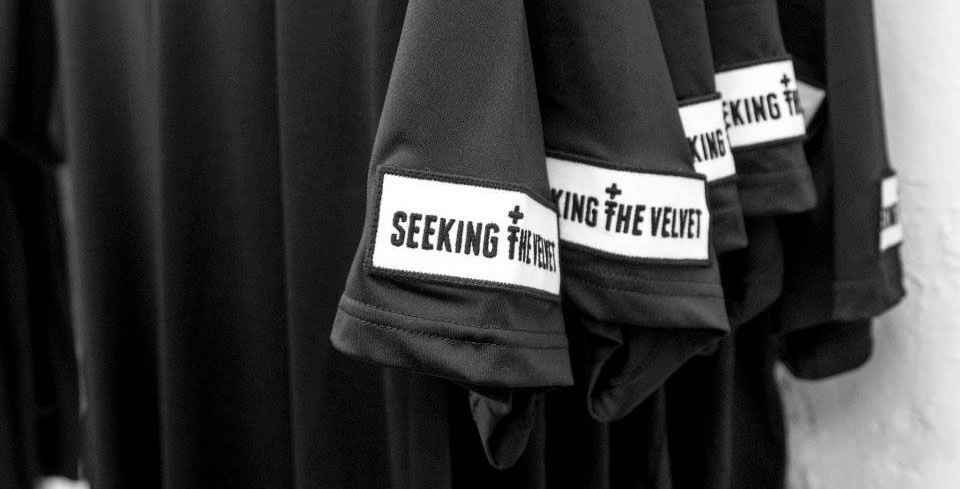 H – In recent years we have seen an exponential growth of the brand concept throughout the continent, but in Spain people tend to be more reluctant to this kind of movements; How the national public reacts to your clothes design? Do you think that the message you want transmit arrive?
C – SKTVT is better understood outside Spain. This results in: followers, sales or supporters of the project. One thing is true, people who follow SKTVT here in Spain are people who are committed to the project and they live it in their own way.
H – What you're getting with your collection is to expand your project and in turn generate a sense of belonging in those who wear garments SKTVT. We think you are aware that many people wear clothes just for that feeling of belonging to something that actually sometimes do not understand, you deny those who do not understand the concept or you love have people that admire the project without delving into it?
C- I not disown anything, and never of people that maybe buy a disc but do not know the dimension behind each piece we launched in SKTVT. Anything goes, we are in the 21st century, and life is not all or nothing, the key is balance and color blends.
I love that people feel special when you saw some article of SKTVT, who feel they belong to the community. To a group of people who share many things in common. This is one of the reasons why I made with love all the clothing and is the reason too why I made limited editions. We try the product very carefully so these are the reasons why there are spaces between launch and release. I like people are part of the project and that they live as I do every day.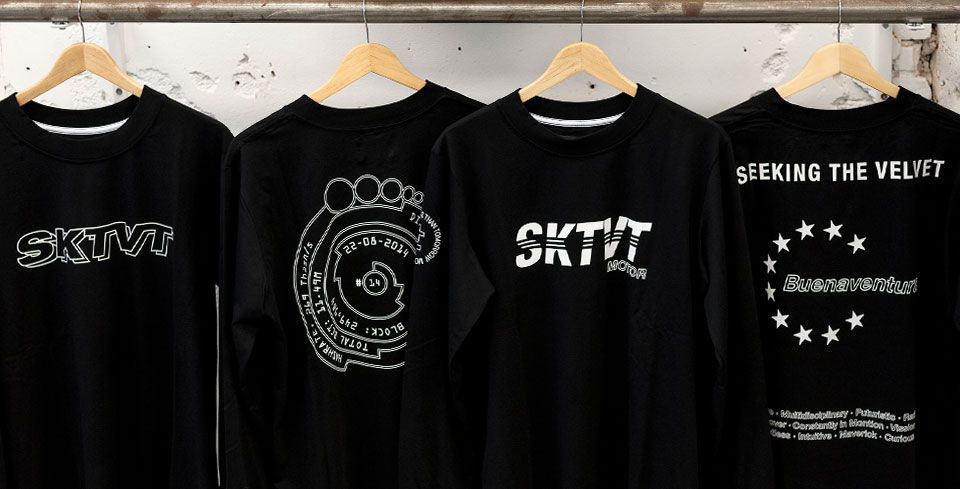 H – 90% of the brands mentioned in this article work on clothing created patterns either Champion or Fruit Of The Loom and they give most prominence to the intervention in the piece and the message … SKTVT creates a pattern from 0 and produces their own "designs" so… What is more important to you the pattern or the message you want to convey?
C – I've tried both ways of working: creating patterns and the pattern pre-created. The result is different and everything has its pros and cons. Now, having tried both ways, I think it all depends on the collection of clothes you want to launch, quality, number of garments and many other factors.
H – We could see in networks that people like Maxime Buchi, founder of the concept store and the coveted collection of Sang Bleu was supporting your platform Seeking The Velvet… How is the relationship arises? Do you think he has understood the concept from the outset?
C- Maxime Buchi is one of my references. He is an artist from head to toe and hardworking. I follow him since the beginning of blogging and I've been watching your progress and work all these years. If I remember correctly the composition of the blog was made up of photos, no text, but his aesthetic sense was brilliant, I can remember his prints, his tattoos and clothing. He already had created their creative project Sang Bleu, had published printed magazines and the thing was running very well. It's great see where it has come the vision and work of Maxime. There are people who only see it as a tattoo artist, others as an influencer, for me is one of the best artists and visionaries of the 21st century.
But it was about a year ago when Maxime began to follow my project: SKTVT. From there we exchanged messages and we follow the track. For me it was very special his support of the project. He wears pieces of our clothing and following us. He would not necessarily do it, and if he has done is because he likes.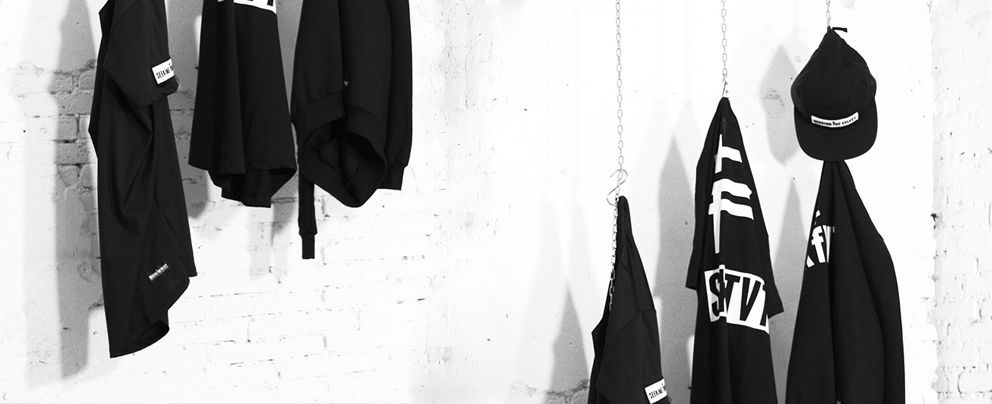 H – Another of the collectives that wear your clothes are Faubourg823, based in Lausanne (Swiss Wave). We have also seen performing Loco Dice in Chicago with the coveted T-shirt Scan Cross Tee… Talking about the Scan Cross… Could we see a re-edit soon?
C – I will soon launch a couple of re-issues of SKTVT classic garments which were part of the first capsule. I have taken a year and a half to make it again because I wanted that people who had one of this pieces felt special and exclusive.
H – A label that has started a fashion brand recently is Bromance Records, who has worked with Off-White, Clot or ARMES … When we see the first collaboration over the clothes of SKTVT?… If you could choose… Who would you like to join?
C – I'd love to do a collaboration with a creative project related to the vision of SKTVT, but it's something I would not rush to do. Things always have to flow, and more in this type of project.
I'd love to do some creative collaboration with Maxime Buchi, Holtz.re, Wellness or DIY.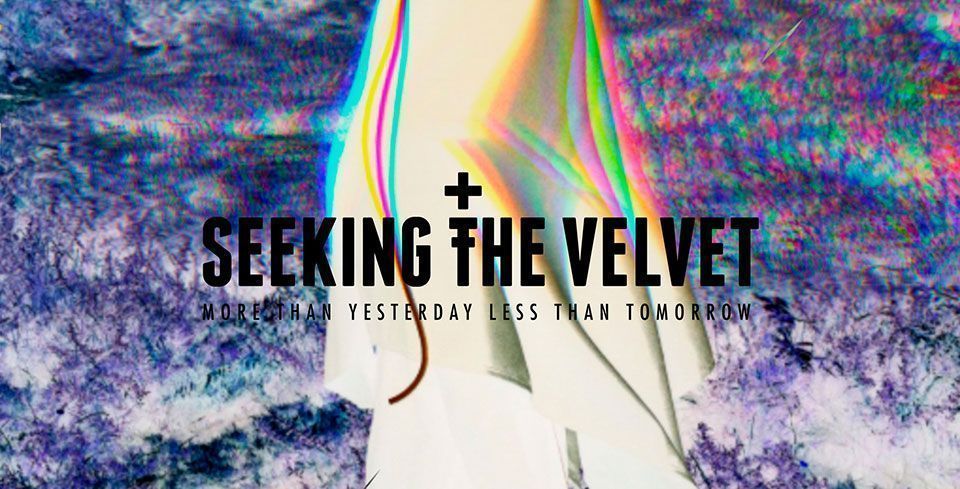 H – A project 360º like yours does not have to be easy to carry out and we think that you struggles with one goal in mind, recently the designer and DJ Virgil Abloh said he would like to see Off-White become an empire respected as it is Saint Laurent today … where would you like to arrive with SKTVT?
C – I would like to have a solid project, self-sufficient, and make all just next to a small group of people with the same vision, values and pace of work.
H – You are embarked on the project of your life which expands through different channels such as music, art or design… Do you understand the means of expression as independent of each other or necessarily have to convey the same message?
C – In creativity there are no rules, there is nothing written, so it all depends on the project and what you mean by it. There will be times that you used a color palette and a particular canvas, and in another you will use charcoal and Din A4 recycled. Must be free and be carried away by visions that each has on the head, although people do not understand anything.
The important thing here is creativity, instinct and the work capacity you have.
"Slowly I begin to have what I've always dreamed of, creative freedom and the  pieces of a puzzle that I always wanted to get to do."

     Cora Novoa
H – There is currently a movement in the international fashion scene called "post-streetwear" which is led by young people, dreamy and concerns as Gosha, Virgil, Guillermo Andrade, etc. They are marks calls "concept" and are increasingly present in the big tradeshows… Can you imagine doing a complete collection? Will we see someday Cora Novoa go out to say hi on a catwalk?
C – As experience would be great, and would be great to materialize some day, but I really I  not see me doing this constantly. I love fashion and trends, but unfortunately it is very hard and ephemeral in many ways.
H – We have seen that you work with capsules, it is normal in limited edition and concept fashion collections. The last was released earlier this year… Do you have something in mind for the coming months? … Will we see some color in the clothes or you selected the black and white as part of the concept?
C – By one side the reissue to be launched this winter, I'm already working on the next collection of clothes, it will also be a capsule collection, and I'll have some surprises, but for now I can not tell you more.
H – To finish the interview we want to congratulate you for the fantastic and curated project that you are developing, and congratulations too for introduce Spain within the movement. Two more questions;-),Have you thought about create, over the years, SKTVT store/space? And finally … Could you tell us some brands you like or you like to have in your closet?
C – It would be great to have a SKTVT space, but not limited only selling products, would be the nerve center where all happen. Hopefully someday can materialize, that would be very good sign.
There go my marks: Off-White and Youth Of Paris.
Thank you for your time Cora!
---

English Interview | Entrevista Español
–
Highxtar (H) – Con ojear tus apariciones en revistas, tu Instagram o ver tus actuaciones… además de deducir que eres una productora de éxito también se deduce que eres una amante de la moda y las tendencias… pero sobretodo de la moda de concepto. Hemos visto como luces camisetas de Sang Bleu, ARMES o Holtz.re… Marcas que han logrado el reconocimiento en sus respectivos países y Europa… A veces nos da la sensación de que vas un paso por delante, ¿como llegaste a conocer estos colectivos? ¿Se podría decir SKTVT respira un poco de cada uno de estos proyectos que apoyas?
Cora Novoa (C) – Todos estos proyectos los he descubierto a través de internet. SKTVT respira de todos estos proyectos y de muchos más. Tanto de la moda, la música o el arte. Es genial poder haber nacido en esta década; internet lo ha cambiado todo, ha hecho que proyectos tan diferentes no se sientan huérfanos, sino que esto ha generado escena, ha hecho que todo tenga un sentido y una evolución.
H – Sabemos que SKTVT es un sello discográfico, sin embargo la ropa está cogiendo también mucho protagonismo. Cada vez son más los sellos que expanden su visión a través de moda… ¿crees que la gente diferencia entre merchandising y marca/firma de ropa dentro de un sello?
C – Hay gente que si y hay gente que no. Pero lo importante aquí no es lo que diferencie la gente, sino lo que tú quieras hacer y lo que estés dispuesto a luchar por tu visión.
Cuando comencé con el proyecto mucha gente y amigos cercanos, me dijeron que estaba loca: "Cora hacer un sello y un proyecto como el que me estás contando es una locura a día de hoy. Una inversión en tiempo y dinero innecesaria". Mucha gente no entendió nada. Pero créeme, SKTVT es una de las mejores cosas que he hecho en toda mi vida. Sé que la visión global que tengo del proyecto no la voy a poder llevar a cabo hasta que pasen unos años, pero sé que estoy en el camino correcto y estoy super satisfecha con los resultados.
Algunas personas verán las camisetas como merchandising otras no. Da igual, lo importante es que yo lo entiendo y hay mucha otra gente que también lo entiende. Lo más bonito es que la gente comience a formar parte del proyecto, y eso está sucediendo poco a poco. Algunos comenzarán comprando un lanzamiento musical, otros una lámina, etc… Hay que generar curiosidad y crear nuevos retos que motiven a la gente a querer investigar y llevar las cosas un paso más allá.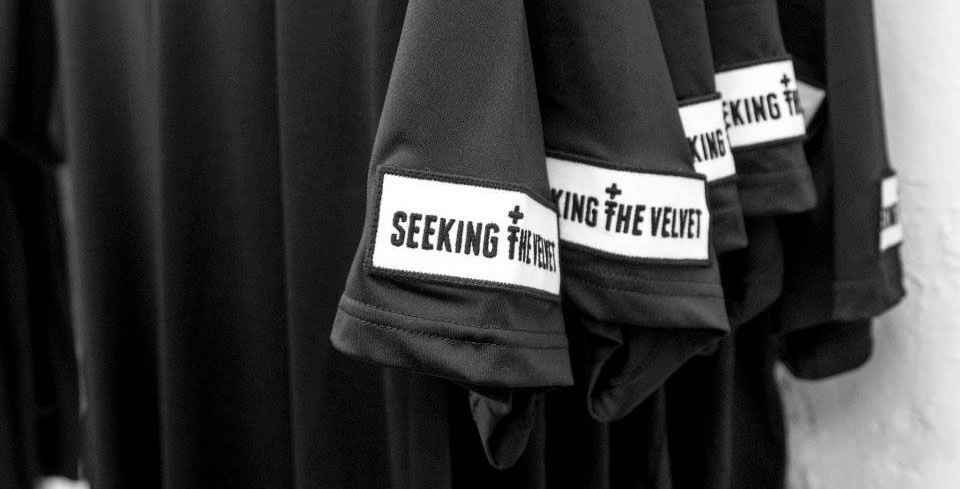 H – En los últimos años hemos visto un crecimiento exponencial de las marcas de concepto a lo largo del continente, sin embargo en España solemos ser más reacios a este tipo de movimientos; ¿cómo reacciona el público nacional ante tus prendas? ¿crees que llega el mensaje?
C – SKTVT se entiende más fuera de España. Esto se traduce tanto en seguidores, compras o supporters del proyecto. Eso si, la gente que lo sigue aquí en España son personas que se comprometen con el proyecto y lo viven a su manera.
 H – Lo que estás consiguiendo con tu colección es expandir tu proyecto y a su vez generar un sentimiento de pertenencia en aquellos que visten las prendas de SKTVT. Imaginamos que eres consciente de que mucha gente viste las prendas sólo por ese sentimiento de pertenencia a algo que en realidad a veces ni comprenden, ¿reniegas de los que no entienden el concepto o también te gusta que admiren el proyecto sin profundizar en él?
C – No reniego de nada, y menos de la gente que a lo mejor compra un disco pero no sabe la dimensión que hay detrás de cada pieza que lanzamos en SKTVT. Todo vale, estamos en el siglo 21, y la vida no va de todo o nada, va de balance y de mezclas de colores.
Me encanta que la gente se sienta especial cuando viste alguna prenda de SKTVT, que sientan que pertenecen a la comunidad. A un grupo de gente que compartimos muchas cosas en común. Este es uno de los motivos por los que he cuidado mucho todas las tiradas de ropa; por eso se hacen siempre ediciones limitadas, se cuida el producto y se espera tiempo hasta hacer una reedición de ropa. Quiero que la gente forme parte del proyecto y que lo viva como yo lo hago día a día.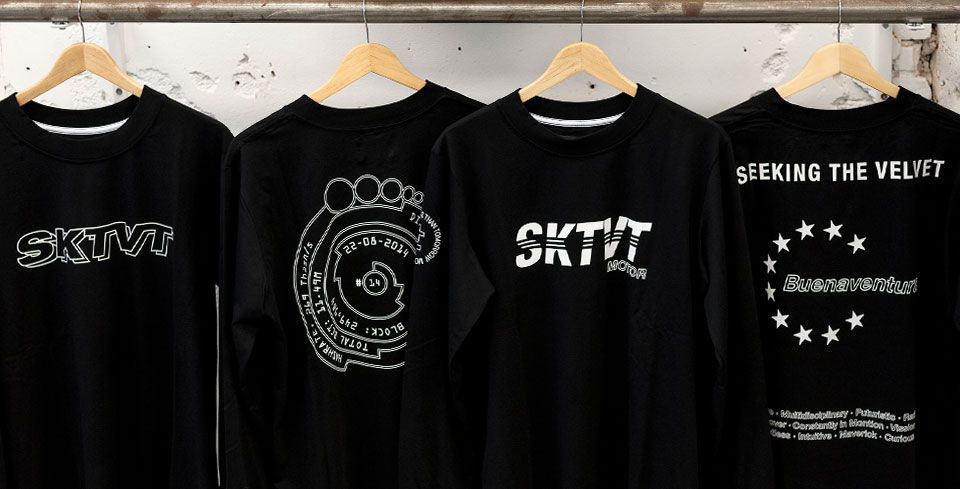 H – El 90% de las marcas mencionadas en este artículo trabajan sobre patrones creados, ya sea Champion o Fruit Of The Loom y le dan casi todo el protagonismo a la intervención en la pieza y al mensaje… SKTVT crea un patrón desde 0 y produce sus propias "formas" ¿que peso tiene en la colección el mensaje y cuanta importancia tiene el patrón para ti?
C – He probado con ambas formas de trabajar, tanto con patrones ya hechos como creando el propio patrón. El resultado es diferente y todo tiene sus pros y sus contras. Ahora mismo, después de haber probado ambos caminos, creo que todo depende de la colección de ropa que quieras lanzar, de la calidad, número de prendas y muchos factores más.
H – Pudimos ver en las redes como gente de la talla de Maxime Buchi, fundador del concepto, tienda y la codiciada colección de Sang Bleu daba su apoyo a tu plataforma Seeking The Velvet ¿como surge la relación? ¿crees que él ha entendido el concepto desde el primer momento?
 C – Maxime Buchi es una de mis referencias. Es un artista de los pies a la cabeza y muy trabajador. Lo sigo desde los inicios del blogging y he ido viendo su evolución y trabajo todos estos años. Si mal no recuerdo la composición del blog lo componían fotos, no había texto, pero su sentido estético era brillante, me vienen flashes de grabados, tatuajes y ropa suyos. Él ya tenía creado su proyecto creativo de Sang Bleu, había sacado magazines impresos y la cosa pintaba muy bien. Es genial ver hasta donde ha llegado la visión y obra de Maxime. Hay gente que solo lo verá como un tatuador, otros como un influencer, para mi es uno de los mejores artistas y visionarios del siglo 21.
Pero fue hace aproximadamente un año cuando Maxime comenzó a seguir a SKTVT. A partir de ahí hemos intercambiado mensajes y nos seguimos la pista. Para mi ha sido muy especial que él haya apoyado el proyecto vistiendo las piezas de ropa y siguiéndonos, no tendría porque hacerlo, y sé que si lo ha hecho es porque le gusta.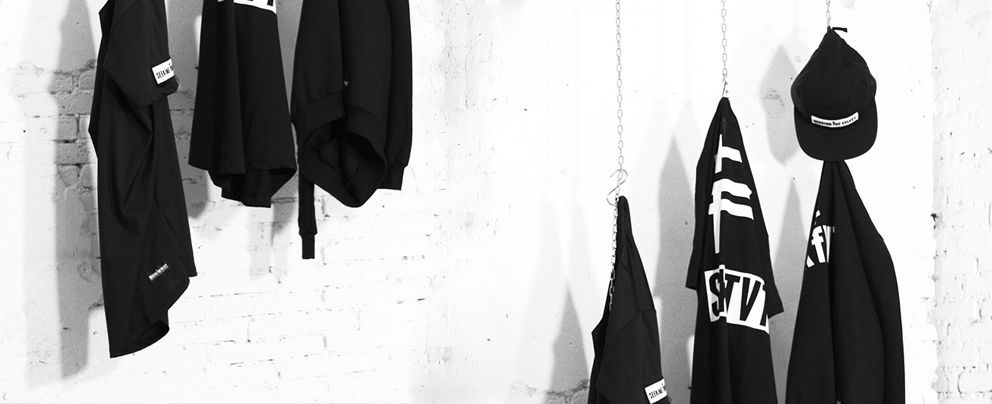 H – Otro de los colectivos que lucen tus prendas son Faubourg823, afincados en Lausanne (Swiss Wave). También hemos visto a Loco Dice actuando en Chicago con la codiciada camiseta Scan Cross Tee ¿Crees que tu proyecto se está entiendo mejor fuera (Londres o Suiza)? ¿Hablando de la Scan Cross Tee, veremos pronto una reedición?
C – Pronto verán la luz un par de reediciones de prendas clásicas de SKTVT pertenecientes a la primera colección cápsula. He tardado un año y medio en volver a fabricarlas porque quería que la gente que lo tuviera se sintiera especial y exclusiva.
H -Un sello que se ha lanzado a la moda recientemente ha sido Bromance Records, quién ha colaborado con Off-White, Clot o ARMES,… ¿para cuándo la primera colaboración de ropa de Seeking The Velvet? ¿Si pudieras escoger, con quién te gustaría que fuese?
C – Me encantaría hacer alguna colaboración con algún proyecto creativo afín a la visión de SKTVT, pero es algo que no tengo prisa por hacer. Las cosas siempre tienen que fluir, y más en este tipo de proyectos.
Me encantaría hacer alguna colaboración creativa con Maxime Buchi, Holtz.re, Wellness ó Diy.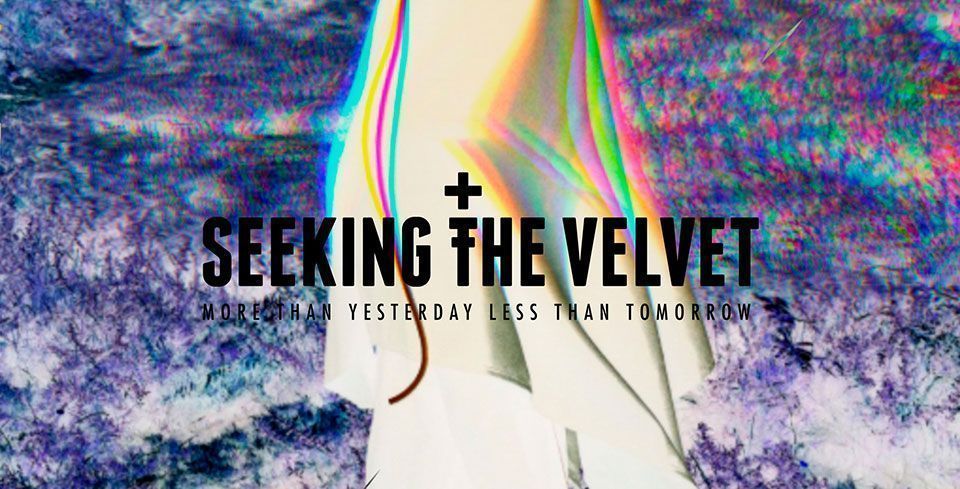 H – Un proyecto 360º como el tuyo no tiene que ser fácil de llevar a cabo y suponemos que luchas con un objetivo en mente, hace poco el diseñador y Dj Virgil Abloh decía que le gustaría ver Off-White convertido en un imperio respetado como el que es hoy Saint Laurent… ¿A dónde te gustaría llegar con SKTVT?
C – Me gustaría poder tener un proyecto sólido, que se sostuviera por si solo y llevar todo acabo junto a un pequeño grupo de personas con la misma visión, valores y ritmo de trabajo.
H – Estás embarcada en el proyecto de tu vida el cual se expande a través de diferentes canales como música, arte o diseño ¿entiendes los medios de expresión como independientes entre sí o necesariamente tienen que transmitir el mismo mensaje?
C – En la creatividad no hay normas, no hay nada escrito, por lo que todo depende del proyecto y lo qué quieras decir con él. Habrá veces que usaras una paleta de colores y un lienzo determinado, y en otra usaras carboncillo y un Din A4 reciclado. Hay que ser libres y dejarse llevar por las visiones que cada uno tiene en la cabeza, aunque la gente no entienda nada y solo lo entiendas tú y un reducido grupo de personas.
Lo importante aquí es la creatividad, el instinto y la capacidad de trabajo que uno tenga.
"Poco a poco comienzo a tener lo que siempre he soñado, libertad creativa y las piezas de un puzzle que siempre quise ponerme a hacer."

Cora Novoa
H – Actualmente hay un movimiento en la escena de la moda internacional llamado "post-streetwear" que está liderado por gente joven, soñadora y con inquietudes como Gosha, Virgil, Guillermo Andrade, etc. Son marcas de las llamadas de "concepto" y cada vez están más presentes en las ferias de moda ¿te imaginas haciendo una colección completa? ¿Veremos algún día a Cora Novoa saliendo a saludar en una pasarela?
 C – Como experiencia sería estupenda y sería genial poder materializarla algún día, pero la verdad es que no me vería haciendolo constantemente. Amo la moda y las tendencias, pero por desgracia es muy dura y efímera en muchos sentidos.
H – Hemos visto que trabajas con cápsulas que es lo normal en las colecciones de edición limitada. La última la lanzaste a primeros de este año, ¿tienes algo en mente para los próximos meses? ¿Veremos algo de color o te has entregado al negro y al blanco como parte del concepto?
 C – A parte de la reedición que se va a lanzar para este invierno, estoy trabajando ya en la siguiente colección de ropa. Será también una colección cápsula y tendré alguna que otra sorpresa, pero por ahora no puedo avanzar más.
H – Por último queremos felicitarte por el proyecto tan cuidado que estás desarrollando y por poner a España dentro del movimiento. Dos preguntas más ;-), ¿Te planteas un SKTVT "space" "store" físico a la larga? Y por último… ¿Podrías decirnos algunas marcas que te gusta o te gustaría tener en tu armario?
C – Sería estupendo tener un espacio SKTVT, aunque no lo limitaría solo a la venta de productos, sería el centro neurálgico y donde sucedería todo. Ojalá que algún día se pueda materializar, eso sería muy buena señal.
Ahí van mis marcas: Off-White y Youth Of Paris
¡Muchas gracias por tu tiempo Cora!