A few days ago we presented a new HIGHXTAR. ESSENTIALS by Kubo. Behind this name you can find the owner & creative director of fashion temple GR8, the supervisor of Wild Style LA and the consultant to the creative director of YES.
Hace algunos días presentábamos HIGHXTAR. ESSENTIALS by Kubo. Detrás de ese nombre se encuentra el propietario y director creativo de GR8, el supervisor de Wild Style LA y el consultor del director creativo de YES.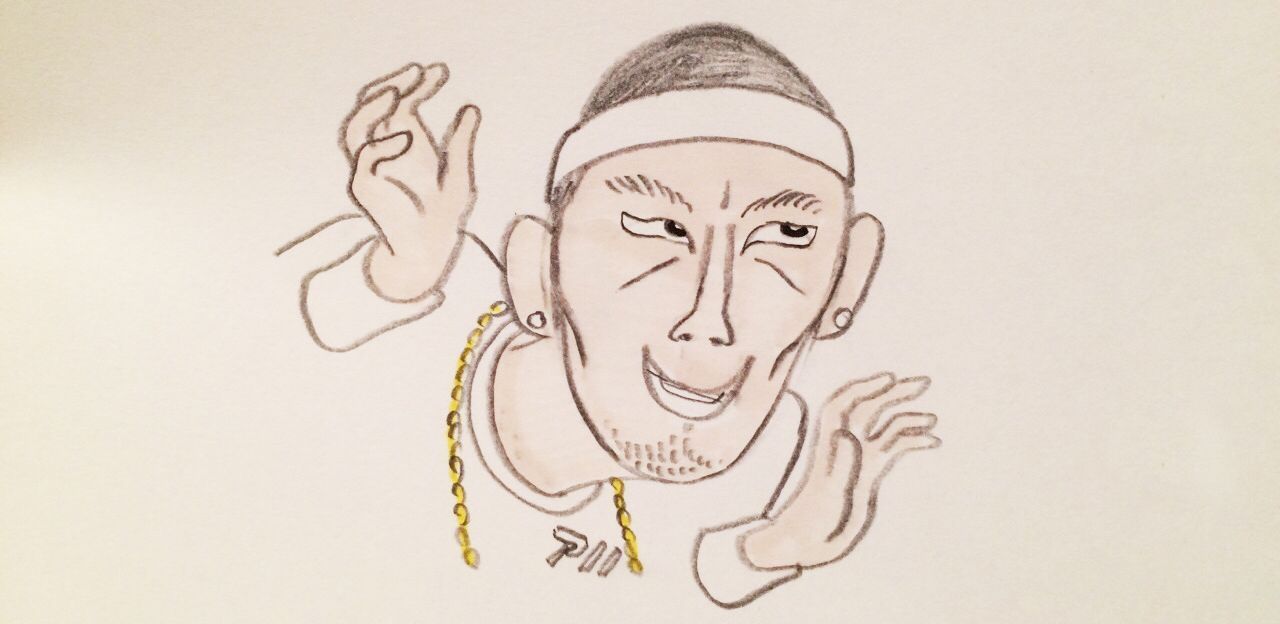 Kubo started at the fashion world when he was 18. Since then he has worked very hard to achieve the status it occupies today. Nowadays Kubo is one of the most influential personalities in the high/concept fashion industry. GR8 (Tokyo) & Wild Style (Los Angeles) are places that any brand would like to sell and Kubo is responsible for selecting  the ones which will enter his stores.
Kubo comenzó en el mundo de la moda a los 18 años. Desde entonces ha trabajado muy duro para lograr la posición que ocupa hoy. En la actualidad Kubo es una de las personalidades más influyentes en la industria de la moda en lo que a retail se refiere. GR8 (Tokyo) y Wild Style (Los Ángeles) son dos tiendas en las que cualquier marca querría vender y Mitsuhiro es el responsable de seleccionar que marcas entrarán y cuales no es esos espacios.
After exchanging some emails with his lovely assistant Yasu, Kubo talks with us about the Japanese fashion industry and GR8's world.
Después de cruzar algunos emails con su adorable asistente Yasu, Kubo habló con nosotros acerca de la industria de la moda Japonesa y sobre el mundo que rodea GR8.
You can read our interview with Kubo below.
A continuación puedes leer nuestra entrevista con Mitsuhiro Kubo.
#mustfollow: Kubo: Instagram / GR8: Instagram
Address / Dirección:
Laforet Harajuku 2.5F, 1-11-6 Jingumae, Shibuya, Tokyo, Japan – www.gr8.jp

English Interview | Entrevista Español
–
Highxtar (H) – When was your passion for the fashion world born?
Kubo (K) – I'd been very picky about what I I wore since childhood, and in earnest I came to start my career from a sales job when I was 18 years old.
H – GR8 is one of the world's fashion temples and a must visit for all those who love street culture. Ranging high to low in price and sport wear to denim in style, the store seems to have a unique mix of brands. What aspects do you value the most in a new brand to decide introducing them in the GR8 world?
K – Mind, vision and philosophy from the designer. I don't make a decision just depending on products, as GR8 is not solely selecting brands but also picking up personalities of the designer or director of the brand. I think this attitude has allowed me to create the uniqueness of the store, which might be quite rare to find anywhere else in the world.
H – When have you realized that GR8 is in the top of concept stores in the world?
K – I do appreciate your words, but I don't think GR8 is on the top yet and will make more efforts to keep on developing it.
H – The boundaries between high fashion and streetwear continue to be blurred more and more.… Where do you think GR8 takes a position between them and why?
K – Without my intension, I think my store has always been at a unique position, and actually one of the important store concepts for me is not belonging any of those categories.
H – Since we jumped into the fashion world, we've always heard that Shibuya & Harajuku were the center of fashion & cool hunting in Japan. Could you confirm us whether that is still the case or not? Also as a buyer who is based in these places, what is your secret key to discover a brand that would become a must? 
K – Before everything, I would like to say thank you for your nice thoughts for those places. However, I have to mention that I now feel the power of the Japanese has been getting less and less these days, unfortunately. Now those places are significantly supported by foreign visitors with big curiosity. So it might be said that checking the styles of those people is the best way to find new brands and a massive inspiration for myself.
H – We admire Wild Style in LA as much as GR as the both have the best eyes to select cool brands and products across the world…. We can see your connection with LA is quite strong and also you visit there very often… What is the link between both?
K – I am the owner of GR8 but the supervisor of WILD STYLE at the same time. That is the reason why these stores share the same DNA, and I think they are related by blood like brothers, although locations and nations are so different that expressions and sales might also look different at all. 
H – We have tried to understand the differences between each project we can see on GR8's website, but it's a little bit tricky because of the language barrier of Japanese… 🙁 So the best way to understand them fully is to ask you, could you explain us what is your role for each project, namely GR8, YES and PHIRE WIRE?
K – I am the owner / creative director / head buyer of GR8, a consultant to the creative director of YES, and GR8 is assisting the business of PHIRE WIRE, which is the brand launched by the creative director of YES. 
H – The presence of Japanese streetwear brands in the European market has increased a lot in the past years. The brands like Neighbourhood, WTAPS, Cav Empt, A Bathing Ape and Undercover, have been picked up by the european's best streetwear stores like Slam Jam, Caliroots, Inner etc, but in your opinion what is behind this boom of Japanese streetwerar brands in the world?
K – All of the abovementioned brands are run by the people who are in almost 50s. These people in the generation have had a philosophy which we can be proud of in today's world as the Japanese. I'm sure the current boom is result of the fact that the essence of the philosophy has touched the people across the world.
H – We observed that European brands like MISBHV, Gosha Rubchinskiy, PALACE, Vetements, or Nasaseasons etc, took the same direction in a past few season, which was the post-soviet & post-punk influences… Do you recognize that kind of dominant trend in Japanese streetwear scene?
K – I don't perceive any of those tendencies in Japan at all. Originally the anti-social ideology was dominant in Japan ages ago and it seems the young generation today is not really into it. That might be simply because of a national character of Japan today.
H – We love the French artists like Bromance, Gener8ion, Club 75, Club Cheval etc. GR8 seems to be well connected to Paris in some nice ways… How were the collaborations with the collective born? Also are you working on something new with them?
K – I met them all through KIRI, the creative director of YES and PHIRE WIRE. The collaborations we have done so far are simply natural reactions to the shared taste of music and ideas. The collaborations as products have been consist of PHIRE WIRE X BROMANCE and PHIRE WIRE X GENER8ION, for now.
H – Some time ago we wrote about the "Swiss Wave" and ARMES is right in the thick of it… How did you come to discover ARMES, and what is the primal reason why you decided to work with them?
K – I came to know the ARMES brand through BROMANCE team too. ARMES has a very unique concept with DIY mood, and does not really do many distributions but I respect them as they are very serious about what they do.
H – You are always travelling and attending fashion shows & tradeshows around the world. Could you let us know the upcoming brands we should put our radar on over next sesons? Also in regards to Japanese ones,… which do you think we must follow closely?
K – I would say all the brands stocked at GR8 are the ones you must check out. Please keep your eyes open for them all and the store itself. Regarding Japanese brands, PHIRE WIRE and Cav Empt are always the best to follow.
H – You are with GR8 so probably you don't need go shopping to anywhere else, but… for example when you are abroad, which store are your favorites to spend the money?
K – WILD STYLE in LA, MACHINE-A in London, VFILES in NY and Club 75, to name a few.
H – Finally, what next projects are you currently working on? Do you think it would be possible for us to see GR8 in the Europe in the future?
K – The store expansion and a new store with a new concept coming soon both in Tokyo, and will put more energy on PHIRE WIRE too. As for the European market, it all depends on investors there lol!
H – Kubo & Yasu THANKS THANKS and THANKS a lot… We are sure that in the future we will do something more together 😉
K – Thank YOU so much! xx
---
English Interview | Entrevista Español
Highxtar (H) – ¿Cuándo nace tu pasión por el mundo de la moda?
Kubo (K) – Desde muy joven me preocupé por la ropa que llevaba, aunque en realidad todo empezó cuando trabajaba como dependiente de tienda con 18 años.
H – GR8 es uno de los templos de la moda mundial y una visita obligada para todos los amantes de la cultura de la calle. La tienda cuenta con un rango de precios muy variable y con prendas que van del denim al sportwear, etc. ¿En qué aspectos te fijas de una nueva marca para decidirte a introducirla en el mundo de GR8?
K – La mente, la visión y la filosofía del diseñador. No decido sólo en función de los productos, en GR8 no sólo queremos introducir marcas sino que también buscamos representar la personalidad de cada diseñador o del director de cada linea o firma. Creo que esta actitud me ha permitido crear el carácter único de la tienda, es algo que es bastante difícil de encontrar en cualquier otro lugar del mundo.
H – ¿Cuando fuiste consciente de que GR8 se encontraba en el top de las concept store mundiales?
K – Agradezco mucho tus palabras pero no creo que GR8 haya alcanzado todavía el top, tendremos que seguir haciendo un duro trabajo para alcanzarlo algún día.
H – Los límites entre la alta costura y streetwear son cada vez más borrosos… ¿Dónde crees que se sitúa GR8 y porqué?
K – Creo que mi tienda siempre se ha posicionado en un lugar único. De hecho uno de los conceptos más importantes para mí es no pertenecer ninguna de esas categorías.
H – Desde que empezamos en el mundo de la moda, siempre hemos oído que Shibuya & Harajuku eran el centro de la moda y de la búsqueda de tendencias en Japón. ¿Podrías confirmarnos si esto todavía es así? Además como comprador con base en ambos sitios ¿cuál es tu secreto o la clave para descubrir una marca que se convertirá en un "must"?
K – Quiero agradecer vuestra opinión sobre estos lugares. Sin embargo, tengo que decir que últimamente me invade la sensación de que el poder de los japoneses ha ido decreciendo, por desgracia. Hoy en día estos lugares están llenos de extranjeros con inquietudes. La mejor forma de encontrar nuevas marcas es fijarse en los estilos de la gente de a pie, para mí es una fuente de inspiración.
H – Admiramos Wild Style en Los Ángeles tanto como GR8, creemos que las dos tienen la mejor selección de productos… Hemos observado que tu conexión con LA es muy fuerte y lo visitas a menudo… ¿Cuál es el nexo de unión entre ambas? 
K – Yo soy del propietario de GR8 y el supervisor de Wild Style al mismo tiempo, esa es la razón por la cual ambas tienen el mismo ADN. Considero que están unidas por la sangre como si de hermanos se tratase, aunque las localizaciones y las naciones son muy diferentes y las formas de expresión y las ventas también.
H – Hemos tratado de entender las diferencias entre cada uno de los proyectos que podemos ver en la página web de GR8, pero nos resulta un poco complicado debido a la barrera del idioma (japonés) 🙁 Así que la mejor manera de quitarnos las dudas es preguntarte directamente ¿podrías explicarnos cual es tu papel en cada uno de los siguientes proyectos GR8, YES and PHIRE WIRE?
K – Soy dueño / director creativo y jefe de compras de GR8, consultor del director creativo de YES, y a su vez GR8 apoya el proyecto de PHIRE WIRE, que es la marca que ha lanzado el director creativo de YES.
H – La presencia de marcas streetwear japonesas en el mercado europeo ha aumentado mucho en los últimos años. Marcas como Neighbourhood, WTAPS, Cav Empt, A Bathing Ape o Undercover, han sido incluidas en las mejores tiendas de streetwear de Europa, como Slam Jam, Caliroots o Inner… En tu opinión ¿que es lo que hay detrás de este auge del streetwear japonés? 
K – Todas las marcas mencionadas están lideradas por personas que rozan los 50 años. Estas personas han desarrollado una filosofía durante los últimos años de la que los japoneses debemos sentirnos orgullosos. Estoy seguro de que el auge actual es el fruto de la compresión y expansión de esta misma filosofía por diferentes partes del mundo.
H – Últimamente las marcas europeas como MISBHV, Gosha Rubchinskiy, PALACE, Vetements, o Nasaseasons etc, han cogido una misma dirección en las últimas colecciones: la influencia post-punk y post-sovietica… ¿Has observado alguna tendencia dominante en la escena streetwear japonesa?
K – No he percibido ninguna de esas tendencias en Japón. La ideología anti-social predominaba aquí hace años, sin embargo en la actualidad la juventud japonesa no está muy interesada en ella. Quizás esto puede ser debido al carácter nacionalista actual de los japoneses.
H – Nos encantan los artistas franceses como Bromance Records, Gener8ion, Club 75, Club Cheval, etc. GR8 parece estar muy bien conectada con París… ¿Cómo han nacido las colaboraciones con estos grupos? ¿Estás trabajando en algo nuevo con ellos?
K – Los conocí a través KIRI, el director creativo de YES y Phire Wire. Las colaboraciones que hemos hecho hasta ahora son simplemente reacciones naturales que surgen del gusto común por la música y las ideas. Las colaboraciones a nivel producto han sido: Phire Wire X BROMANCE y Phire Wire X GENER8ION, por ahora.
H – Hace algún tiempo escribimos sobre el "Swiss Wave" y ARMES está justo en el centro de la ola… ¿Cómo has llegado a descubrir ARMES, y cuál es la razón por la que has decidido incluirla en GR8?
K – Descubrí ARMES a través del equipo de Bromance Records. ARMES tiene un concepto único del "DYI (hazlo tu mismo)" trabajan a un nivel de baja producción y distribución, admiro mucho su seriedad en lo que hacen y respeto mucho su trabajo.
H – Siempre estás viajando y asistiendo a desfiles y ferias en todo el mundo. ¿Podrías decirnos cuales son las próximas marcas sobre las que debemos poner nuestro radar en las próximas temporadas? En lo respecta a las japonesas… ¿cuáles crees que hay que seguir de cerca?
K – Yo te diría que estuvieses atento a cualquier marca presente en GR8 y que mantengas tus ojos puestos en la tienda. Respecto a lo que viene de Japón seguid de cerca Phire Wire y Cav Empt, son de lo mejor.
H – Eres dueño de GR8 y por lo tanto no tendrás necesidad de ir de compras… pero cuando te encuentras en el extranjero ¿cuales son tus tiendas favoritas para gastar el dinero?
K – WILD STYLE en LA, MACHINE-A en London, VFILES en NY y Club 75 en Paris, por nombrar unas pocas.
H – Por último, ¿cuales son los proyectos en los que estas trabajando actualmente? ¿Crees que sería posible ver GR8 Europe en el futuro?
K – Actualmente estoy trabajando en la expansión de la tienda y la inminente apertura de una nueva tienda en Tokyo con un nuevo concepto, además también estoy poniendo más energía en el proyecto de Phire Wire. Respecto al mercado Europeo todo dependerá de los inversores allí jajajajaja.
H – Kubo & Yasu GRACIAS GRACIAS y MUCHAS GRACIAS… Estamos seguros que en el futuro haremos algo juntos de nuevo 🙂
K – ¡Muchas Gracias a VOSOTROS! xx