Club 75, in their words, is the fruit of a collaboration between three friends : Pedro "Busy P" Winter, Michael Dupouy and So-Me.
Club 75, en sus propias palabras, es el fruto de la colaboración entre tres amigos: Pedro "Busy P" Winter, Michael Dupouy y So-Me.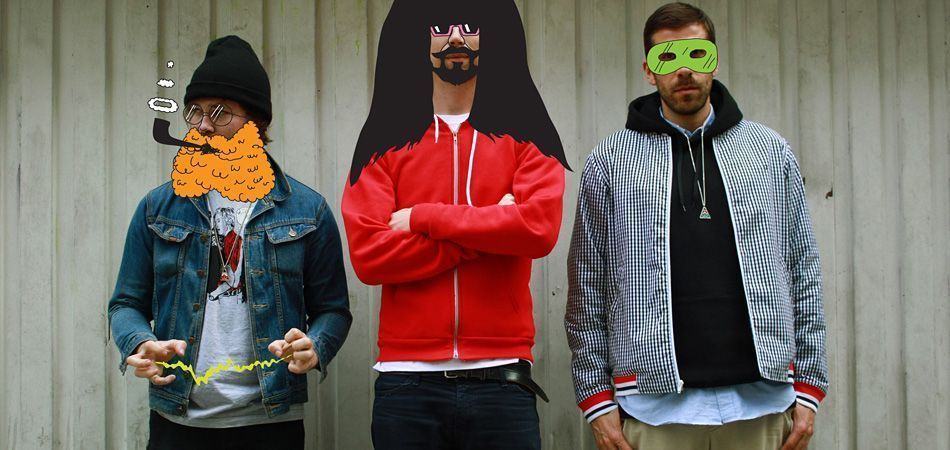 Who is who? / ¿Quién es quién?
Pedro "Busy P" Winter: if you follow us and you don't know who is he, you have a little problem… but we will try to explain you in a few words. From 1996 till 2008 he was Daft Punk's right hand. In 2003 he started Ed Banger Records in Paris, enough?… A little more, his label Ed Rec. hosts artists like: Justice, Dj Mehdi (1977-2011), Breakbot, Mr Oizo, Cassius & many more. We could write 5 or 20 posts about him… But today its time for Club 75. We will have time to talk about him in Highxtar.
Pedro "Busy P" Winter:  si nos sigues y no todavía no sabes quién es, tienes que hacértelo mirar… igualmente vamos a tratar de explicartelo en pocas palabras. Desde 1996 hasta 2008 fue la mano derecha de Daft Punk. En 2003 comenzó  con Ed Banger Records en París, ¿suficiente?… Venga un poco más: su sello Ed Banger Rec. acoge a artistas como: Justice, Dj Mehdi (1977-2011), Breakbot, Mr Oizo, Cassius y muchos más. Podríamos escribir 5 o 20 posts sobre P .Winter… Pero hoy es el día de su proyecto Club 75. Tendremos tiempo para hablar de él en Highxtar.
Michael Dupoy: is the mind behind French creative agency La MJC. He is the author and publisher of world famous bible, All Gone, a rich and comprehensive yearly book with main purpose to document and pay tribute to the finest of street culture.
Michael Dupoy: es la mente detrás de la agencia creativa francesa La MJC. También es el autor y editor de la "biblia" mundialmente conocida, All Gone, un libro anual que documenta y rinde homenaje a lo mejor de la cultura callejera.
Bertrand "So-Me" de Langeron: he has designed every piece of image coming out of Ed Banger since day one, is in charge of all graphics at Club 75 too. He published a photo book about the 10 years of Ed Banger, called "Travail Famille Party". Also has directed music videos for atists like Justice, Kanye West, MGMT, Major Lazer and many more.
Bertrand "So-Me de Langeron: desde el primer día de Ed Banger ha diseñado todas las portadas de los álbumes y ep's publicados. En Club 75 también está a cargo de todos los gráficos. Es el autor del conocido libro de fotografías llamado "Travail Famille Party" que gira entorno a los 10 años de Ed Banger Records. Además ha dirigido videos musicales para artistas como Justice, Kanye West, MGMT, Major Lazer y muchos más.
All started some years ago with a brand called "Cool Cats". This brand under the wings of Ed Banger was an icon for all "french wave" lovers. Today, we can remind the moment of the transition with this message that they shared on the web:
Todo empezó hace unos años con una marca llamada "Cool Cats". Esta marca bajo las alas de Ed Banger era un icono para todos los amantes del "french wave". Hoy en día, podemos recordar aquel momento de la transición (de Cool Cats a Club 75) con este mensaje que compartían en la red:

HOLA CLIENTES, AMIGOS, SEGUIDORES, AMANTES, ACOSADORES Y FAMILIA. POR VARIOS MOTIVOS, HEMOS DECIDIDO QUE COOLCATS.FR TAL COMO LO SE CONOCE DEJE DE EXISTIR. EN SU LUGAR ESTAMOS ORGULLOSOS DE PRESENTAROS A SU SUCESOR: CLUB75.FR. MEJORADO EN TODOS LOS ASPECTOS POSIBLES, NO NOS PODEMOS AGUANTAR A ENESEÑAROS LA SEGUNDA PARTE DE ESTA AVENTURA QUE HEMOS EMPEZADO JUNTOS. ABRIRÁ SUS PUERTAS MUY PRONTO, AH! Y ESTE FELINO (LOGO GATO) PERMANECERÁ CON NOSOTROS.
Founded in 2013, born with the philosophy to create quality products, that themselves like to wear it. With these minds behind the project, as might be expected, they have created another icon for the underground culture lovers, Club 75.
Fundada en 2013, nace con la filosofía de crear productos de calidad y que ellos mismos usarían. Con estas mentes detrás del proyecto, y como no podía ser de otra manera, de nuevo han conseguido crear otro icono para los amantes de la cultura underground, el Club 75.
Less than a year ago they opened the physical store in Paris. A fantastic space that you must go if you are in the city. This is the place where they concentrate all the ideas & passions: music, design, etc. Is the meeting point for all Club 75 lovers & friends.
Hace menos de un año se abrió la tienda física en París. Un fantástico espacio que debes visitar si estás en la ciudad. Este es el lugar donde se concentran todas las ideas y pasiones del proyecto: música, diseño, etc. Es el punto de encuentro para los amantes y amigos del Club.
Club 75 – 32 Rue Yves Toudic, 75010 Paris, Francia | map
At the moment if you aren't in Paris you can visit the online shop and spend some money 🙂
Si no te encuentras en Paris puedes visitar su tienda online y gastar algo de dinero 🙂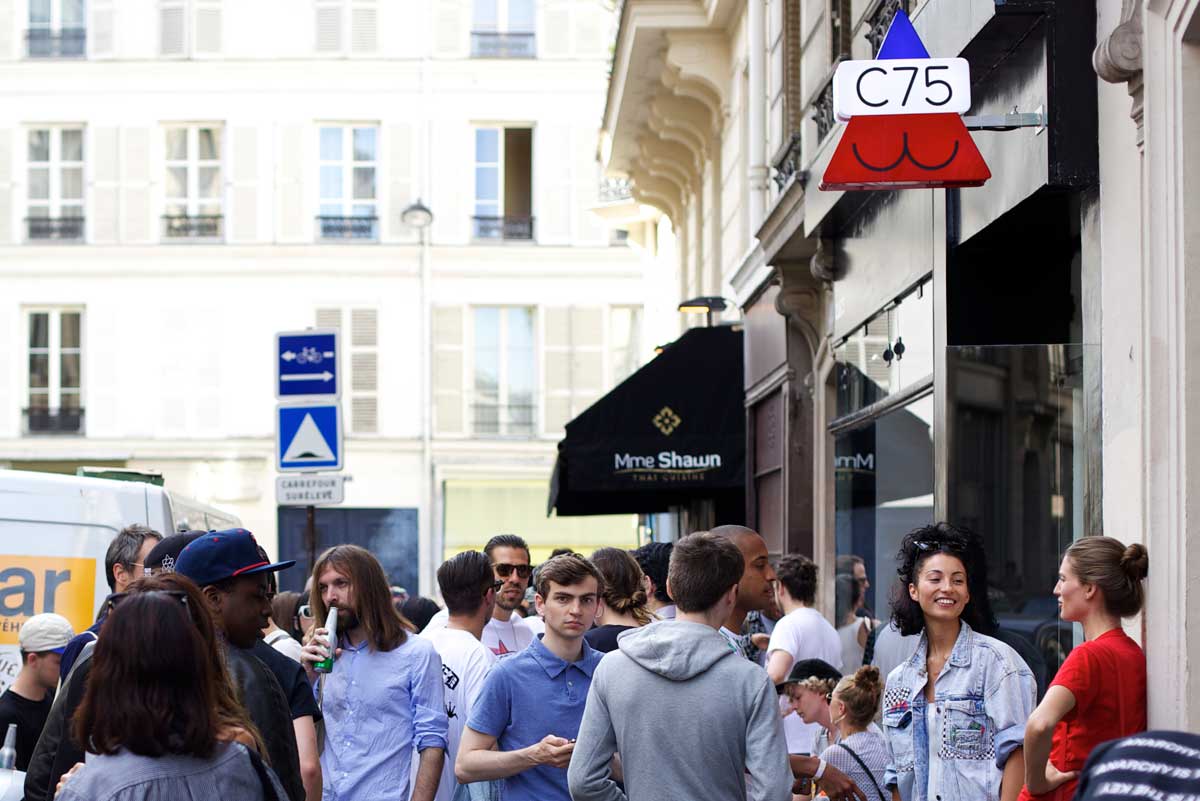 From the beginning have worked with the most important street wear & music brands. We would like to make special mention in the join between Club 75 x BMC and in the last one, Club 75 For Born X Raised. In the store you can find also clothing from the friends of the team like: Bromance Records, Zone and obviously, Ed Banger Records, LA MJC & "So Me's" illustrations.
Desde el principio han trabajado con las marcas más importantes de streetwear y música. Nos gustaría destacar la alianza entre Club 75 x BMC y su última colaboración, con los americanos Born X Raised. En la tienda también puedes encontrar la ropa y música de los amigos del equipo como: Bromance Records, ArmesArmesArmes, Zone y, obviamente, Ed Banger Records, LA MJC y trabajos de "So Me".
In short, if you love the "french wave", the streetwear o simply likes the brands with a big concept behind we are sure that Club 75 will become one of your favorite.
En resumen, si te gusta la "french wave", el streetwear o simplemente adoras las marcas con un gran concepto detrás, estamos seguros de que Club 75 se convertirá en una de tus favoritas.
We have selected for you our favorite pieces at this time 😉
Hemos seleccionado para ti nuestras piezas favoritas en este momento 😉
#musthave