READ IN: Español
The label from the Swedish capital has presented its Fall Winter 2020 collection, inspired by the period of maturity of young adults. This confusing period of life is reflected in a collection of authoritative uniforms, with deconstructed suit jackets and cutting-edge tailoring.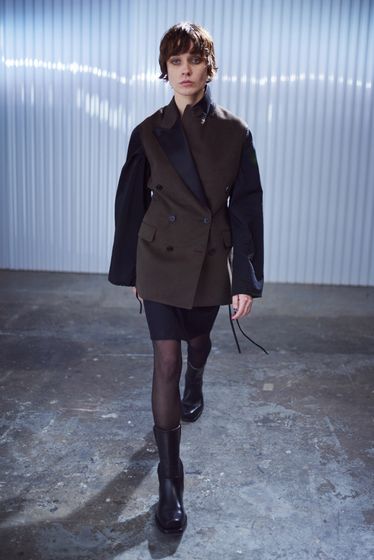 The idea of youthful rebellion takes centre stage in the use of worn-out denim, as well as in boots with hand-drawn brake lines, knitwear with a skull and crossbones or printed T-shirts.
Speaking about the origin of his inspiration, Creative Director Christopher Nying explained that "your view of the world changes when you realize it's not as forgiving as you thought it would be. Understanding can come through the influence of older siblings or from the eternal impressions after seeing your first horror or fantasy film. After that door has been opened, things are never the same and you begin to experience new emotions and reach a new understanding. The grey zone between youthful naivety and adulthood is interesting, because everything remains undefined while finds its place. And you're trying to find your own at the same time."
The intention of expressing this confusion is to use the appearance of a child-model who seems to have been miniaturized while situating himself in an adult world, such as the fashion world.
Christopher Nying focuses on the brand's pillars and revisits some of its classic shapes with unexpected or seasonal twists. The hand-painted motifs on the brand's best-selling boots nodded to the slippery slope we all go down when trying to navigate our way through adolescence.
Dubbed "Artificial Violence", the collection incorporates metaphors with the image of a doll wearing a mask, a disturbing evocation of beauty. Fortunately, other pieces are more optimistic. Our Legacy works to make its clients dress fluently: men adopt tight leather jackets designed for women while women wear the men's shirt, layered over it, giving their men's boots a little extra heel. "It's like wearing pajamas and sleepwalking."