READ IN: Español
From Tuesday 10 to Saturday 14 May 2022, the Círculo de Bellas Artes will become the epicentre of podcasting in Spanish with the celebration of Estación Podcast, the first Ibero-American festival of sound creation.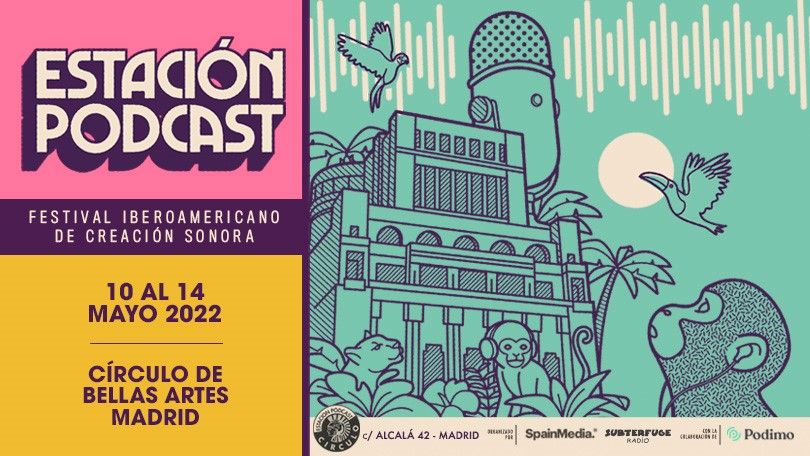 For five days, El Círculo will host this unprecedented first edition, where we will be able to enjoy live and free of charge a carefully selected sound production, which will include both consolidated and emerging proposals. Live podcasts, open dialogue tables, parallel activities, talks and premieres will immerse us in the era of this new format.
Estación Podcast, devised by Andrés Rodríguez (editor of Spainmedia) and Carlos Galán (CEO of Subterfuge Radio) in collaboration with the podcast listening platform Podimo, will offer an innovative programme that will showcase the best in sound production, with proposals from Mexico, Chile, Argentina, the United States, Spain, Peru and Colombia.
Among the first podcasts confirmed for the festival: El sentido de la birra (Spain) with Ricardo Moya, included in the Podimo platform, a partner of the festival. Also on the line-up will be the winners of the Premios Ondas Globales del Podcast 2022: Las raras (Chile), with Martín Cruz and Catalina May, and Guerra 3 (Spain), with Ana Alonso, Jesús Blanquiño and Roberto Maján.
And also Crímenes: El musical (Spain), with Mar Abad and Andreu Quesada; Viajes inmóviles (Colombia) with Laura Ubaté; La cafetera (Spain) with Fernando Berlín; Las hijas de Felipe (Spain) with Ana Garriga and Carmen Urbita; Carne cruda (Spain) with Javier Gallego; and Pop y muerte, (Spain) by Kiko Amat and Benja Villegas; and more to be confirmed over the next month.
For those who cannot attend in person, the programme will be streamed and uploaded in podcast format for later enjoyment.