READ IN: Español
Laura Pérez (@laurapzx) | Filip Custic (@filipcustic1) is the outsider artist who teleports us to a weightless world of objects, hyperrealism, visual games and optical balances. We present the Dalí of the post-Instagram era.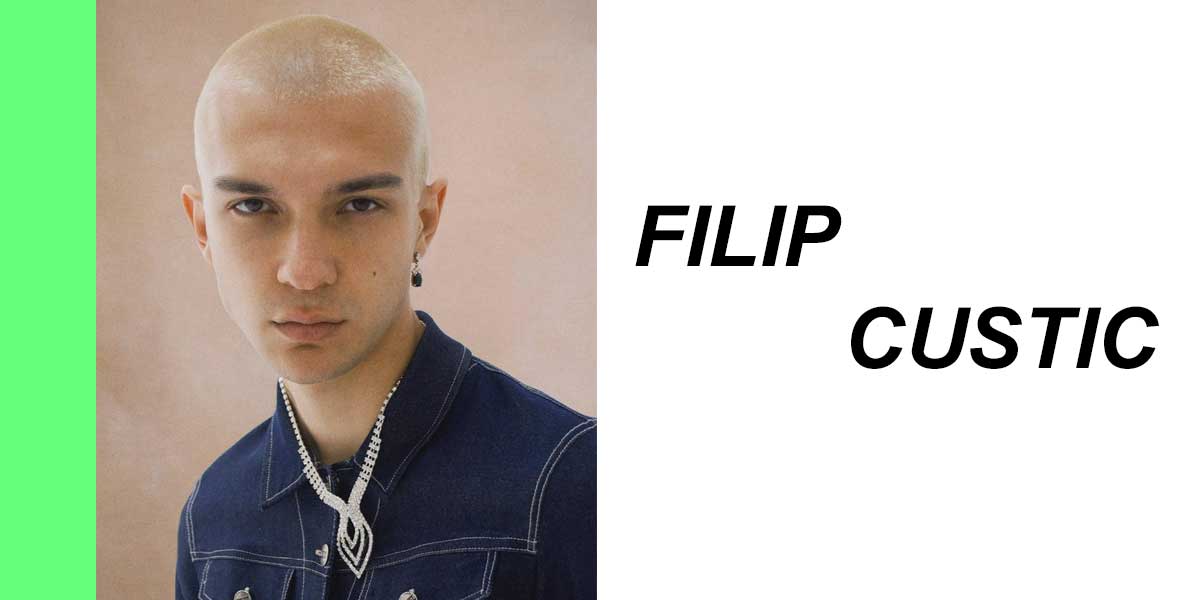 Objects become the epicenter of his artistic composition. Thus, it creates a movement called 'Objectism' – endowed with a specific vocabulary – in which concepts such as suspension, fragmentation, digital craftsmanship, balance, distortion and pataphysics are recorded.
Custic becomes the expression of a dreamlike reality created by optical games, in which it fuses the audiovisual / Internet, and the real / material, through photographs, videos and live installations. People are now sculptures, and vice versa.
All that imaginary has a message behind it to communicate. Messages that transgress the parameters of art and life through an aesthetic, visual and symbolic fusion.
Filip has worked for people like Opening Ceremony, Fucking Young, GQ UK or Esquire and designers of the calibre of Gucci, Louboutin, Del Pozo, Palomo Spain and María Ke Fisherman. He has also paraded for Margiela, Palomo or Charles Jeffrey.
Within the Filip Custic's universe there is a constant play with creative objects that connect art, fashion and science in a single space-concept. These objects act as installations, as living sculptures in the parameters of pataphysics: the law that regulates the exception.
One of the most latent projects in this world we are talking about is the one he shares with María Forqué (@imvirgenmaria):' 1por1′ (@_1por1_). He studies pataphysics and develops' 1-ism': movement in which the body becomes the main material-artistic object. It also reflects nudity as a natural condition without pixelation, without censorship.
1 personality and 2 bodies. Mary and Philip become their own reflection, a spiritual and real fusion. The purpose: to generate a feeling of ascension through the intellectual and the sensory, through ideals that are maintained in the development of science and spirit.
1por1 has even managed to perform at MOMA, as well as developing countless projects such as 'static time', 'the myth of androgyny', 'diamond with suspension' or' sexual furniture'.
One of his last works as an independent artist 'Filip Custic' was a collaboration with Camper to celebrate the 30th anniversary of his model' Twins', and present the new spring-summer collection 2018. The Spanish-Serbian artist intervened with installations that played with gravity and space through live sculptures and a series of surrealistic images.
Recently, he has also carried out a campaign for Louboutin focusing on two graphics: a Rococo bust and a human sculpture of symbolism with which to travel to the Universe of Magritte.
Not to mention the illustrations for P. Spain's new campaign, 'Murder at the Palomo Hotel'. The cluedo in which three transcendental episodes follow one another: 'the naked nice one', 'the party of masks' and 'the bathers', and it gives you desire to give him "likes" without stopping.
He is Filip Custic (@filipcustic1), the architect of objectivity and an art that fuses this duplicate reality of a sensitive and intelligible platonic world. A reality that takes us' out of space' with messages to reset, open our eyes and appreciate the beauty of art in all its aspects.