READ IN: Español
Cut Copy, Editors, Milky Chance, Supergrass and Temples headline the latest confirmations with which Mallorca Live Festival has closed the most international line-up of its five years of life.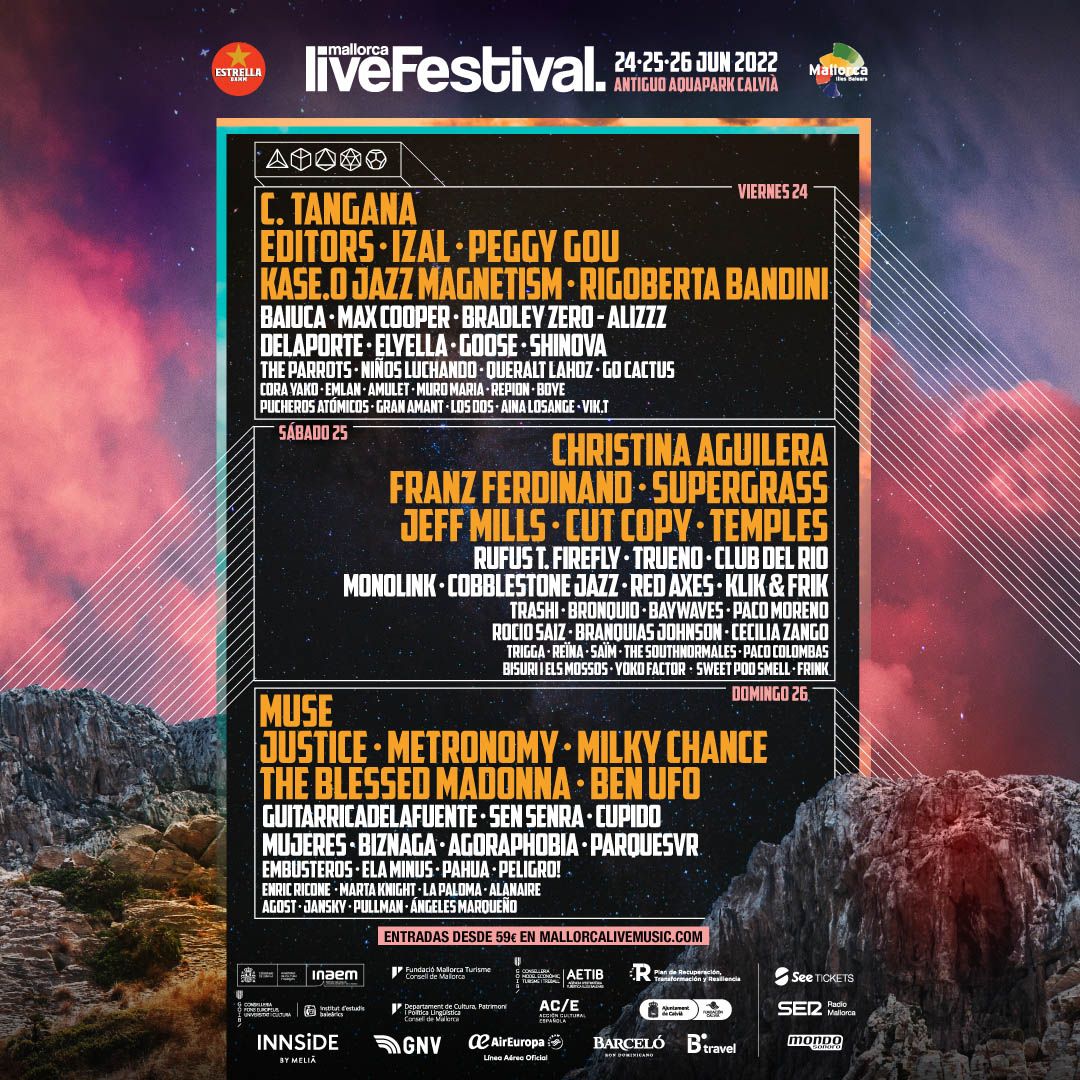 These international bands have been joined by the latest names in the festival's electronic line-up and around 20 national artists who will be performing at the Old Aquapark in Calvià on the 24th, 25th and 26th of June 2022. Now you can attend the most important international music festival of the Balearic Islands that returns in 2022 with its original format so you can continue dancing and enjoying the best live performances.
Supergrass, one of the most important bands to emerge from the UK during the '90s and authors of pop masterpieces such as 'Alright' are visiting Mallorca on their return to the stage. The also British Editors, who emerged with the post-punk renaissance of the early 2000s, are celebrating their almost 20-year career, and Temples will leave their unmistakable stamp with their third album, 'Hot Motion'.
From Australia come the danceable rhythms of Cut Copy, who will present their latest album, Freeze, Melt (2020), and the dancing will not stop with the Germans Milky Chance, who arrive with new material after the break caused by the pandemic. The finishing touch comes with the confirmation of a key name on the London club scene, Bradley Zero, and the Colombian Ela Minus. Two final headliners are Peggy Gou, Jeff Mills and The Blessed Madonna.
National artists
Mallorca Live has also confirmed the latest batch of national artists with the announcement of Guitarrica de la fuente, trashi, Embusteros, Rocío Saiz, Branquias Johnson, Cecilia Zango, Emlan, La Paloma, Boye, Muro María, Repion and Marta Knight. In addition, the festival continues to promote the Balearic music scene with names like Reïna, Alanaire, Agost, Aina Losange, Sweet Poo Smell, Jansky, Gran Amant, Paco Colombàs and Pullman. Among those already confirmed are C. Tangana, Alizzz, Rigoberta Bandini. Sen Senra, Cupido and more.
You can get your tickets for the Mallorca Live Festival here. 
Now… Why not check out the latest Dior x Birkenstock Tokyo collaboration?