READ IN: Español
The same thing happened with Marine Serre as with Heliot Emil the day before, minutes before the presentation of her latest collection. The madness was at its peak and the young French (and not) crowded at the doors of the "museum" where the show was held to try to get the best place to see what was going on inside. This situation heralded in capital letters the return of the real Paris Fashion Week (PFW).
Well known to all, Marine, a French designer, achieved some of her popularity thanks to her iconic moons, loved by both French and international audiences. These made her one of the designers of the moment, and one of the most popular. But Serre's career, although many believe it, is not only about this type of print, but also about many other things, such as the mastery she has in democratising and deconstructing what some French designers did in their day.
This time, MS has decided to step out of its comfort zone and leave the moons in the background, not forgotten, and present her autumn/winter 22 collection entitled "Hard Drive" in an exhibition format in collaboration with the Lafayette Anticipations space, as far from holding a normal fashion show, it wanted to go further and offer its guests a whole experience.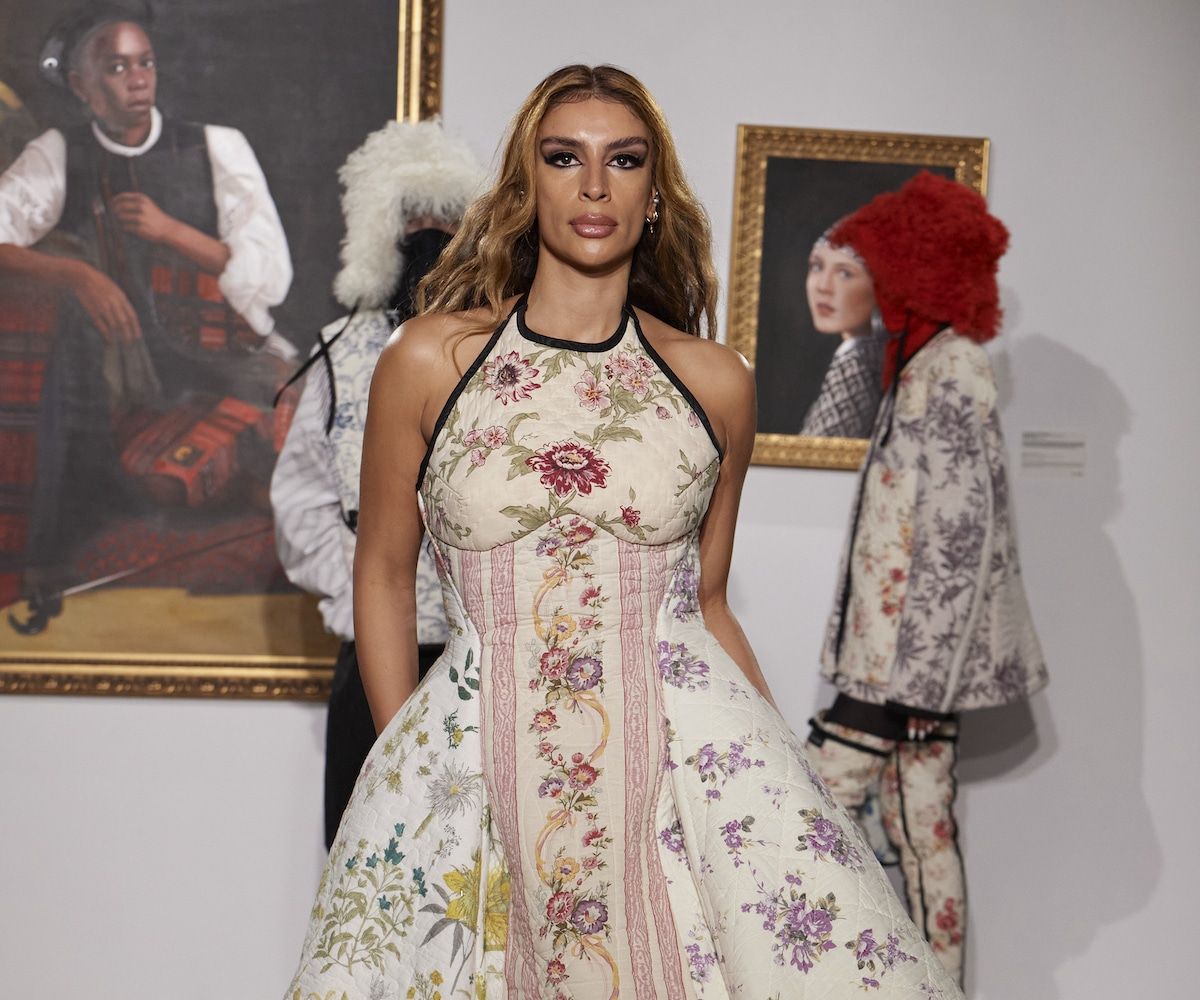 Do you want to know all about the "Hard Drive" exhibition? We'll tell you all about it. This space is divided into two floors, on both of which we can find a summary of the DNA or spirit of the brand. On the first floor, among a selection of original paintings from the 15th to 17th centuries (bold reinterpretations of some of the most iconic female figures in the history of art) you will see everything related to the pioneering processes of creation, production and upcycling and, in particular, the fragments of a dismantled world that the team has painstakingly gathered over the last few years, while on the second floor the House's (hard) materials are expanded and mixed to create visionary environments inspired by the latest collection. In addition to this fashion and art-related experience, you can find a pop-up that offers visitors the opportunity to regenerate their own garments and objects with the distinctive logo that made her so famous, as well as purchase some of Marine Serre's current pieces along with a selection of books and objects.
As for the collection, as mentioned above, it sums up the brand's DNA and is characterised by a punk spirit (belt buckles assembled and transformed into chokers and bracelets placed on vibrantly coloured Aran knitted jumpers), basic materials and the house's savoir-faire, by tailoring, Harringtong jackets regenerated from tartan and houndstooth wool scarves, tweed coats combined with tartan scarves, patchwork garments, recycled grunge shirts, tartan, diamond and jacquard prints in recycled wool with a sleek and polished look. And if we talk about elegance, we automatically have to turn to Toile de Jouy quilted bed linen. Camouflage also played an important role in Marine's proposal, where good finishes predominated.
Marine Serre is maturing and her collection "Hard Drive" has more than proved it and we couldn't be happier. Go to the beginning of the article to see the video of the show.