READ IN: Español
Let's put it in context: Madrid, Preciados 25, Desigual's new shop window, now decorated and set in the work and artistic imaginary of Pepo Moreno. Their relationship? "Spontaneity, optimism and a bit of absurdity", as this creative told us at the beginning of our interview.
From Highxtar we wanted to chat with Moreno to know him a little more in depth and, to deceive you, because the opening day was so top that we could not not dedicate a space between our articles.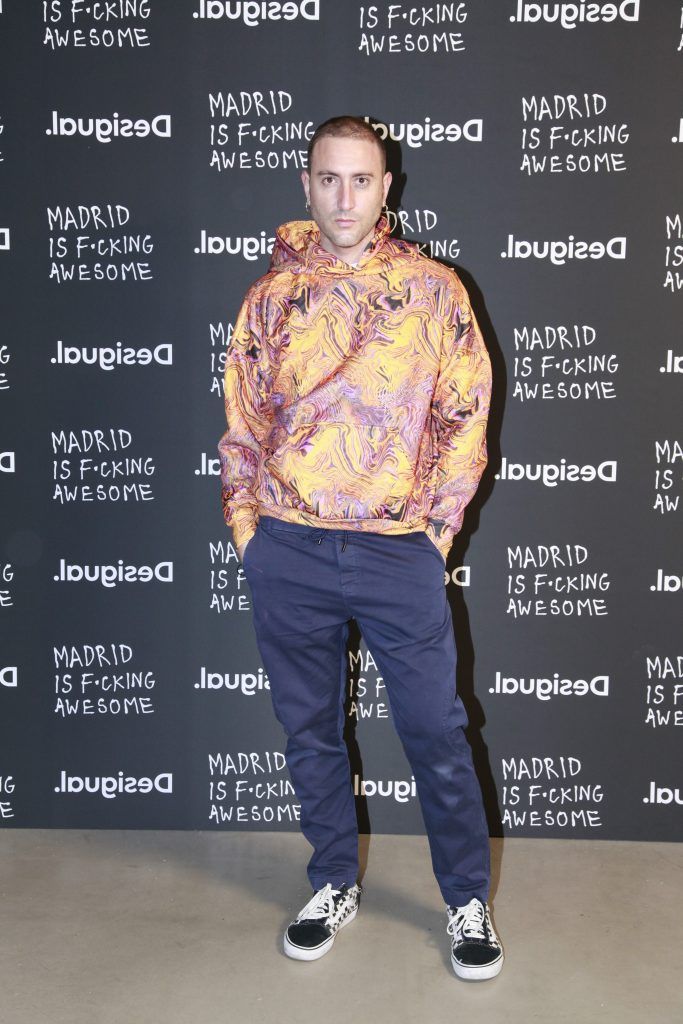 We talked w/ Pepo Moreno about his new collaborative piece for Desigual and introduced us to the artistic imaginary that characterizes him so much.
Highxtar(H): What do you think Desigual saw in you?
Pepo Moreno (P.M): I think Desigual saw spontaneity, optimism and a bit of absurdity (or so I'd like to think).
H- How did you manage to combine its so characteristic essence with your personal style? What were the keys that guided you in the creation of this installation?
P.M- Well, I think it was quite organic. I wanted the intention of the work to be clear and graphically very dynamic. In my head I invented a series of characters (including one inspired by the iconic humans, the first logo of Desigual, created by the artist Peret) that could represent at first glance moods (something like emojis) and that were universal. From the very first moment there was enthusiasm for the idea.
H- From your perspective as a creator, how would you define the personality of this collaborative work?
P.M- Balance within the chaos and a good understanding between both parts: I didn't want to get lost in what Desigual represents but that the piece spoke for both parts.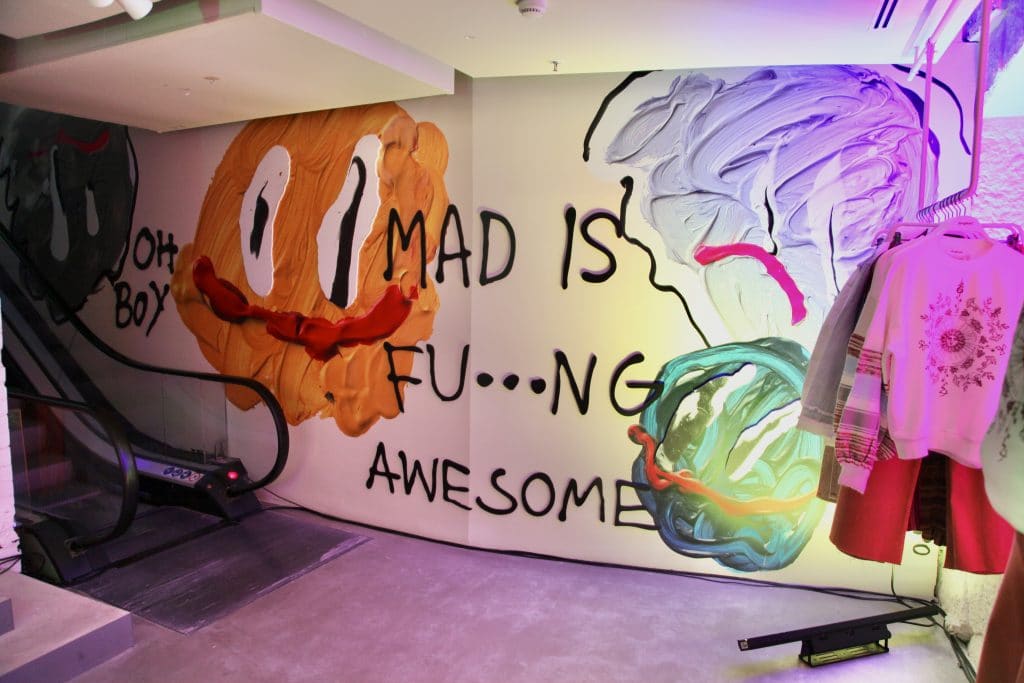 H- Tell us a little about how you experienced the opening day.
P.M- It was very exciting. It's very flattering to have so much emphasis and focus on a collaborative work.
H- You also worked a while ago on a series inspired by Gucci's 100th anniversary, do you feel comfortable doing work that fuses fashion and art?
P.M- Yes, in fact, my background is in communication and marketing. I've worked in several companies, almost always in luxury brands. I think that gives me a perspective.
H- And speaking of Madrid is F***ing Awesome, what is the first thing that comes to your mind when you remember that part of your art and, basically your identity, are found in the great interior of Preciados 25?
P.M- It's very gratifying. I want to reach as many people as possible and having a showcase like Preciados is a huge platform.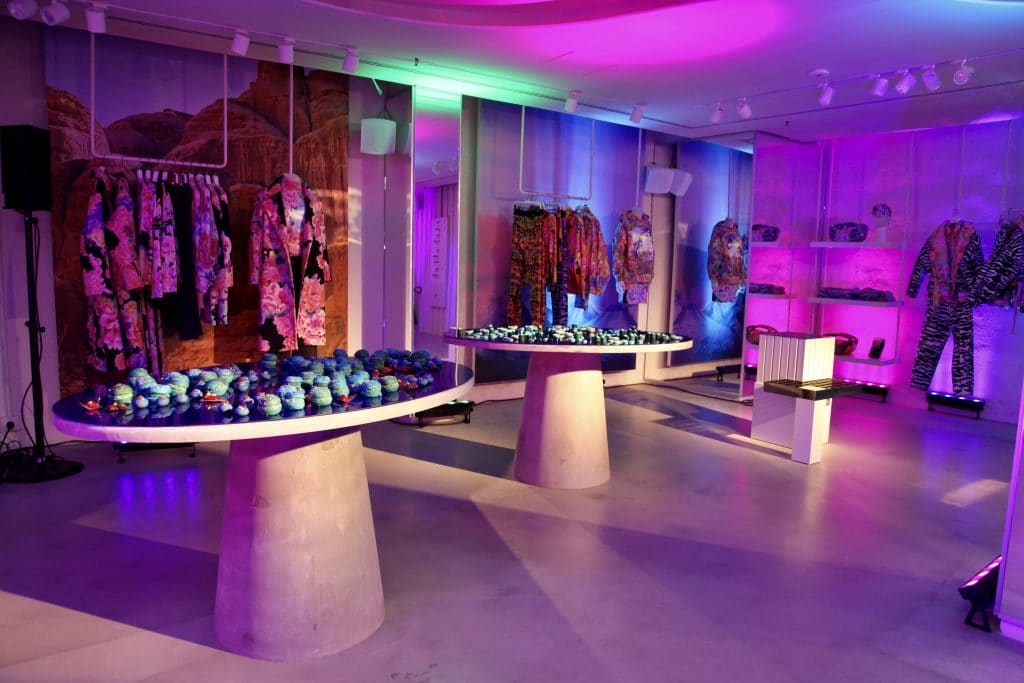 H- Your artistic imagery combines a huge range of colors and textures in oil paintings that end up forming a jumble of characters of different moods that, among so many things, have ended up forming your own characteristic and personal universe. Going back to your origins as an artist, how did all this aesthetic come about? 
P.M- Well, I always start from mistakes. That's why I talk so much about spontaneity. What others would consider a 'screw-up' I embrace it and make it mine.
H- Are you particularly interested in the fact that your work has become so closely related to you?
P.M- I don't know if it interests me, I think it has come organically. I am very vocal and my most personal work comes from my own person and experiences: I like to use humorous messages and talk about my own experience.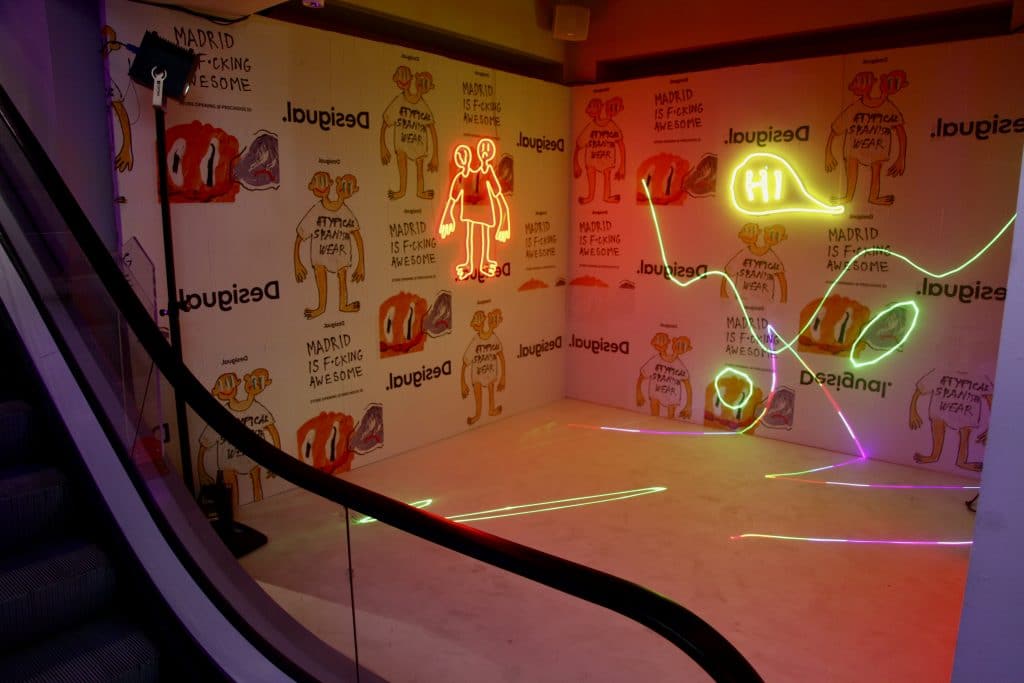 H- All these cartoons and everyday objects that you create for your works, such as the last exhibition Tot es gai where you created a new homosexual normativity in front of the hetero one, reflect on your vision of certain situations. Are emotions a fundamental part of your artistic inspiration? In what sense?
P.M- Yes, to a great extent. In tot es gai I talk about my own experiences and sweeten them. I reappropriate situations and memories that made me feel ashamed and I use them to laugh at myself and at this world we live in.
H- What advice would you give to a person who has just entered the art world?
P.M- Let him/her be guided, but let the last decision (whatever it is) always be his/her own. And to look for an accountant.
H- What new projects are you working on? Anything you can tell us about?
P.M- I started a project with Guitarricadelafuente last year that will come out this year (fully) and some other collaborations with brands. I will be exhibiting again soon in Paris with some pieces that have nothing to do with what I do (and at the same time, yes) and since it's bad news to talk about projects that haven't happened yet, I'll stay here.
You can take a look at the new Desigual by clicking here or follow Pepo's steps more closely from his Instagram profile.