READ IN: Español
Yesterday the lights of one of the Fondazione Prada's spaces and the famous tunnel of the future were turned back on to unleash the vision and creativity of the two creative directors of the iconic luxury Italian fashion house Prada, Miuccia Prada and Raf Simons, to present their autumn/winter 22 collection during Milan Fashion Week (MFW).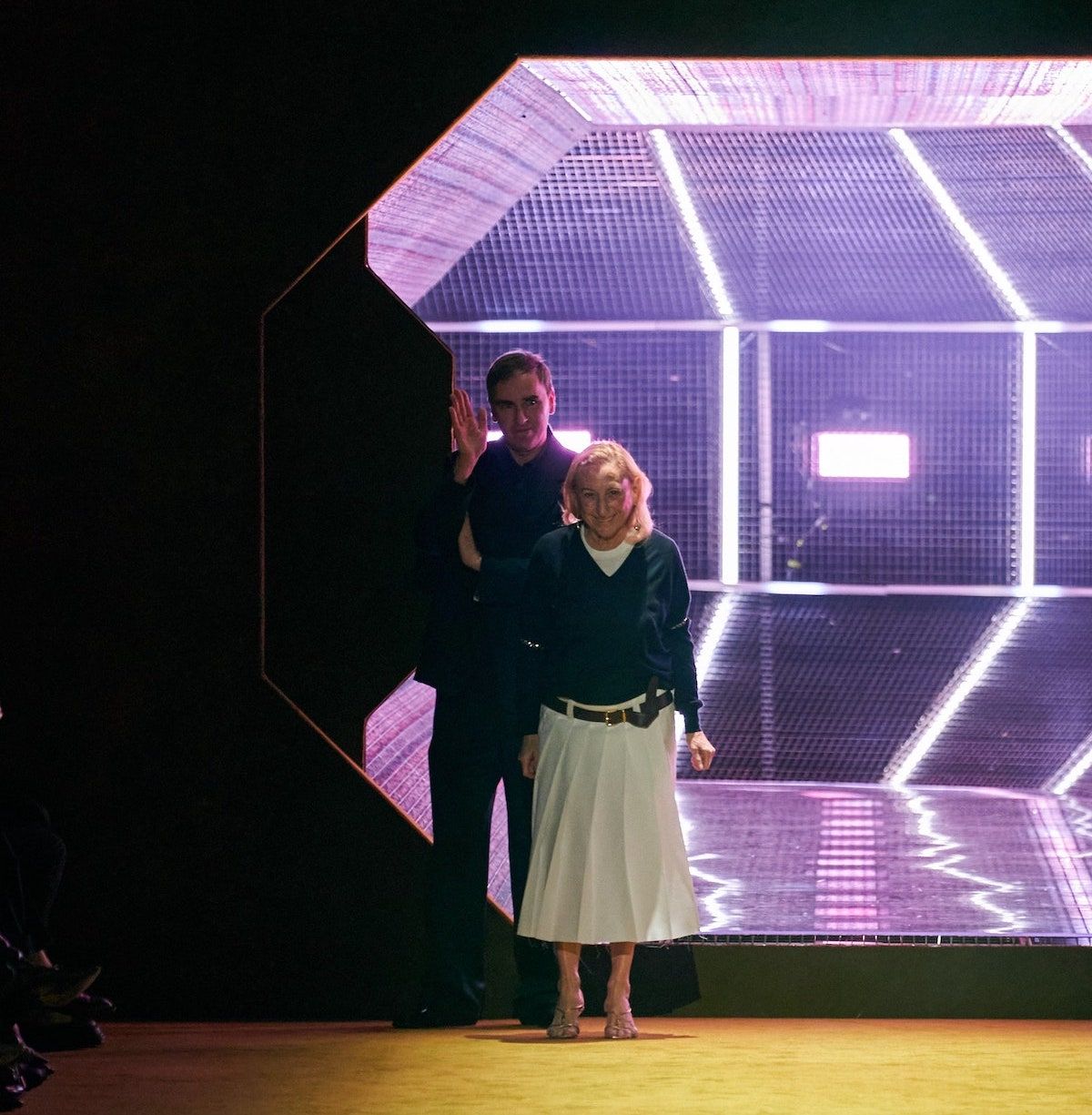 This show is always a safe bet and one of those that generates the most expectation, whether for the set of the fashion show, for the collection itself or for the guests. And speaking of guests, do you know who travelled all the way from the United States to Italy to discover the brand's new products from the front row of the now famous yellow room? Kim Kardashian. Yes, that's right, KK travelled from Los Angeles in the middle of all the controversy generated with her husband Kanye West now "YE" to enjoy a beautiful morning full of fashion and get inspiration for her looks at the Italian fashion week.
But leaving Kim and Kanye aside and focusing on what we're interested in, we'll tell you about the novelties that Prada has brought us: the tank tops with the triangle logo on the chest combined with mini skirts in different combinations, like the skirt with which Kaia Gerber opened the show, made with grey flannel, black crushed satin and a metallic mesh with crystals, the dozens of tailored garments, both blazers and coats (some with coloured fur details) that perfectly represent the influences of Miuccia and Raf, as they have the silhouettes of the Italian designer but the avant-garde details of the Belgian; Just look at where the triangle-shaped logo has been placed this time, on one of the shoulders and attached to a thick cross chain. Very Simons, isn't it? Moving on to the sartorial side of things, in addition to the coats we mentioned earlier, it's worth mentioning the floaty skirts, also a signature classic, combined with cashmere jumpers. Whose idea was it? Madame Miuccia's, obviously, as this combination could very well be her uniform.
There were also leather garments in the form of trench coats or jackets with sheepskin, streetwear style, such as XL bombers with floral appliqués on the top, or the house prints.
Prada never fails, does it? If you haven't had a chance to see the show yet, go ahead. Click here to watch it.