READ IN: Español
Pyer Moss, we know, it's not just fashion: it's politics.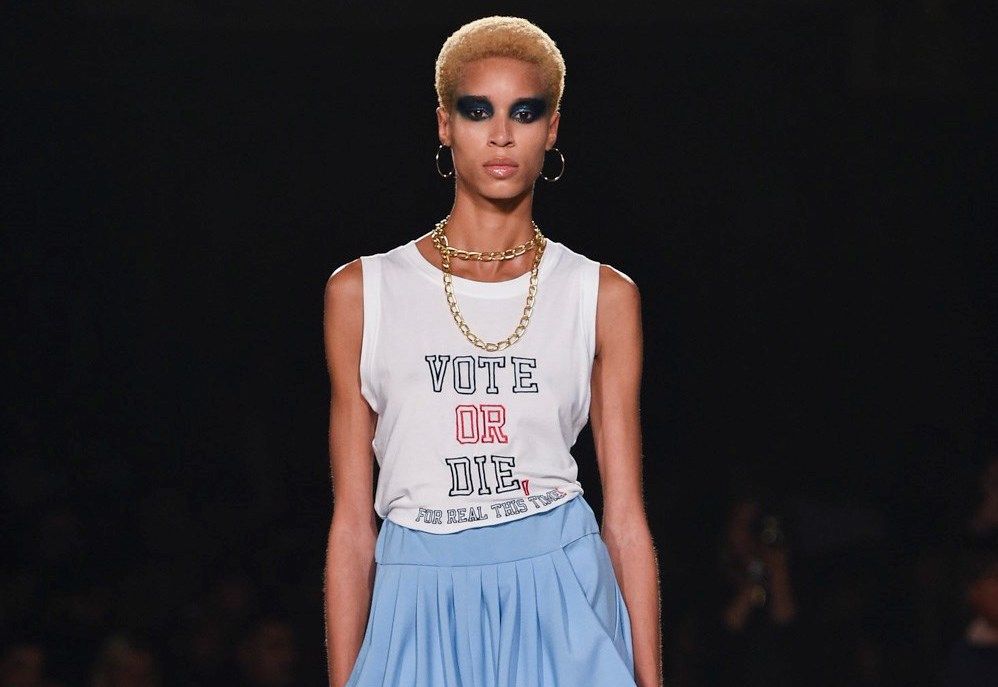 Pyer Moss operates on its own terms. With its founder Kerby Jean-Raymond at the forefront, the firm has always stood apart from the rest by a particular idiosyncrasy and a dynamic that breaks traditionalism. After announcing that it would not attend the Fall 2019 program in February and leaving an irreplaceable void in fashion week, Pyer Moss is now back to launch a manifesto in textile format.
After that period of absence, his comeback arrives to complete the trilogy. 'Collection 3' closes a saga of collections inspired by the difficulties faced by African-Americans in a discriminatory and racist society. The fashion show took place in the neighborhood where the designer grew up, with a casting of racialized models and recreating a Sunday mass.
Under the name of 'Sister', the show has turned out to be a rock & roll show with more than 60 singers and an orchestra in honor of singer Sister Rosetta Tharpe, famous for her mix of gospel and blues. African American glamour has shone in all its splendor with brightly colored silks and retro reminiscences, like shoulder pads on men's jackets. Some of the political messages seen on T-shirts, such as "Vote or Die", stand out.
For 'Collection 3', the designer has collaborated with Richard Phillips, a painter who spent 45 years in prison for a crime he did not commit. Phillips' story moved Kerby Jean-Raymond and he decided to collaborate with him for the prints of his new collection in a show that has turned out to be one of the most awaited in the industry.
Beyond this, Jean-Raymond became Artistic Director at Reebok Studies after some years of productive collaborations. Kerry took NYFW's stage to present his new creations alongside the sportswear brand. His bet on futuristic chunky sneakers is hard, having reworked already the Mobius Experiment 3, DMX Fusion Experiment and Daytona Experiment with eye-catching results and a very positive response from the community.
His new role in Reebok will allow him to promote new talents, being able to develop their projects and proposals under the remarkable umbrella of the adidas-owned company. Pyer Moss (@pyermoss) leads innovation and revolution for the American brand.
In this new collection, Kerry Jean-Raymond brings fluid and elegant pieces cosigned with Reebok. The most outstanding piece is a salmon colored oversized kimono. Tracksuits and puffers will be a must for 2020's spring season.
In addition to its return to NYFW, the brand celebrates its recent addition to CFDA's Board of Directors.