READ IN: Español
Fashion is finding its way to a more sustainable paradigma, looking for new policies that help our planet live a little bit longer and make their clothes a proof of a new way of thinking in the industry. From faux fur to vegan fabrics, several options are on the table right now. Andre Rosso's MYAR is giving military pieces a second life. Vintage seems to have a decisive part on fashion's future. Reuse and reduce.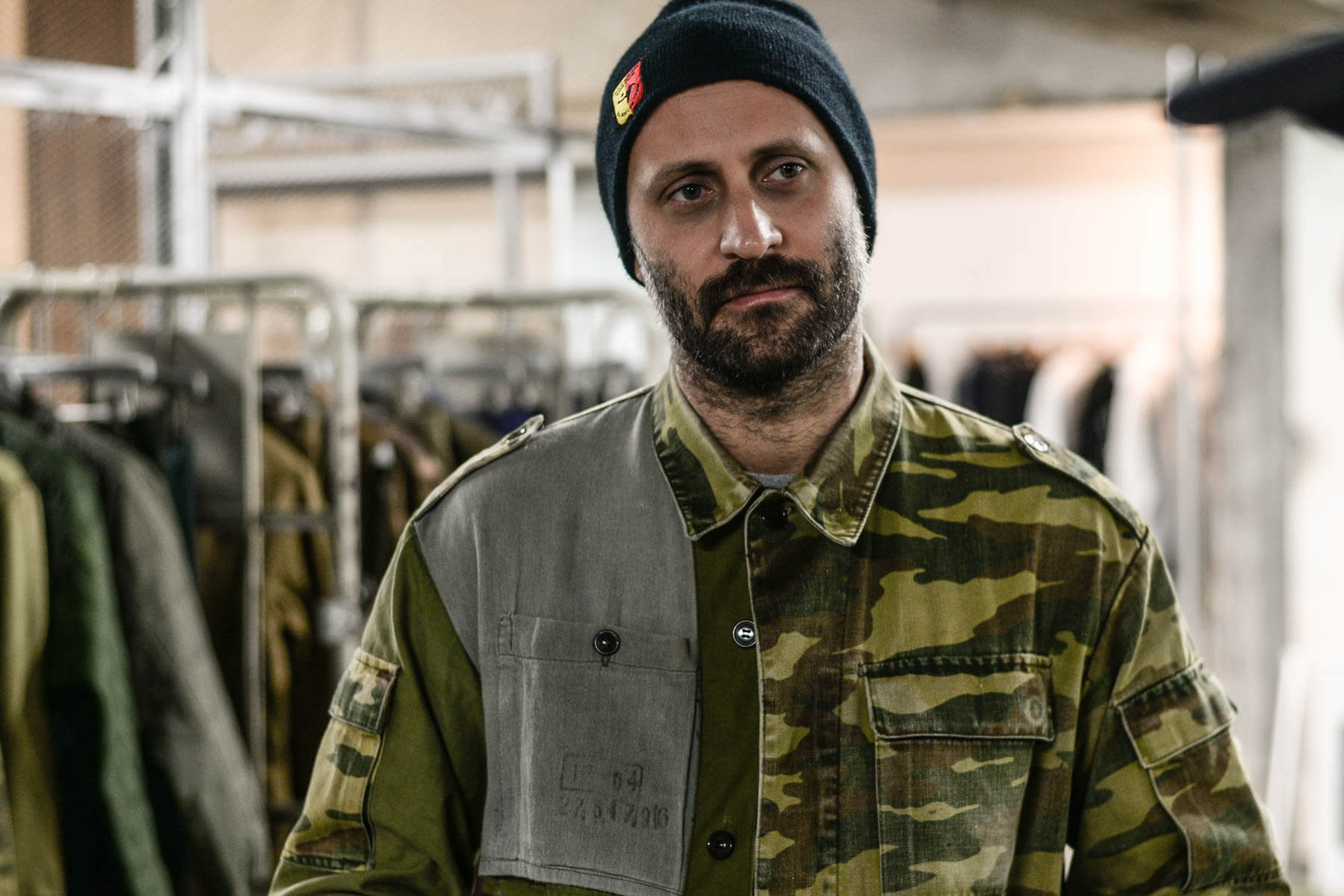 Andrea Rosso (@andrea77rosso) is an Italian designer and Creative Director for DIESEL License. He's been in the industry for quite a long time now and is aware of the worries of its future and how he's willing to put his knowledge and vision in order to make it a more trascendental one. His passion for vintage military garments resulted in funding MYAR and his will to make a true impact with clothes lead us to talk with him.
H.- How important is to you to work with recycled garments? Why you decided to do it in the first place?
Andrea Rosso (AR) – 2014 was the year that Diesel stopped 55DSL, the brand that made me learn all I know about apparel, graphic design, events and communication, etc, etc. But most of all, working in a great team. After losing that team (designer, product manager, production, graphic designer, pattern maker, marketing manager) I started sewing by myself at home with my sewing machine. One night I took two gray US ARMY t-shirts, cut the logo ARMY in two part (AR / MY) sacrificing one t-shirt in the process and applying the letters with my PFAFF sewing machine on the other uncut t-shirt switching the letters, and here we go: MYAR was born in my head.
I decided that i wanted to create my own "ARMY" using only garment that had been already worn by other people, customizing them and with the military background.
All the rest regarding UPCYCLING and RE_USING deadstock material came naturally inside my head.
H.- Military and camouflage has been always very present in fashion, but these days it seems to be stronger than ever, why do you think it is?
AR – Military "inspirations" and all its derivates in the design and fashion field has always been present, since the 50's. Sometime less sometime more. Camouflage is today almost like a black color, present in many variations. I think that army clothing has a practical, easy to wear, natural look garments, that you can wear everyday without thinking too much.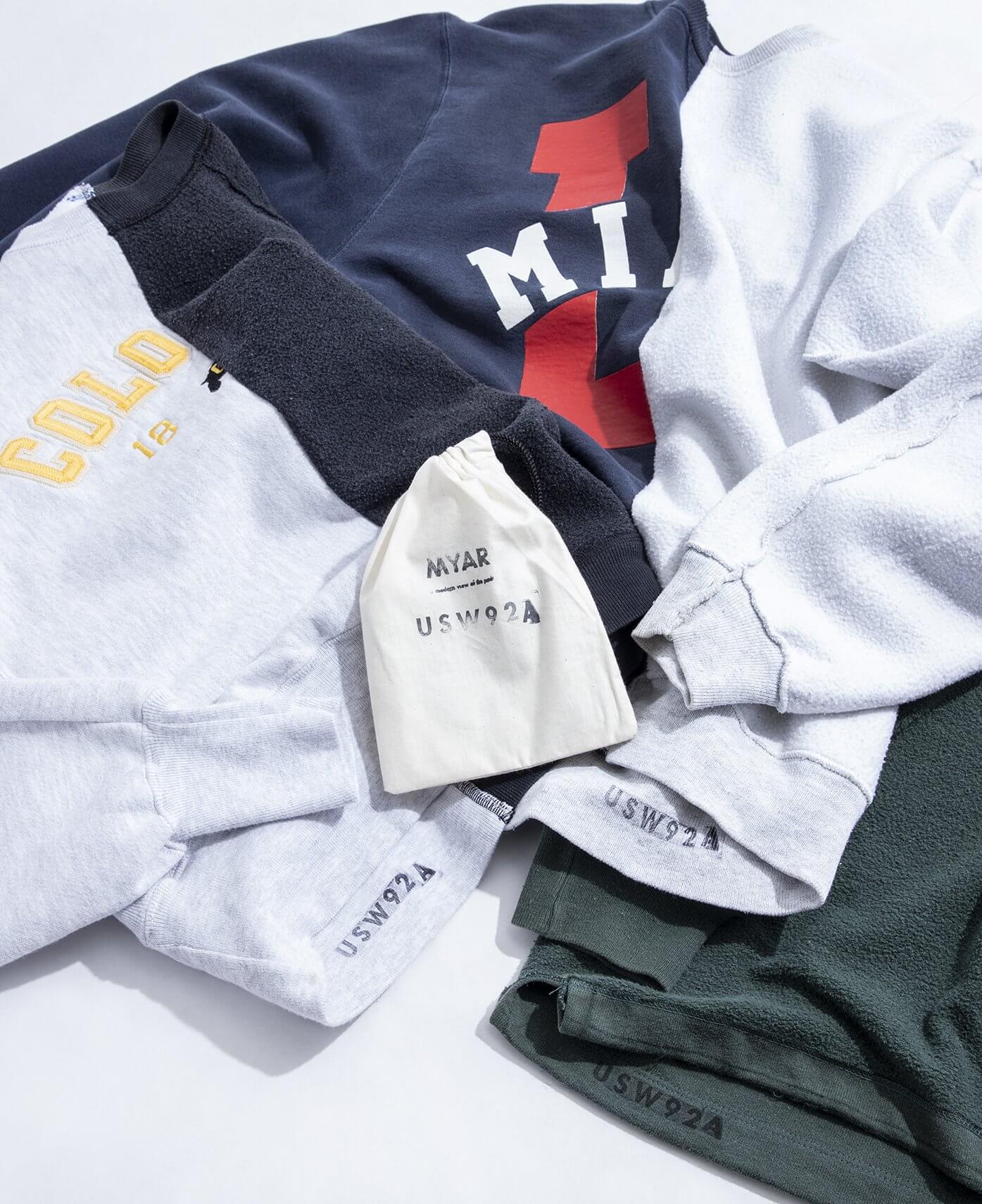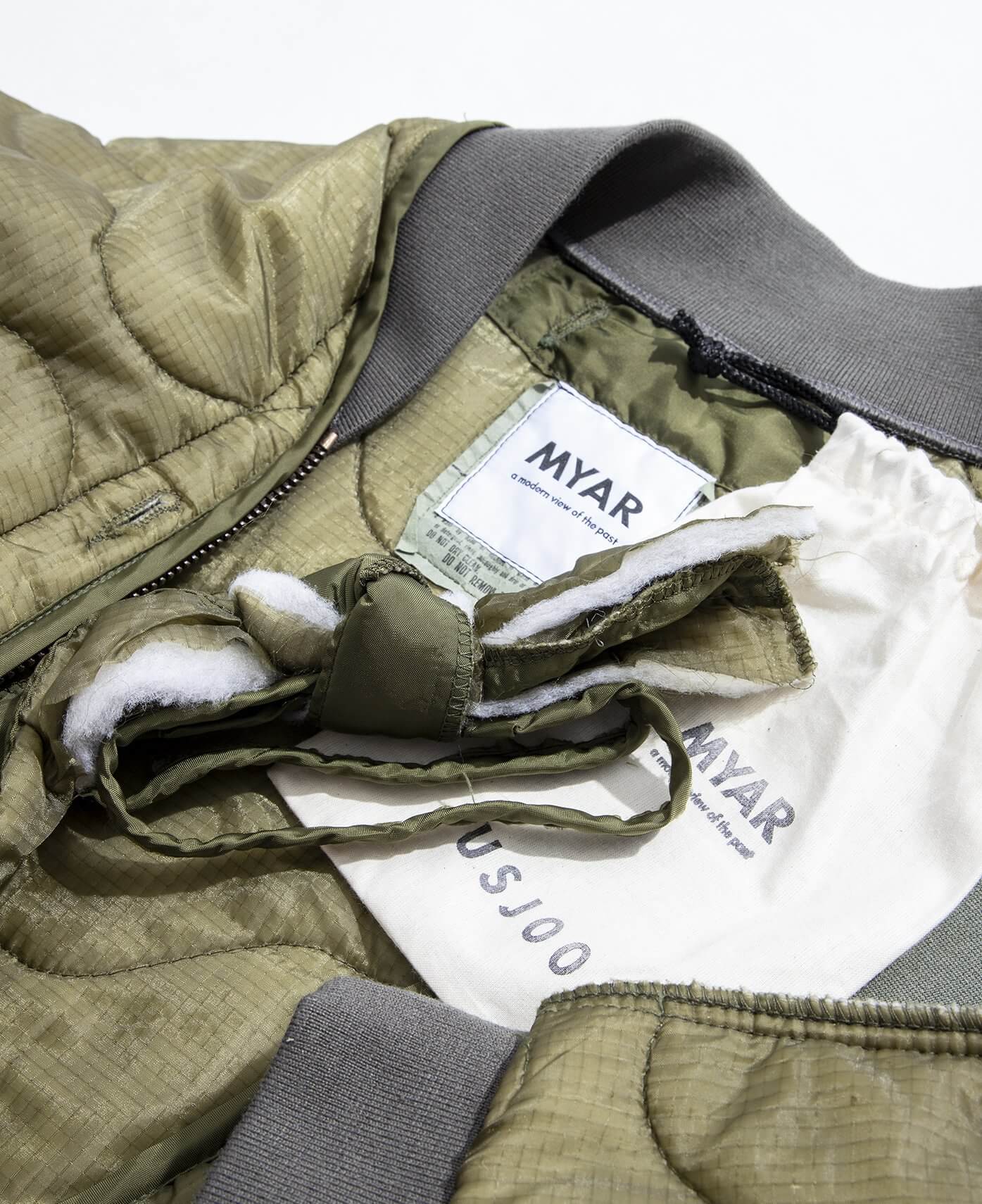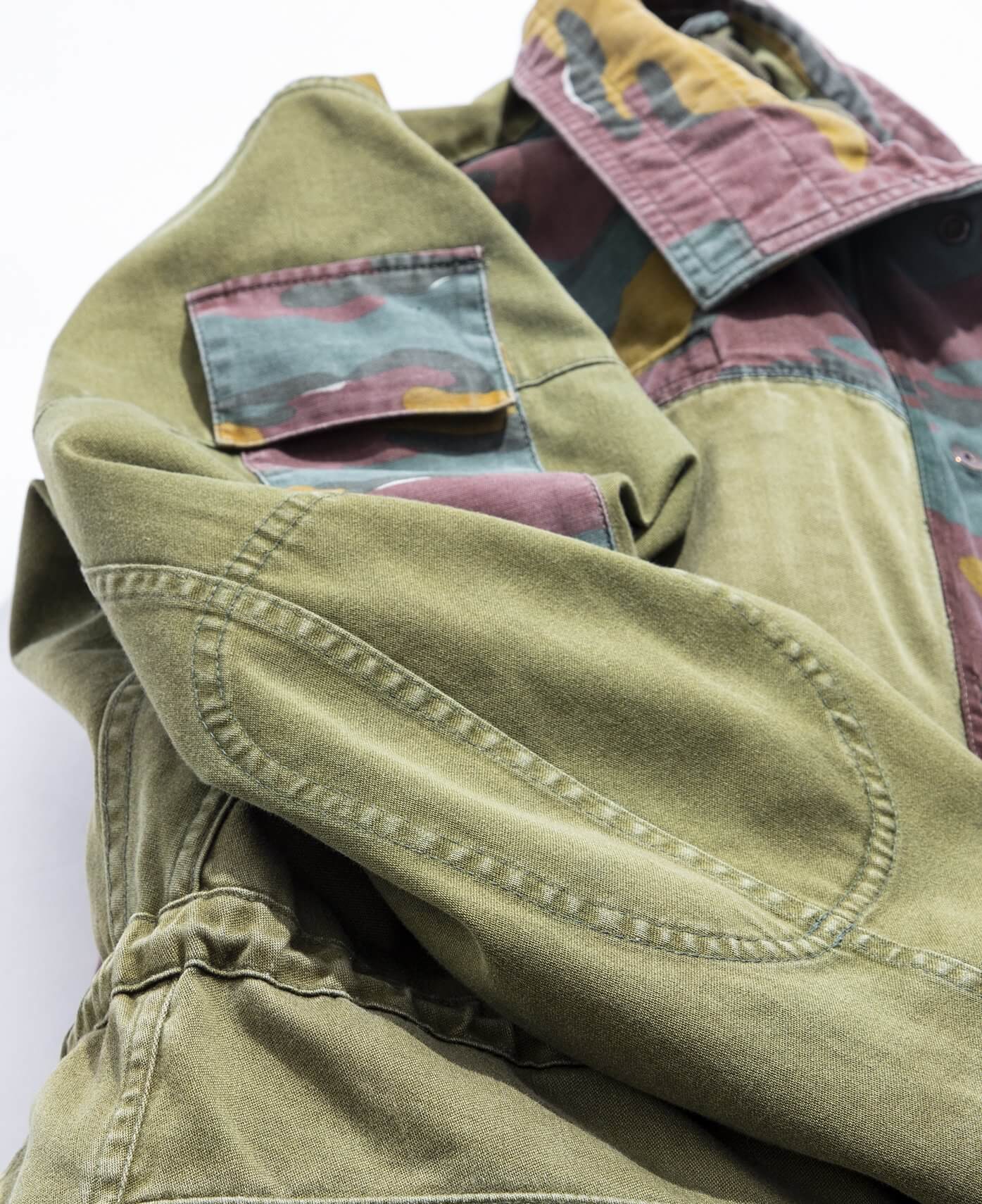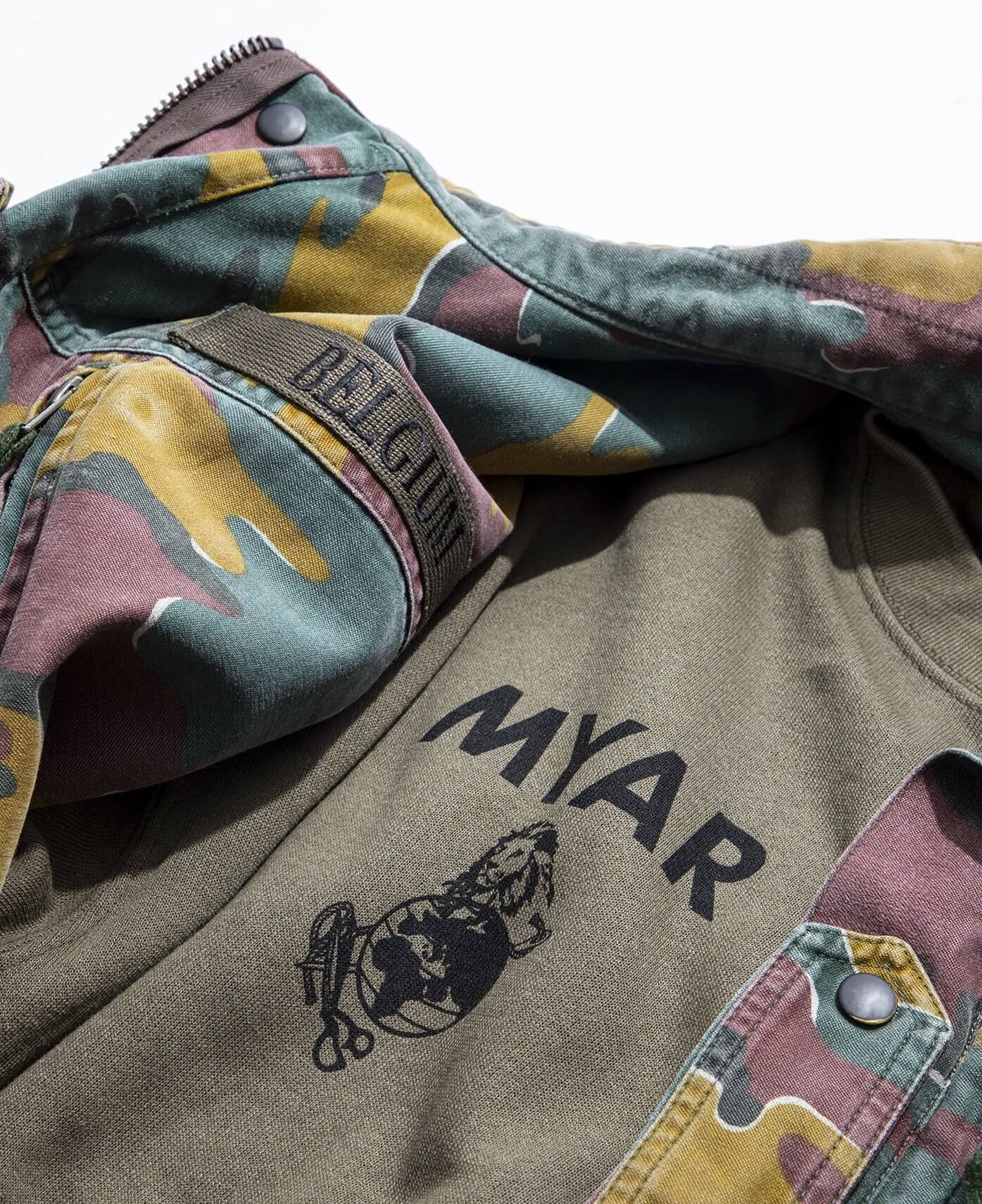 H.- Uniforms are so on trend from a few years ago with big brands like Prada or ALYX betting hard on them. Is people tired of fancy clothes and need more wearable and practical ones?
AR – I think that practical use is easier to wear and to sell.
Fancy clothes is wore in special occasion, probably easier to rent.
H.- Virgil Abloh said recently that vintage is the future of fashion. It's your present already, how de you feel about this popping tendency to vintage clothes?
AR –  Since I was fifteen (27 years ago) I was wearing second hand garments, before "second hand" stores started to be named "vintage", which is more expensive and difficult to find.
I think the sensibility of people with their spending money and the climate change, is changing in a better way by thinking twice before you buy.
To me I just hope that people don't follow the hype present momentum but they learn about product, even if it comes from the past.
H.- How is the process from picking the right vintage garment to designing your pieces?
AR – This is the best part, when you are submerged in piles of used garments and you have to pick the right ones! Even if its dirty and smelly is a creative process that brings life to the new pieces of the collection!
H.- What have you learned at Diesel that you are applying at MYAR? What would you apply to Diesel from MYAR?
AR – When I was at 55DSL I learned a lot in the field of the making of the collection (fabric picking, printing techniques, construction of garments, etc.) and its marketing behind. Now in the Diesel license I'm learning so much of material and its use. Wood, metal, acetate, padding, glass, ceramic, are becoming my daily materials.
Everyday I'm learning from MYAR, a microscopic brand compare to Diesel, but from the smallest thing (payments of suppliers, choices of deadstock accessories with a good price, etc…) I'm learning to be more secure when I have to make big important decisions in a big corporate brand like Diesel.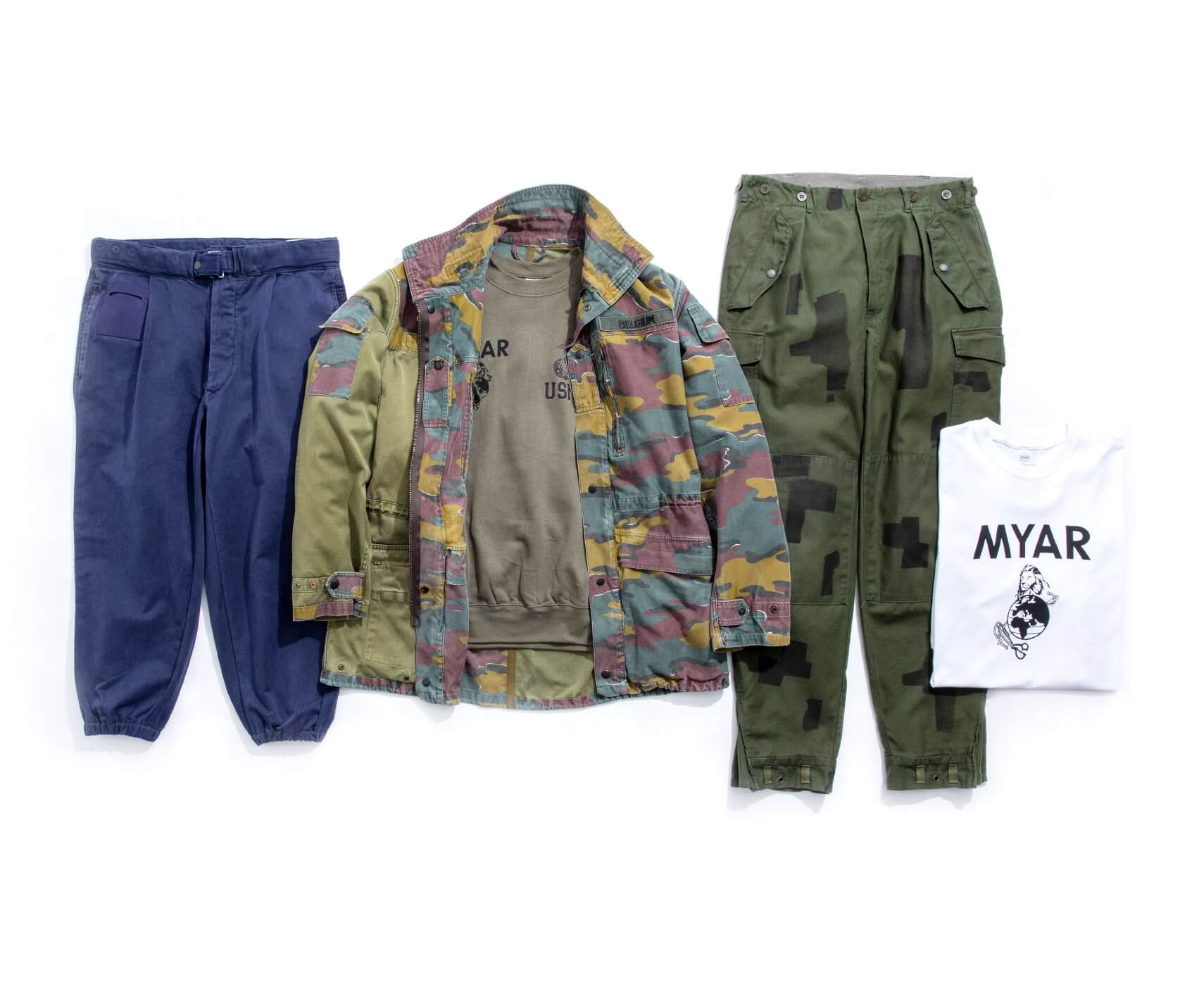 H.- What is the Circular Fashion Summit? What is its ultimate goal?
AR – The Summit is a great occasion to share and talk about your experience, expertise and what is happening in the fashion world under the umbrella of sustainability. The goal will be to learn to "clean your room" when going home.
H.- All your clothes has history, how deep do you like to go on each piece's background? Is important to you to deliver the message and stuff those garments has been through?
AR – We are learning everyday from the past, with MYAR (@joinmyar) all those military garments have a second chance, a second life which can be more positive and useful.
We research the history of every fabric to know its past and what was made for. Today we find that you can have more and more info from items used in the 60's, 70's or 80's rather than items that are from the 90's or 00's.
H.-  Since you don't work with fabric rolls like most of the clothing brands, you manage to make 1 of 1 pieces for each creation of MYAR. That was your intention or it's just the consequence of using recycled materials?
AR – We never produce fabrics, but we customize used military garments that need to be repaired, cleaned, unstitched and restitched after, so every item is unique.
When we don't have garments to cut and use to repair others we buy deadstock fabric, which has a very limited quantity. Same as buttons, zips, tapes, patches, etc.
All our materials are upcycled, they already exist. We don't recycle anything.
H.- Maharishi had a strong impact on the industry thanks to a similar policy. These days they seem to have changed their path a little bit. How do you see MYAR in 10 years?
AR – In 10 years I really don't know, but I hope we have cleaned as much as possible, as many warehouses we can, giving a second life to military garments produced and used in the past. We want to end with all of them. Maybe that's the end of MYAR, but that will be a happy day!
H.- With a strong and solid career at Diesel, why did you decided to take the MYAR road with all the risks involved? It was a thing you always wanted to do? You plan to make it your main occupation?
AR – MYAR is naturally inside me. Diesel is in my family. I've learned a lot of things thanks to the possibility to work in a big group like Diesel, but once you are too high in term of business dimension, you loose a little the "feeling" of the common ground. Today I'm double fortunate since I'm living in both.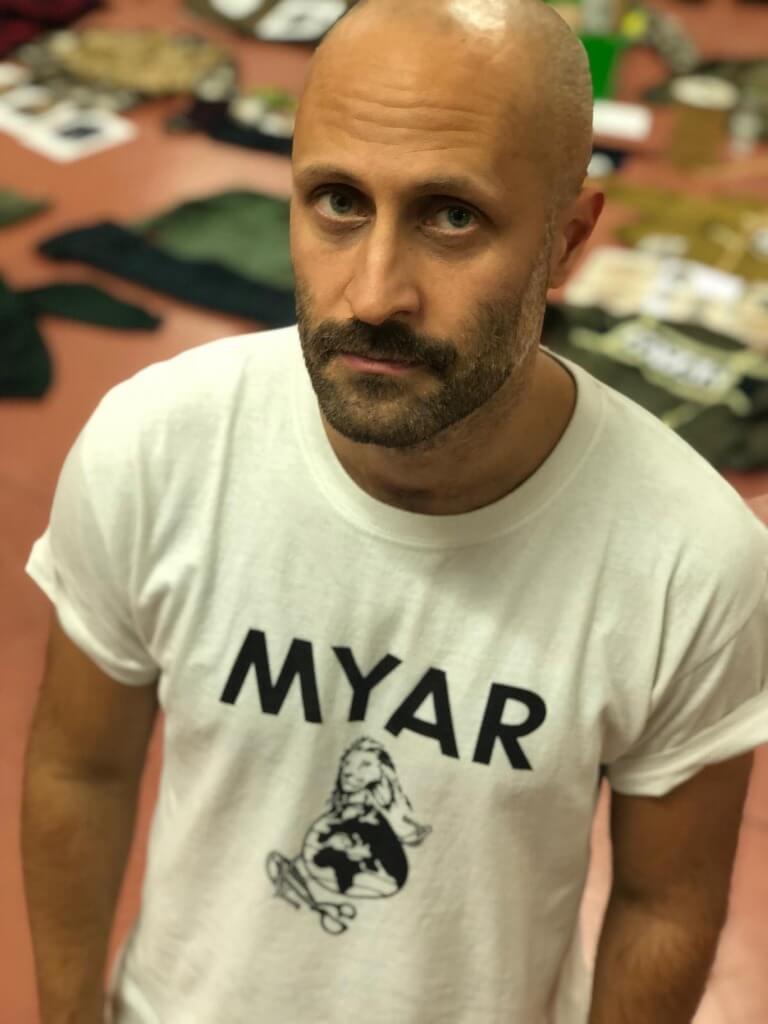 H.- MYAR looks so fresh, so raw that it can fail, it brings truth to the fashion world. Do you see it the same way? What's your objective vision of your brand?
AR – Thanks for the "fresh" comments, something old usually is not so fresh anymore! The vision of MYAR is to bring a modern view of the past!
Now you know, join the MYAR.