READ IN: Español
Ascension 

is Shoop Clothing's proposal for FW19, a spiritual awakening that we could have sensed thanks to the promotional poster of the show, where two bodies seem to unfold with the universe

.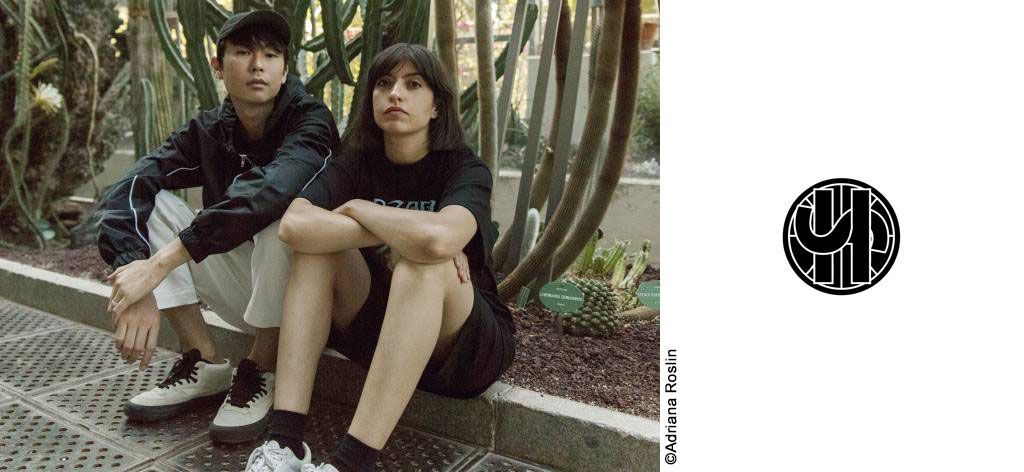 The Madrid-Tokyo tandem proposes an astral journey with a show designed to immerse you in an aura of mysticism. With historical tapestries as a backdrop, the intense smell of incense activated our senses for what was about to begin. A sequence of stylisms marked by the percussion rhythm of Tibetan bowls in a background of Chants.
Spirituality opens the way to utilitarian garments full of pockets and zippers, knitted sweaters with technical trousers, sweatshirts made of friendly fabrics and a pair of fur coats to face the cold. We suppose that comfort helps in the introspective journey, but there was also room for reinterpretations of the more classic patterns -such as shirts and suits-, fabrics such as corduroy or denim and T-shirts with graphic designs -by the hands of Andrei Warren, Alexandra Cepeda and Daniel Benza– that function as a map of the human soul. The stylisms were completed with braided hairstyles from which small natural stones hung -by the creative studio X-presion-. The sober and dark tonalities were interrupted by some pieces that introduce the colors of the symbolism of chakras.
Shoop Clothing - FW19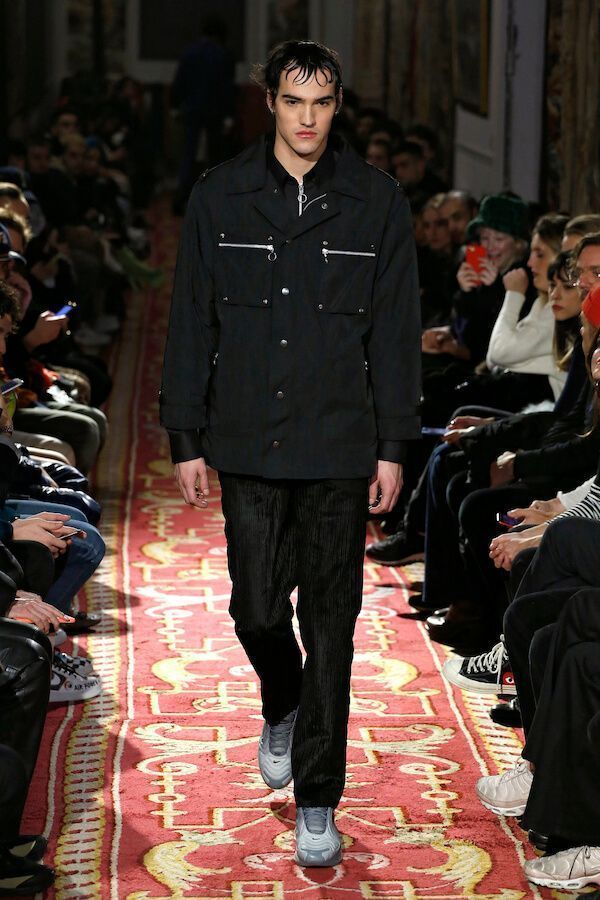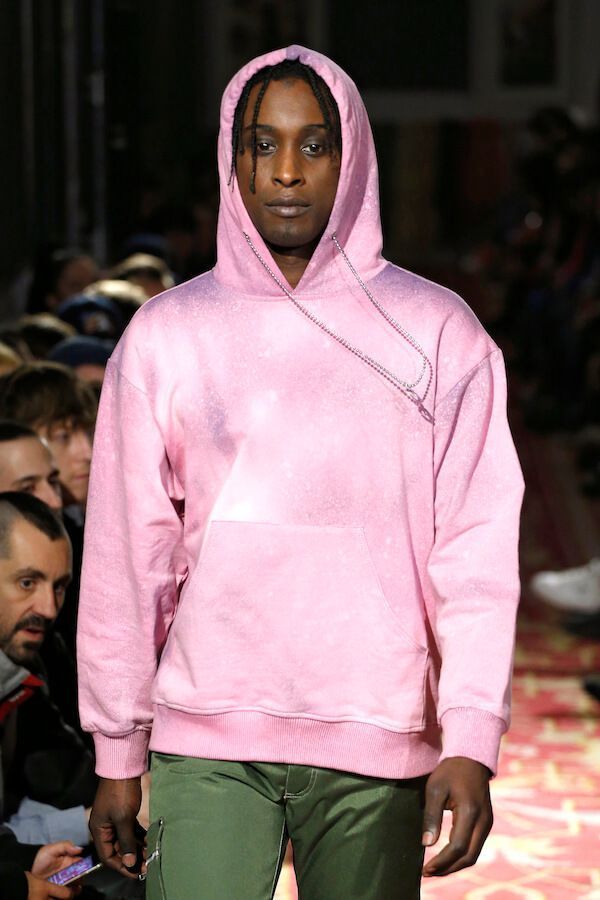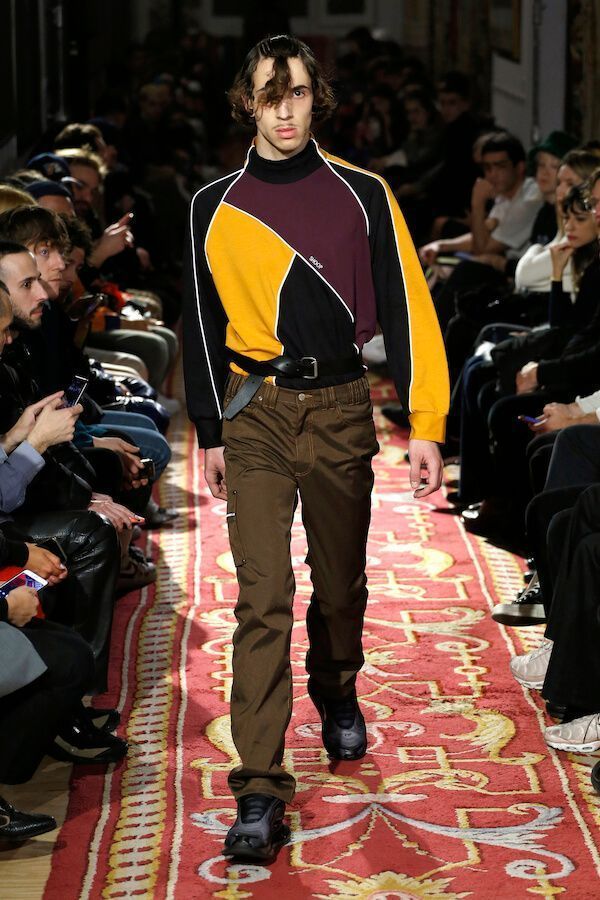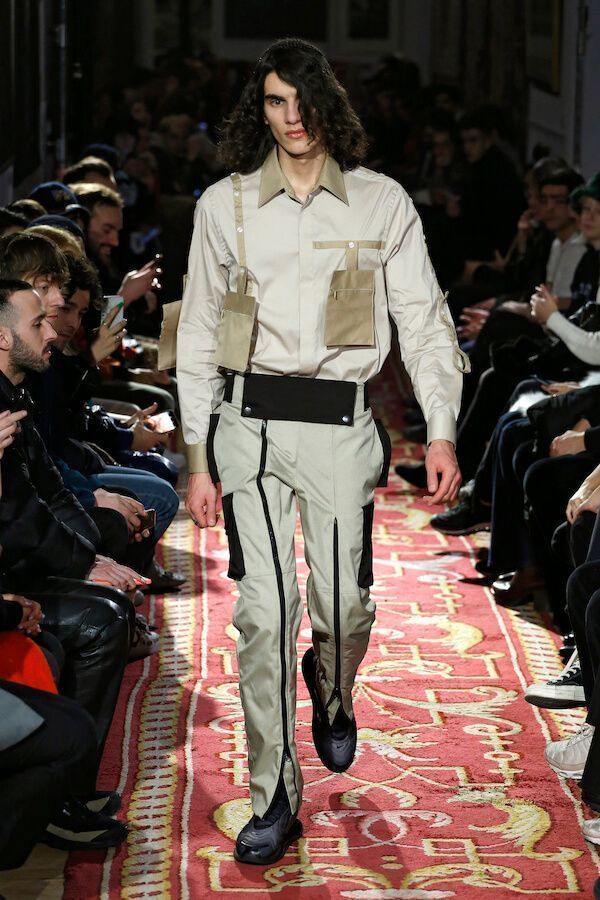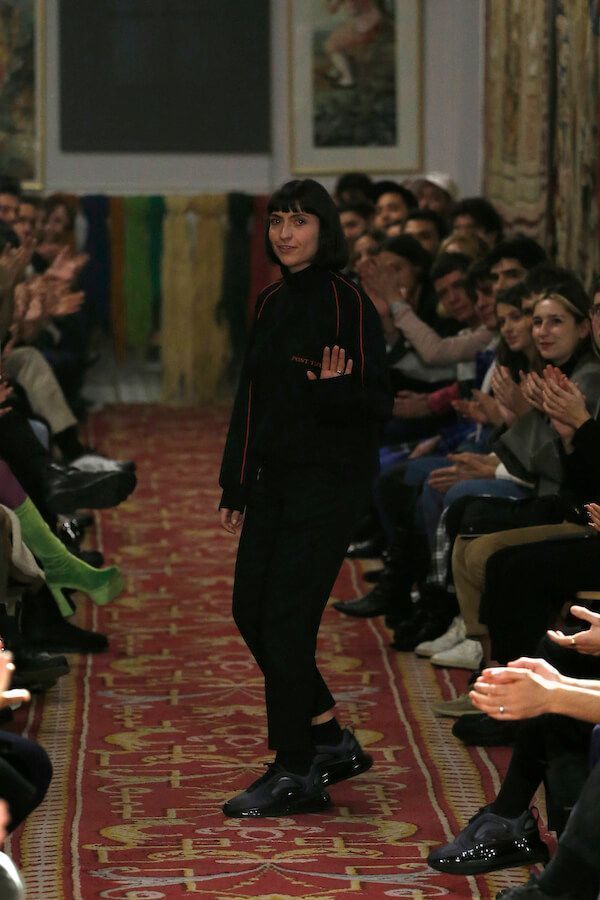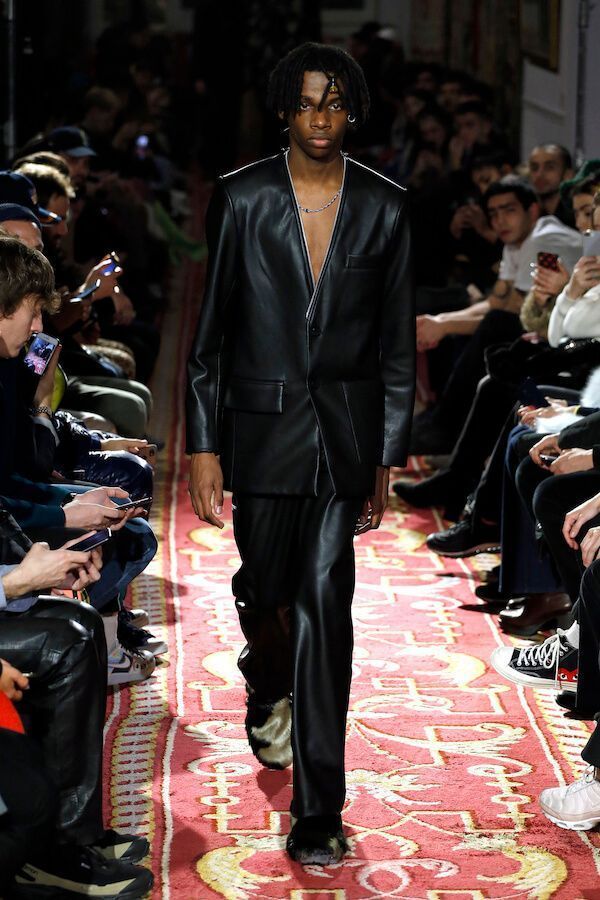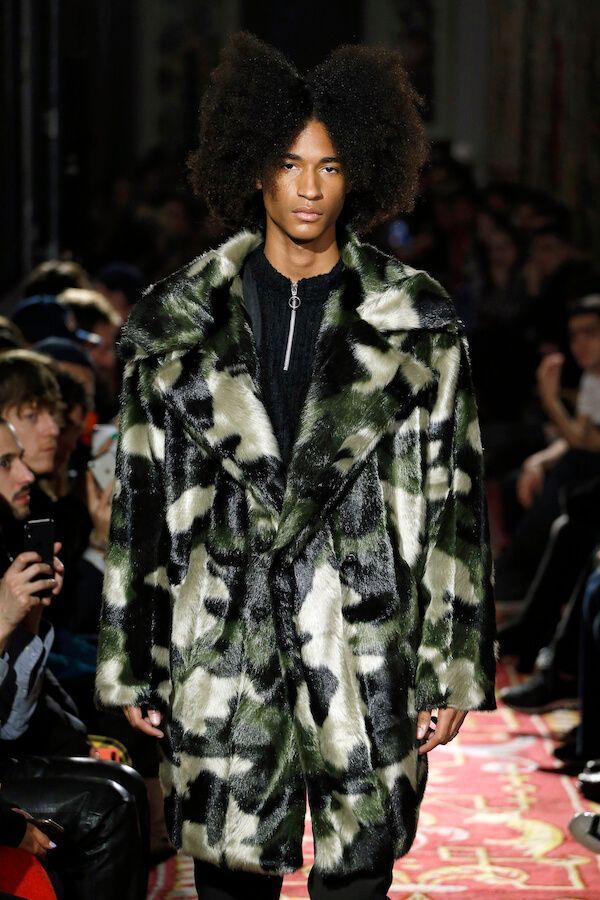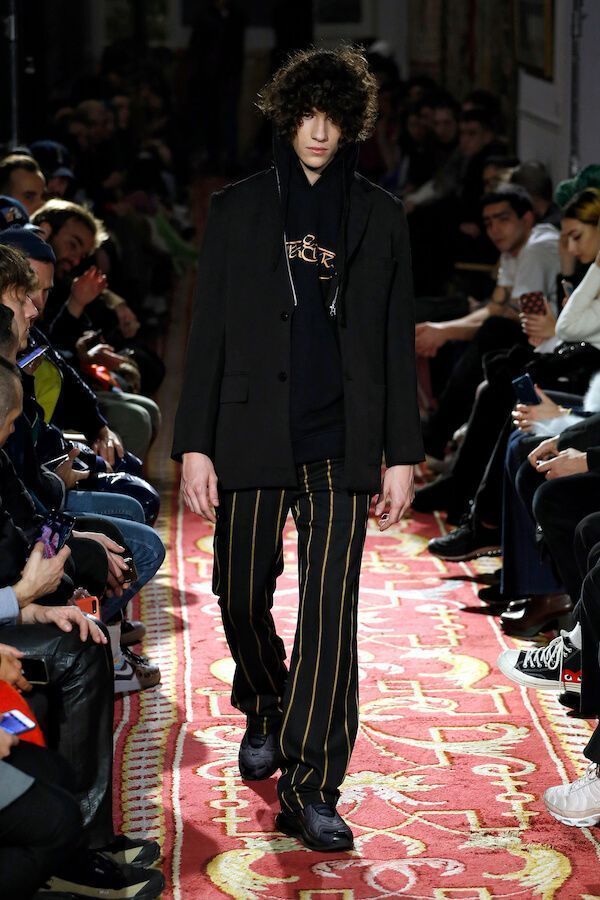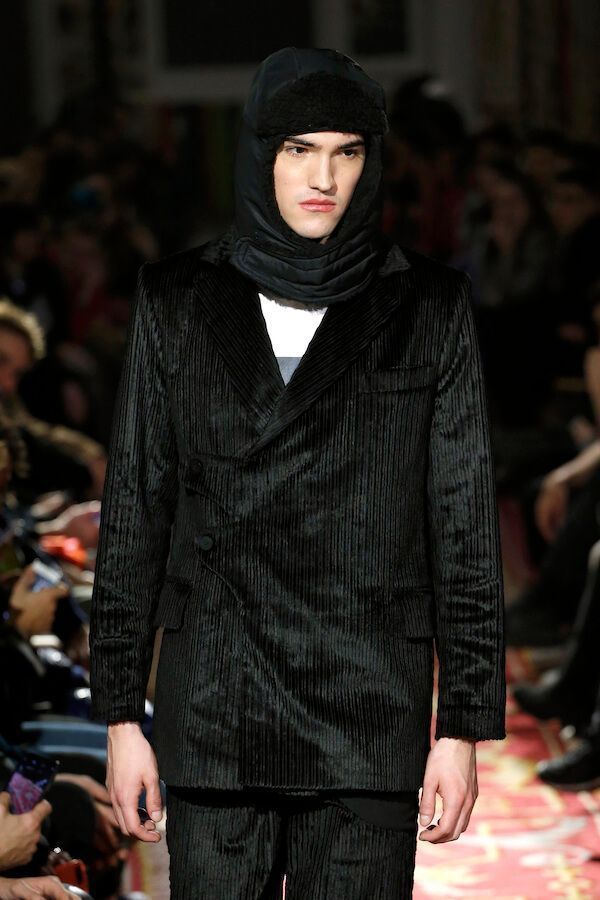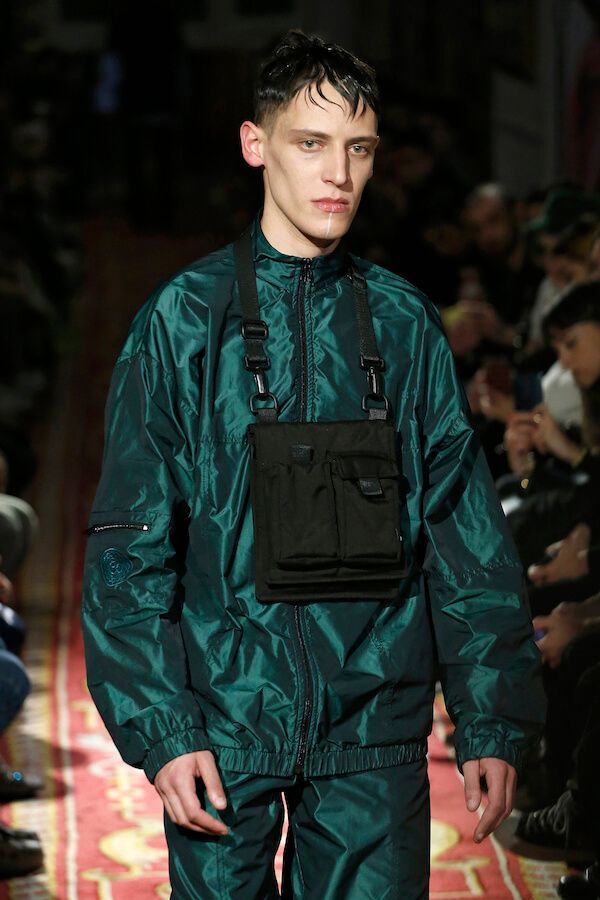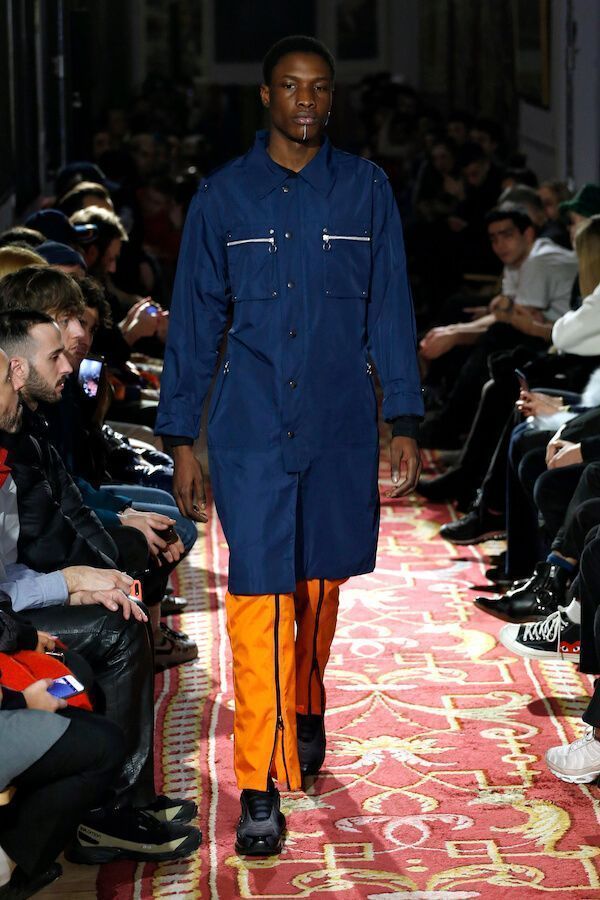 In HIGHXTAR. we have had the opportunity to talk with the creators of a collection that is out of this world, about things that indeed are.
–
Highxtar (H.)– Miriam Sanz and Yohei Oki. Madrid and Tokyo. Two cities that are distant, both in kilometres and culturally. How did the fusion of these very unequal cultures come about? What does each of these civilizations bring to you when it comes to designing?
Yohei (Y): We met in Madrid. I was studying Fine Arts at the Complutense University. 
We have many things in common, we like the same music, culture, etc. Although we are from different countries, we have grown up listening to hip hop.
Despite the distance, within the globalized world, we have grown up with the same things (anime, video games, music, etc.).
H. – Your firm has an entrepreneurial character, something fundamental in this industry. We constantly see emerging brands that triumph and others that stay in the way, how were your beginnings? Did you ever doubt the project?
Shoop – We have never doubted the project even though it is a difficult and cruel industry. You have to be constant and present a collection every season, otherwise buyers would stop buying, people soon forget about brands.
Our beginnings were very humble. Miriam decided to create her own brand as a hobby but from the beginning it was well received by people and the press.
When we started to dress Drake and they started to write us some stores, we realized that SHOOP had to be more serious at the business level.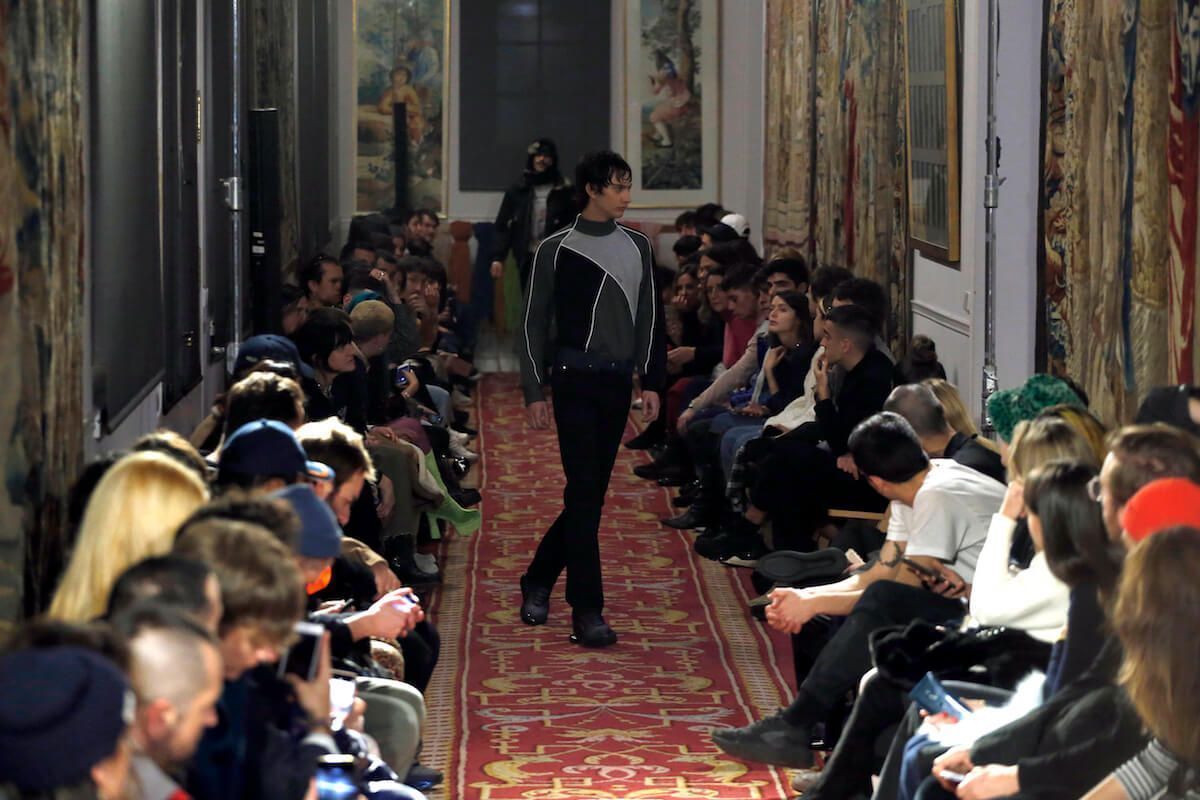 H. – The motto of your SS19 collection -as well as the bio of your IG- reads: "There is no such a thing as a coincidence in this world. There is only the inevitable."  What weight does this thread have in Shoop's philosophy?
Shoop – That phrase comes from a manga, XXX Holic. It is literally our philosophy and it has also been the inspiration for the SS19 collection, the most personal collection we have ever made.
H. – Yohei Oki is a DJ and producer, and you have created pieces like the great Rap Tee ́s, it's obvious that the music is in your DNA, at the time of starting to devise a new project, what do you like to listen to to enter the mood of work? Or on the contrary, is silence more inspiring?
Shoop – It depends on the moment. Lately we are listening to Jazz and Debussy to work. But when we were working for the FW19 collection we listened all the time to mantra, tibetan bowls and chants to inspire us.
Sometimes silence is also important to reset the mind or concentrate.
H. – The music and aesthetics of the 90's or 2000's have a clear influence on your collections. Now it's a growing trend, "ugly" is becoming more and more popular, but a few years ago it would have been difficult to tell people to dress like that, what was the acceptance of the less underground public about your garments?
Shoop – It's not an intentional influence, but it's what we've grown up with and it's probably something we carry inside of us. It happens to us that a lot of people ask us for things from previous collections, maybe it has something to do with what you say about how difficult it has been to tell people to dress like that, but we think that people are more and more open when it comes to dressing.
"When we started to dress Drake and they started to write us some stores, we realized that SHOOP had to be more serious at the business level."

Shoop
H. – People talk about the future of fashion being unisex, of eliminating gender barriers, your brand's website makes no distinction between men's and women's fashion, do you think this is a trend that will expand to more brands, or on the contrary will remain stagnant? How do you think this can influence Shoop?
Shoop – More and more it will be neutral, because the barrier between masculine and feminine is no longer as it used to be, but we can't forget that the body of a man and that of a woman has different shapes and the garments don't fit in the same way. In the end when we dress we want the garments to feel good, We work 90% of the garments with male patterns, which can also work for women, but not in all cases is possible, but we would love it, because we believe that each person should wear what they want, regardless of gender. 
H. – Sometimes it's taken for granted that streetwear collections don't involve as much tailoring work. But your handling of materials, the deconstruction and the creation of new silhouettes show the opposite, what are your methods when tackling this kind of tasks?
Shoop – We are very inspired by streetwear and workwear, but we also love classic garments such as tailoring, we like that combination. We try to have details in the garments and this is more elaborate at the tailoring level, that's why we have specialized workshops in different types of garments, such as denim artisans, leather, tailoring, knit … because each garment is a world and needs different machinery and techniques.
H. – With the promotional poster of your Fall/Winter 2019-20 Collection we could already sense that it would be something quite risky and beyond the limits of the earth. What has been your main inspiration for creating the concept of the new collection?
Yohei – I had been researching spiritual journeys, awakening, light beings and chakras for some time and we thought it was a good theme to inspire our collection.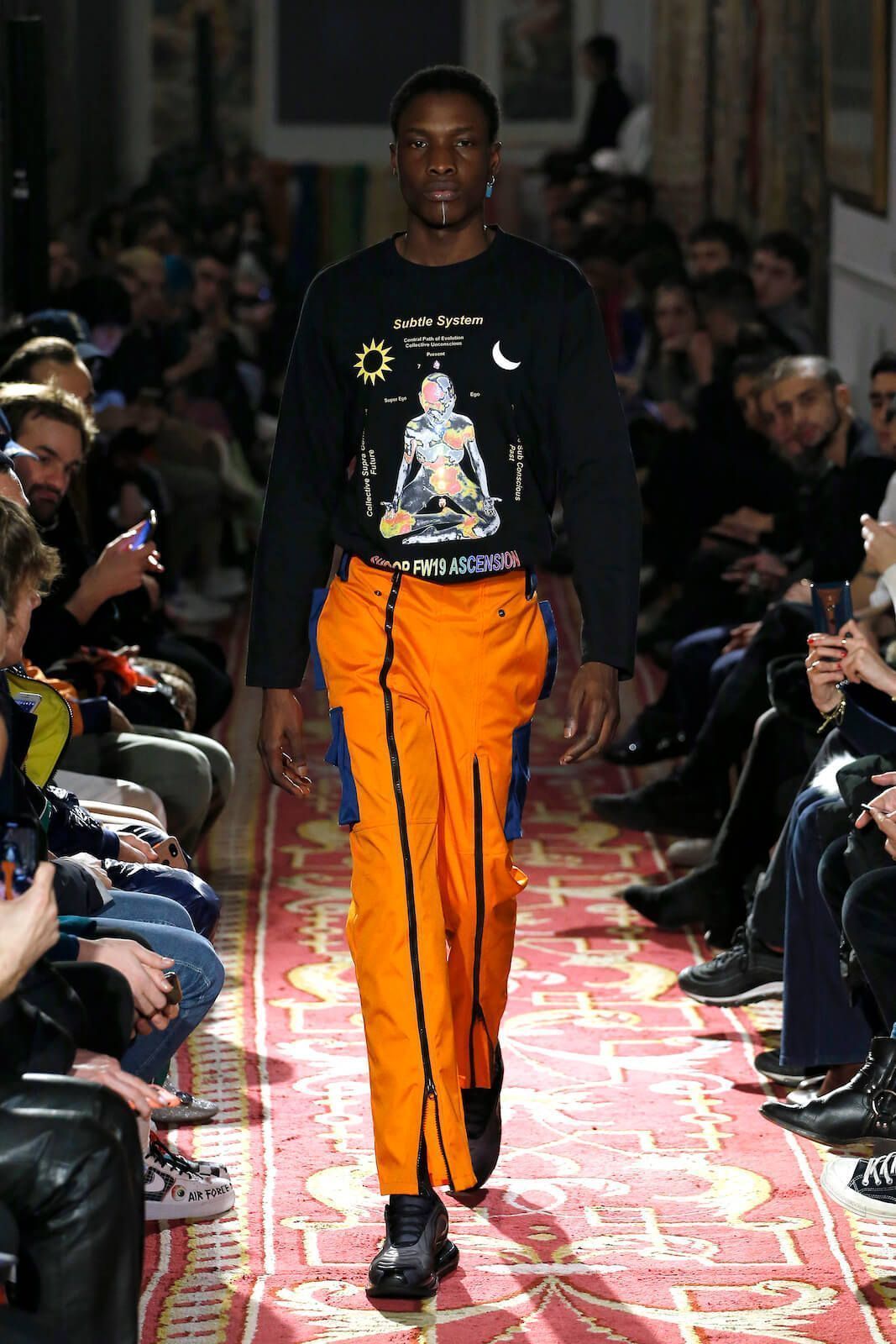 H. –  You've turned ifema's headquarters into a "fake news" room, set to parade your models among the machines of a gym, and today you've chosen the Real Fábrica de Tapices as your spot. What are you looking for in a place to host your shows?
Shoop  – Until now we have had the support of charming spaces that are open to collaborate and create together experiences that go a little out of the classic catwalk. This time the Real Fábrica de Tapices was the perfect place to set our parade, it gives us a lot of peace and it's a really nice space.
"The barrier between masculine and feminine is no longer as it used to be, but we can't forget that the body of a man and that of a woman has different shapes and the garments don't fit in the same way. "

Shoop
H. – Through a disruptive visual proposal – a mix of updated tributes and content, past and future customs – you have managed to create a recognisable universe of your own. Do you plan to transfer something from that universe to a project within other disciplines?
Shoop – Yes, we'd love to and we're working on it to make a project within another discipline soon.
We also like to connect with characters who belong to other sectors such as music or sport. For example, in this last parade, we had the presence of the athlete María Vicente, coinciding with the launch of the new Air Max 720.
For the graphic part we have collaborated with artists such as Andrei Warren (@andreiwarren) and Daniel Benza (@daniel.benza).
For the hair we have also collaborated with the creative studio X-presion (@xpresioncreativos), whose work are authentic works of art.