READ IN: Español
Masks and hand sanitizer were already beginning to define this new scene where clothing and accessories inspired by personal protective equipment could be a $20 million opportunity to sanitize the fashion industry. The innovation of pandemic sets could revitalize an industry without oxygen.
The financial decline of fashion players due to the Covid-19 pandemic has prompted a search for ways to escape and overcome the crisis. But now, a new trend is here to stay: anti-viral leisure clothing and accessories, as WWD has coined.
Marshall Cohen of the NPD Group said about that new trend:
'Fashion is probably the most challenging of all industries at the moment, and it is going to be tasked with creating innovation to drive any kind of activity and growth. Innovation will come from the way we live in this new anti-viral society. So, you're going to see the birth of all these other categories and industries – what's an acceptable face shield to wear that doesn't make you look like a welder, training clothes and socks that handle germs… gloves that breathe as well as repel'.
THE NEXT BIG TREND: PANDEMIC SETS
From Lizzo's (@lizzobeeating) 'pankini' , to Naomi Campbell's space outfit, to the eyewear giant Safilo Group, pandemic sets will be the answer to an industry that needs to reinvent itself and look for business alternatives. Thus, the next big lifestyle trend could be anti-viral leisure. In fact, the firms are already beginning to define a large market for protective eyewear and masks in an infinite number of prints and formats.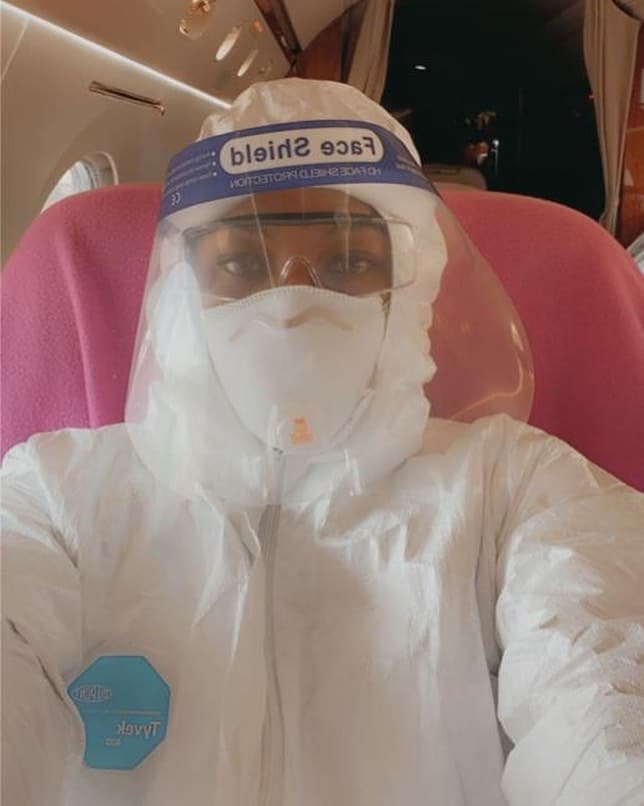 'We are expanding our combined mask and glove collection', said Katie Sue Nicklos, executive director of Wing Weft Gloves in New York City, which began selling matching mask and glove sets on its website in late May.
Airline uniforms are already on the new frontier of this anti-viral era, as they were during the 1960s of the space age. Emirates, Thai Airways and Air Philippines are among those who have revealed a flight inspired by the EPP.
Will protective clothing and accessories be the future of fashion?