READ IN: Español
With the arrival of December, the streaming platform will add mythical Christmas-themed series and films to its catalogue. In addition to the Christmas titles, Netflix has also presented new releases for this season. We tell you about all the new releases for December 2021.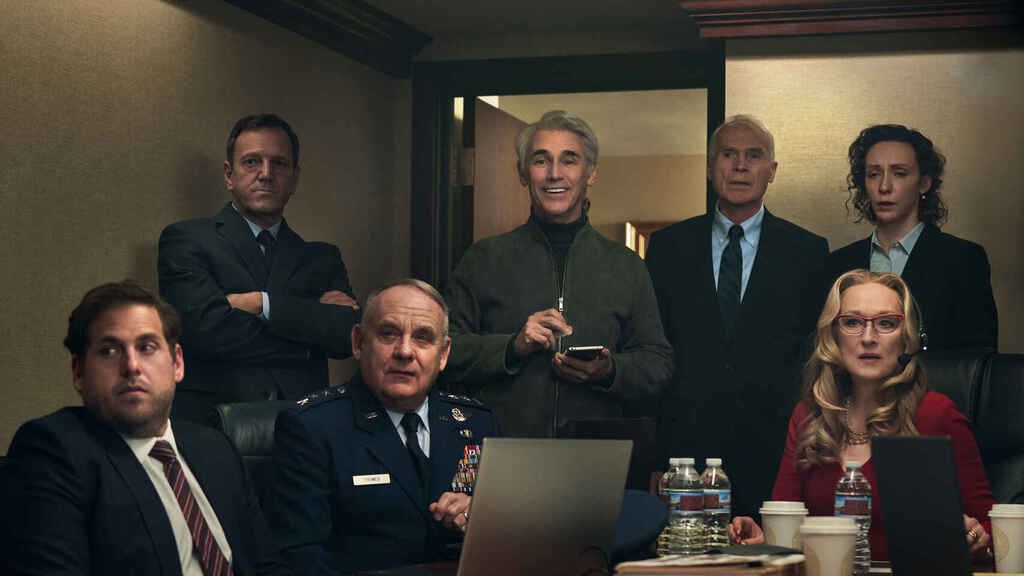 Netflix has released its premieres for the month of December 2021. Among the new titles are the fifth season V.2 of "The Paper House" to be released on 3 December; The second season of "Emily in Paris" on 22 December; the "Karate Kid" sequel, "Cobra Kai" to be released on 31 December; the second season of "The Witcher"; Sandra Bullock's "Unforgiven" on 10 December and Leonardo DiCaprio and Jennifer Lawrence's "Don't Look Up" on 24 December.
The Unforgivable
10 December 2021
Tras salir de prisión después de cumplir condena por un crimen violento, Ruth Slater ( Sandra Bullock) se reinserta en una sociedad que se niega a perdonar su pasado. Tras enfrentarse a las duras opiniones del lugar que una vez fue su hogar, su única esperanza de redención es encontrar a su hermana pequeña a la que tuvo que dejar detrás.
Single All the Way
2 December 2021
Peter, desperately seeking to avoid the judgement of his family given his perennial bachelor status, convinces his best friend Nick to pretend to be in a relationship and join him for the Christmas festivities. His plan (and his feelings) change when his family plays matchmaker.
Money Heist T5 V.2
3 December 2021
Tokio (Úrsula Corberó) is dead and the enemy, wounded and more fearsome than ever, is still inside the Bank of Spain. In the darkest hours, the gang will face the biggest challenges: getting the gold out with a plan full of uncertainty, and trying to get out of the Bank of Spain, surrounded by the Army and with the eyes of the world on him. Everything would be easier if, at least, the Professor didn't make the big mistake of his life.
The Powwer of the Dog
1 December 2021
An authoritarian and charismatic rancher wages a war against his brother's new wife and her son until a secret from the past comes to light. The two brothers are co-owners of a huge ranch in Montana, where the rapid modernisation of the 20th century continues. When George secretly marries a local widow, Rose, Phil, shocked and furious, wages a war to destroy her completely, using his son as a pawn.
Emily in Paris T2
22 December 2021
The official synopsis released by Netflix says that now that she is more settled in Paris, Emily is still adjusting to French customs. After getting caught up in a love triangle with her neighbour and her first French friend, she's determined to focus on her work, which is getting more complicated by the day. In French class, Emily meets an expatriate who makes her very nervous, but also arouses her curiosity.
The Witcher T2
17 December 2021
After the first season of The Witcher focused on Geralt of Rivia and how he was trying to fulfil the Law of Surprise that bound him to Ciri, the young orphaned heiress of Cintra, season two will pick up right where it left off with these two characters. They will also delve into Fringilla's past and how she ended up as a Nilfgaardian.
Shaun the Sheep: The Flight Before Christmas
3 December 2021
Shaun's excitement about the festive season comes crashing down when Timmy goes missing without realising it, so the whole farm sets off on a wild Christmas adventure. Can Shaun find Timmy before he becomes someone's present?
The Hand of God
15 December 2021
Writer-director Paolo Sorrentino presents the story of a boy in the turbulent Naples of the 1980s. In It Was the Hand of God, Sorrentino returns to the city of his birth to tell his most personal story: a tale of destiny and family, sports and cinema, love and loss. And there are unexpected surprises in the film, such as the arrival of the legendary footballer Diego Maradona.
Lost in Space
1 December 2021
Colonisation in outer space is a reality and the Robinson family has been chosen to be part of a special mission to establish a new colony in space. But when they lose their way, the Robinsons end up crash-landing on an unknown planet where all sorts of dangers await them. And which is light years away from their final destination… a modern interpretation of the 1960s sci-fi classic.
¡Nos volvemos a casa!
10 December 2021
Tired of being locked in a terrarium where humans gawk at them like monsters, a group of creatures from Australia plot a daredevil escape from the zoo to the outback, a place where they will fit in without being judged. So begins a hair-raising and hilarious road trip across Australia, as they are chased by the zookeeper and his mini-me in search of adventure.
Don't Look Up
24 December 2021
Kate Dibiasky (Jennifer Lawrence), an astronomy graduate student, and her professor, Dr. Randall Mindy (Leonardo DiCaprio) make a startling discovery that there is a comet in orbit about to impact the solar system. With the help of Dr. Oglethorpe (Rob Morgan), Kate and Randall embark on a media tour to get the world to look up and care about this vitally important event.
Minnal Murali
24 December 2021
A tailor in a small town in Kerala acquires special powers after being struck by lightning. But to become the superhero his town needs, he must first take down an unexpected enemy. An emotional and exciting film directed by a variety of directors.
Cobra Kai T4
31 December 2021
30 years after their final showdown in 1984 at the All Valley karate tournament, Johnny Lawrence is at a low point in his life. However, after helping Miguel, a boy who is being bullied, Johnny decides to reopen the Cobra Kai dojo. The problem is that this reignites a rivalry with Daniel who is now a happily married businessman, but who is missing something after the death of his mentor, Mr. Miyagi.
Stories of a Generation – with Pope Francis
25 December 2021
In this documentary series, senior citizens from around the world, including Pope Francis, share their life stories. Martin Scorsese, Jane Goodall and Pope Francis join other creators, activists and artists to share their poignant life lessons with the young filmmakers.
Now… Why not check out the new perfume "Ganja" courtesy of Comme Des Garçons?