READ IN: Español
For years, the model has been the victim of criticism and hateful comments since her marriage to the singer, months after the star ended his relationship with Selena Gomez. Now, the celebrities are closing that period of misunderstandings.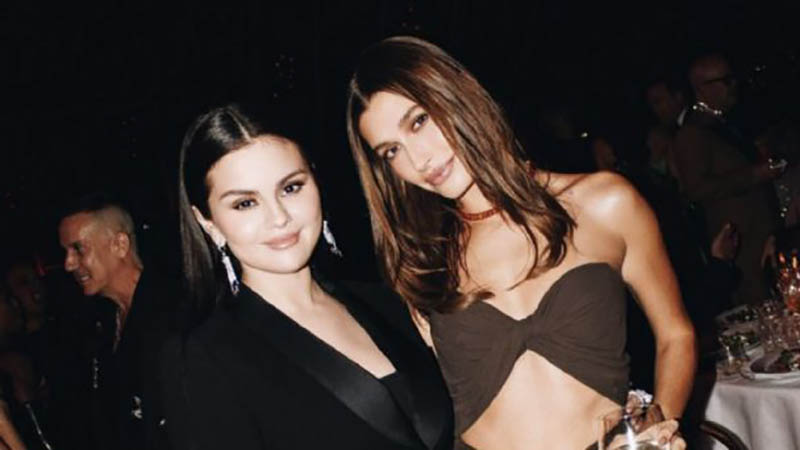 Due to the fact that Justin and Selena lived one of the most intense and mediatic relationships in the entertainment world, the Selenators went against Hailey Bieber when her engagement with the artist became known, even creating a kind of rivalry between the model and the actress.
Hailey Bieber spoke about her husband's relationship with Selena Gomez and said that "I never had a relationship with him" when he was with her. She also clarified that she never "stole" the actress' boyfriend. The model insisted they had "closed their chapter" before proposing to her in the Bahamas in July 2018.
Justin's wife and ex-girlfriend coincidentally met at The Academy Museum Gala event in Los Angeles, where they posed for a photograph by Tyrell Hampton, who shared the photo under the description "Plot Twist". Bieber liked the photo posted on Instagram, debunking rumours of anger.
Recently on Alexandra Cooper's show, Hailey insisted that there is "no drama" between them, and when the host asked if they had spoken, she replied that they had, noting, "Neither of us owe anyone anything except respect. I respect her a lot," the model added.
Ver esta publicación en Instagram
In the same interview, the singer's wife talked about their sex life and threesomes: "It doesn't work for us. We've worked really hard to be in the space we're in now and trust each other, and there's such a beautiful trust and bond that I don't think it's something I'd be comfortable with".
The model also revealed that she and the singer are more about "night sex" although she's always up for a bit of morning pleasure. And she confessed that her favourite sex position is "doggy style", but also said she's usually in the mood for something different.
Here's Hailey Bieber's trick for getting glazed lips.