READ IN: Español
In a new era with phygital projection, marketplaces and/or fashion firms are immersing themselves in experimental processes to transform digital commerce. Huge Commerce provides us with a research report on how marketplaces are innovating the digital customer experience, determining the 4 seismic shifts defining the future of these platforms.
Growth accelerator HUGE is already the religion revered by companies as varied as LVMH, Kering and Spotify. Its updated manifesto on experience design, ranging from the digital to the physical sphere, is coupled with a series of loyalty and social commerce strategies needed to compete in the system.
This evolution of the market model, according to the guidelines of Kim Nguyen, head of commerce at Huge, has new players such as Depop or social networks converted into marketplaces where to buy directly. Thus, those brands that discard the implementation of marketplaces will lose countless sales, such as those of the highly coveted Generation Z consumer.
Marketplaces are thus established as one of the great strategies for brands, after pandemic times that have given a turn to reality; which has crossed from the narrative capabilities of retailers to the entrances to the metaverse. A cross-cutting shift analyzed by the Huge report distilling a series of market trends that will define future success in retail.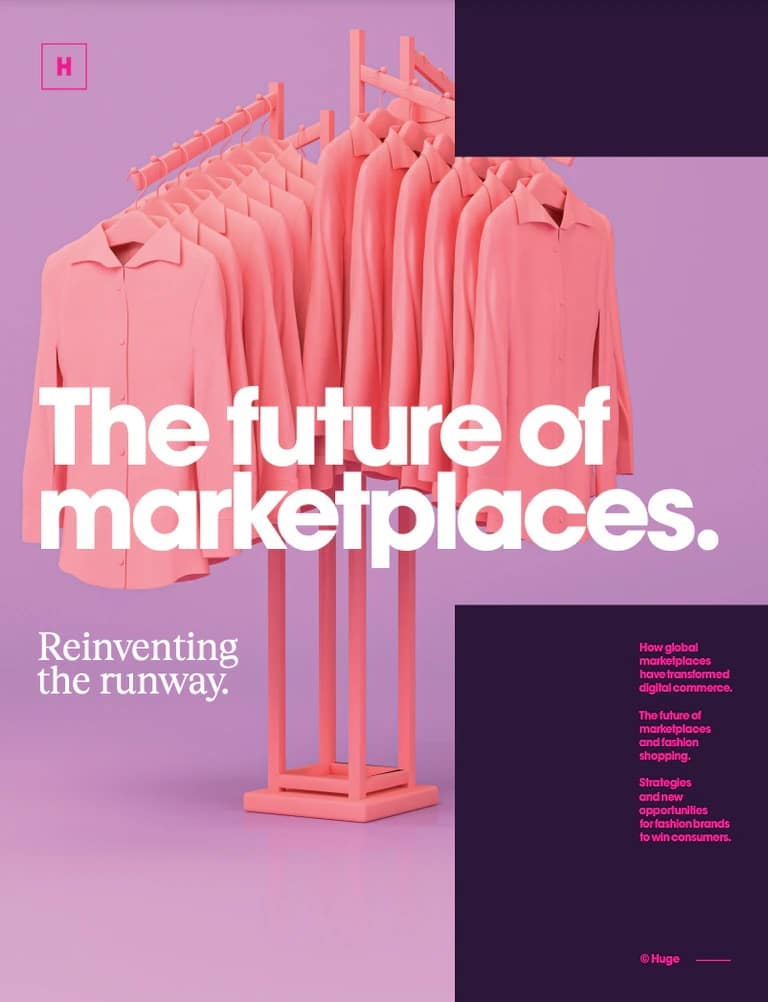 THE TRANSFORMATION OF DIGITAL COMMERCE
Advertising is now uncovering a new marketing face based on commerce and retail media networks. In this context, the number of people shopping on social channels is expected to be 50% higher in 2022 than in 2019, according to the State of Fashion 2022 report by BOF and McKinsey.
Social commerce and shoppable media thus become the direct connection to the new generations of customers thirsty for immediacy and shopping by emotion.
What really makes the difference here is the breadth of advertising offerings by marketplaces such as Rakuten or Amazon, which go beyond sponsored search strategies and display ads, experimenting with concepts such as comprehensive video or live streaming as new marketing avenues.
STRATEGIES AND NEW OPPORTUNITIES FOR FASHION FIRMS
The new marketplace operations are about protecting brand equity and giving brands more autonomy over their visual identity, supporting storytelling and user experience. A concept that Amazon's luxury retail marketplace has introduced into its strategy through a section within the app where brands can build their own digital storefronts, control inventory and define their pricing.
The idea is that brands can also develop their own templates and write their own social media codes that are now framed in a product page template. Limitations in the brand experience that homogenize the aesthetic presentation in the front-end.
Building on that common foundation, and providing a binding experience through live content streaming and direct messaging, those firms must invest in a differentiated experience on both web and app. Whether through the creation of private communities, unique loyalty programs, cross-selling narratives or augmented reality experiences that mark that differentiated value proposition over the classic "traditional" web shopping.