READ IN: Español
There's no fashion aficionado that is not familiar with the always spectacular display of brightness and exacerbated concept of luxury of the German designer. Swarovski is his middle name and controversy his motto. 
Today he's in the wardrobe of celebs like Naomi Campbell, Floyd Mayweather, Chris Brown or Irina Shayk, but when starting his brand, the industry didn't welcome him.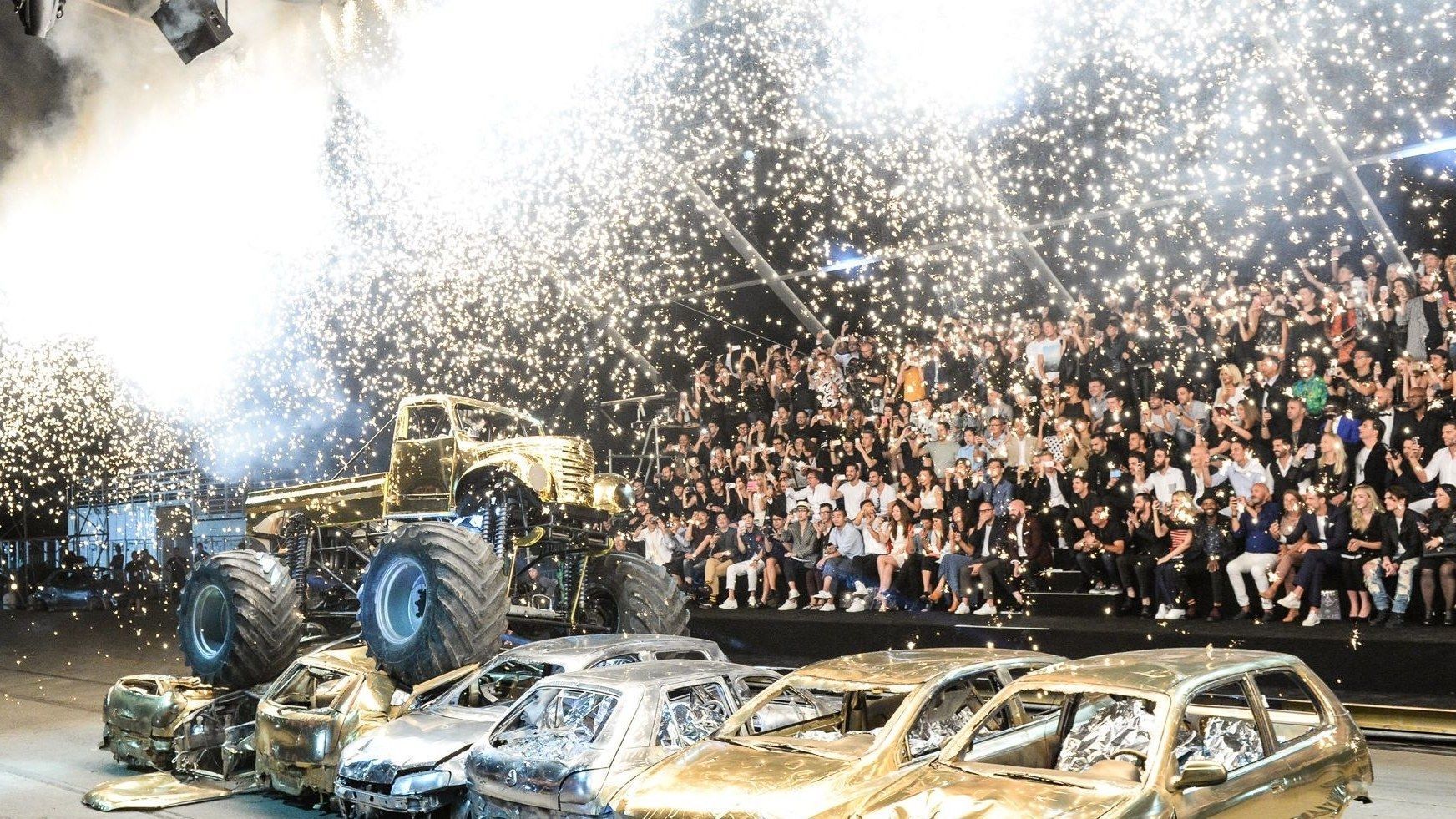 With a background as interior designer, his fashion incursion started in Cologne's Bread&Butter Trade Fair back in 2001 with printed pigskin and a table. After realizing that this material was too thick for sofas, he decided to cover a table with it and bring it to the mentioned German event. He turned over one million Euros the first year of producing it. The leather cut-offs from this piece of furniture were used for wallets and handbags. He made 100k out of it in three days. There was no return point. He started right after that to decorate army surplus jackets with his now famous  Swarovski crystals and skulls. Phlipp Plein was born.
Fashion chose him so he began his journey in this new area of design. In his own words "the biggest luxury for me is the ability to realise my dreams. It doesn't matter if that dream is a chair, a dress or a house. To touch and feel something that existed only in your mind is the best. I found success with fashion so stayed with it".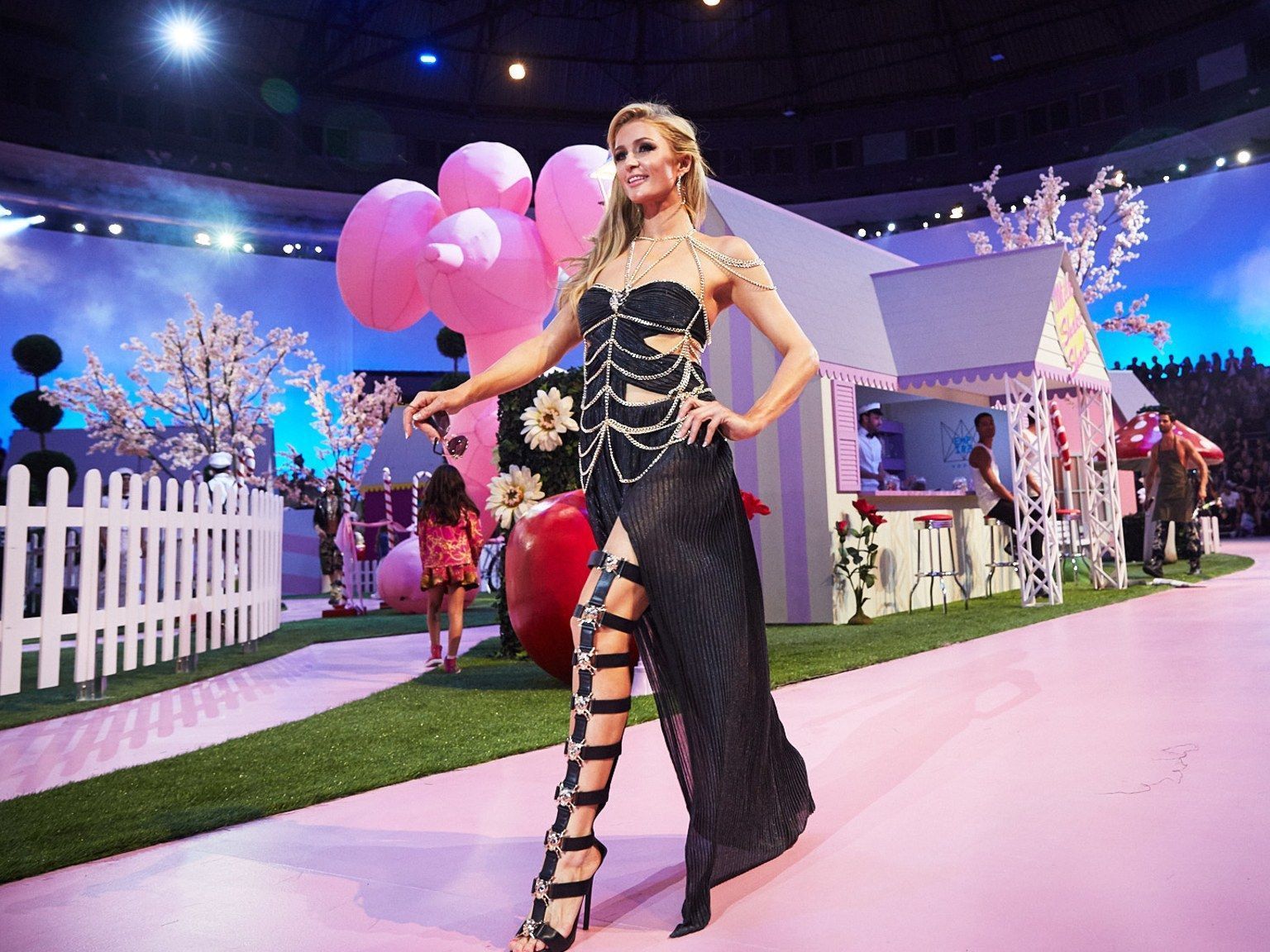 The German creative is the one to ask when pulling up a performance show. Every season the guests to his FW presentations are delighted with outstanding exhibitions of music, fashion and fantasy.
You may like his work o you may hate it. Plein doesn't give a fuck. His love for bling and his fashion industry's enfant terrible status has put his name in big shiny letters in the agenda of every editor, blogger and celebrity looking for an out-of-the-box experience in this never-not-changing universe.
His lack of experience on putting together a fashion show didn't stop him on going hard from the very first moment in each public presentation he made. Boxing cages, girly theme parks, robots running the catwalk, monster-trucks trashing golden cars in the middle of the venue… Anything you can imagine, he's twisted it to the next level. Related to his fashion shows, Plein is deeply concerned by the importance of who's in the front row.
He believes that these days is way more relevant to have Kim Kardashian (@kimkardashian) and her 107 million worldwide IG followers in your show than bringing fashion's lady boss Anne Wintour from US Vogue, which is read by just 1.2 million people in the States. His vision about it is completely different from what the traditional houses still do. In Philipp's (@philippplein) mind, Wintour is a dinosaur that, once gone, her editor-in-chief colleagues will start to lose their influence and power on behalf of the new fashion leaders in the digital world. Amen.
Influenced by fellow countrywoman Jil Sander (@jilsander), Plein's  focused on the clients and making money to the fullest from his fashion brand. Fashion shows or anything not related to business ain't a major worry. He's pretty clear about not bringing newness to the game, going with the flow and applying his own vision. His main goal is to showcase the lifestyle associated to his firm in his shows above the pieces themselves. It's all about what you represent and how you want the rest to look at you.
He's aware he came from nothing and that he's made the noise he wanted to put his name along the biggest company's in the world and, in the end, be part of that universe where it's all about the dreams. Philipp Plein is a fully independent brand, not only from big fashion groups, but from banks as well. The Lugano-based designer is not shy when talking about how his business is self-financed and growing faster than no one in the luxury scene. He's pretty confident on how he's gonna take his brand to the next level without nobody's help.
His recent outburst on Instagram against Ferrari's CEO Louis Camelleri proves that Plein is not the one to attack. The Italian supercars company stated that they have nothing to do with P.P.'s style and that a picture of the designer's personal Ferrari with his shoes on top was unacceptable for the Caballino Rampante's prestige. He received a Ferrari's lawyers letter claiming to take down everything that included both brands in 48h or they will take legal action on him. He obviously showed them the middle finger up publicly.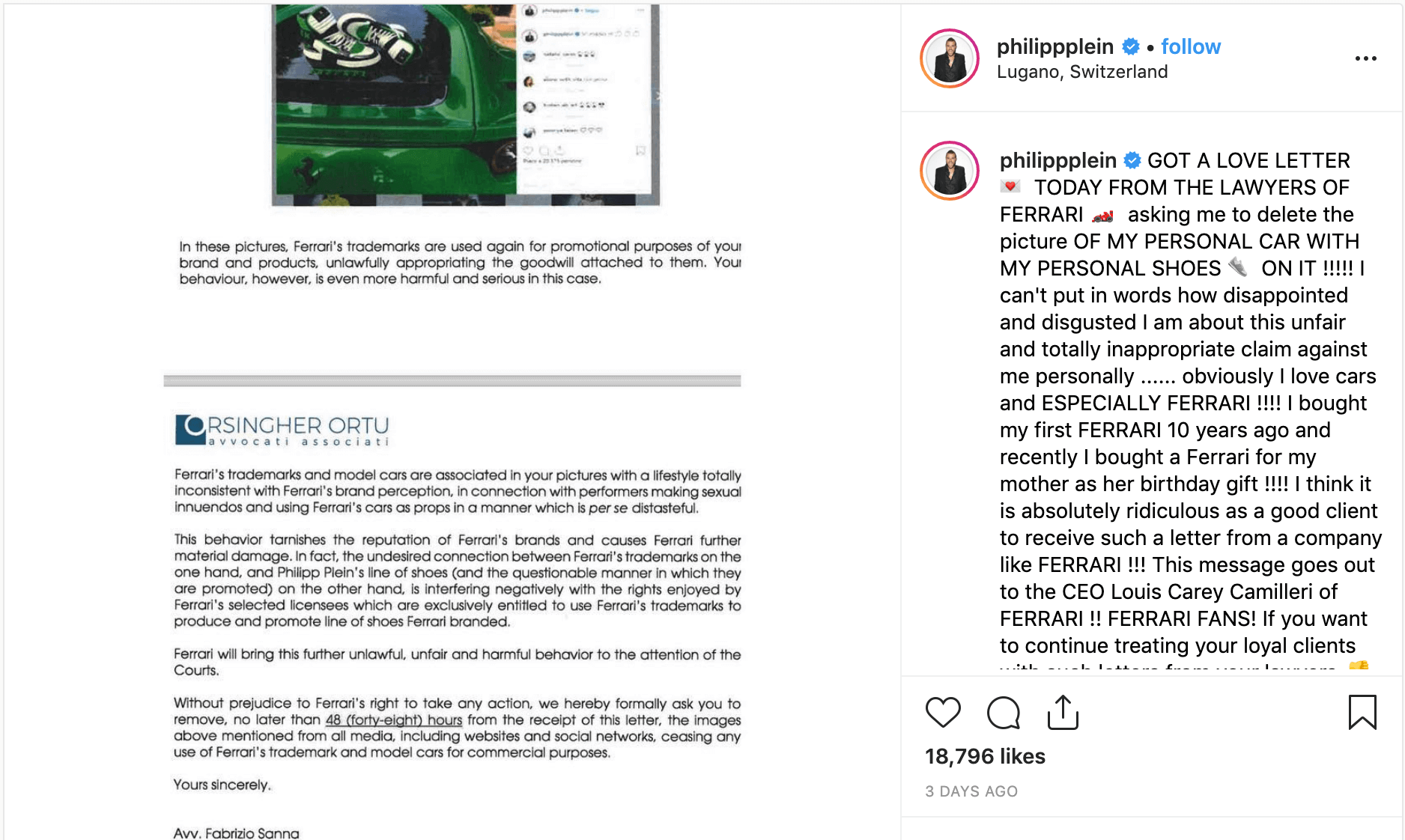 Philipp Plein has always been pretty transparent in every topic he's talked about. His muscled physique and tatted arms are the perfect representation of his tough-guy persona. You are on his team or not, there's no grey areas for him. His brand is about the name, the emotion of belonging to a certain way of understanding life and luxury, about the sexiness, the empowerment. He has that show-off imprint, his self-steam is high like Mount Fuji and his determination is what drives him in every new ride he's in. That's why artists like Alec Monopoly (@alecmonopoly) or celebs like Mayweather are attracted to his aura. They all breathe the same air.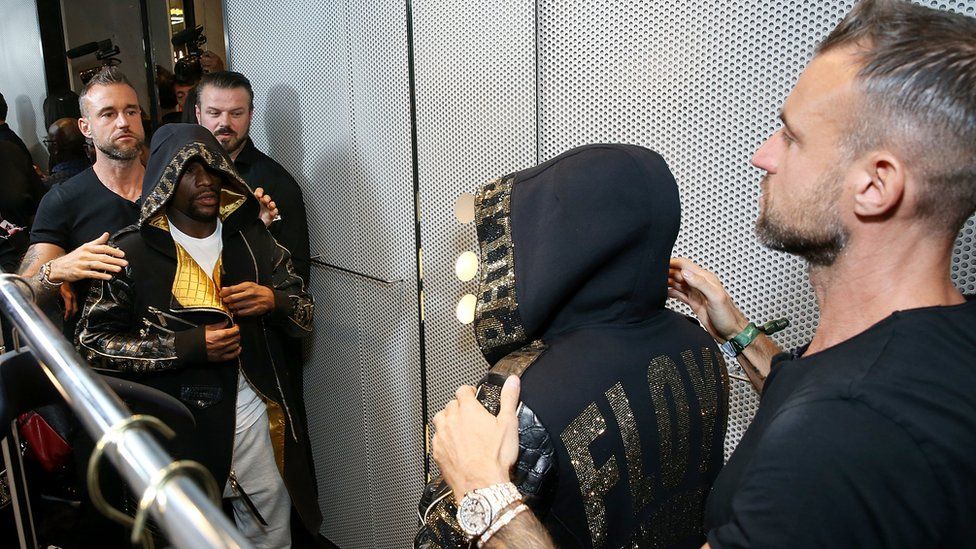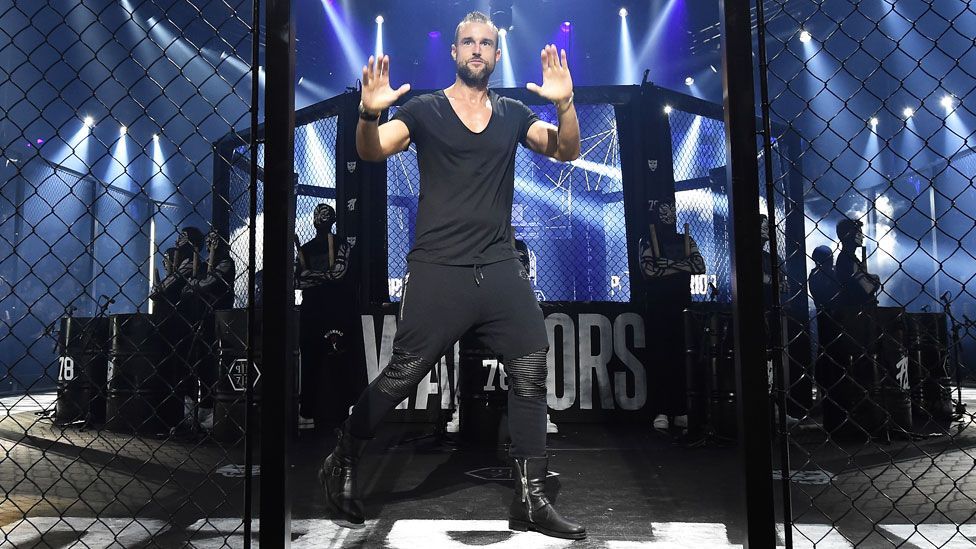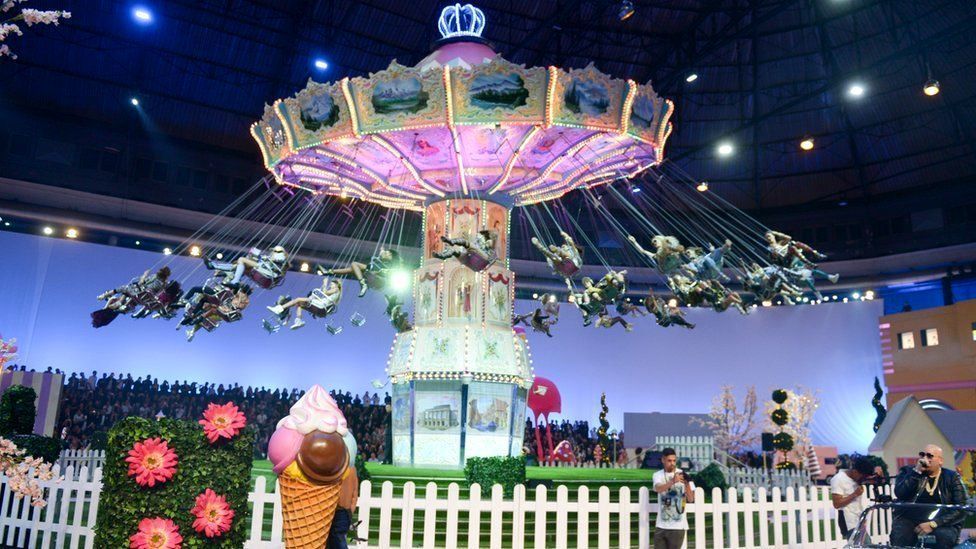 Though his vision of the industry is more attached to this century's beliefs, he's still convinced of the brick-and-mortar store experience. Online is necessary but offline is mandatory. Customers in the luxury fashion industry need to touch, smell and feel the materials, the cuts, everything before putting their money out. With over 70 flagship stores in locations like Milan's Via Montenapoleone, NY's Madison Avenue or St Peterburg's Nevsky Prospect, the Munichborn went through big rejection from the Camera Nazionale della Moda in Milan, that didn't allow him at first to take part of the official Milan Fashion Week's program. After gaining press' respect, he finally made it in 2015. The rest is history.
No matter the up and downs he and his brand have been through, time and consistency prove him right. His designs are coveted all around the world by all kind of celebs and anonymous customers. His establishment in the industry seems to be clear and his Swarovski crystals and skulls conquered the runways and editorials despite the lack of faith many showed in the early stages.
Philipp Plein is bling and fun, darkness and sexiness, fantasy and determination. But over all, it's clear that his brightness is not just the one on his Swarovski designs.
Fashion needs a bit of crazy. Fashion needs Plein's rock n roll.