READ IN: Español
Cali Thornhill opens the doors to a creative universe that ranges from lo-fi books to photographs, fanzines, works, music or designs. All this bathed by a social criticism vision to the climate crisis, politics and the power of media, in a line that turns contemporary fears into pieces of art. Avant-garde visual poetry, pop and satire among his highlights, @caramelbobby has achieved a cultural background that has transcended the world from top to bottom.
The iconic artist, also known for being Frances Cobain's nanny in the 90s and growing up with Kurt Cobain and Courtney love, marked a turning point in the fashion system by designing the merchandising for Kanye West's 'Life of Pablo' tour in 2016, beyond setting the scene on fire with his streetwear firm Some Ware or giving way to collaborations with designers of the calibre of Virgil Abloh. A past that also includes the direction of the experimental radio programme and record label 'Teenage Teardrops', as well as the foundation of the legendary Hope Gallery in Los Angeles.
Music as the basis of everything, the root that surrounds all his multidisciplinary visual creation that has been within the cultural revolution for 30 years. Surfing all the artistic waves thanks to a creative activity that goes to the rhythm of the digital language. Art in which he combines provocative images with impressive words extracted from pop culture, leaving us in a permanent meditation from the first blink of the eye.
Dewitt gives us an interview in which to make an inside and a journey through his life, his influences and his transgression in the contemporary era under the anonymity. From what lies behind his gothic designs, through his exhibitions to his latest horror film. Enjoy the experience.
–
Highxtar (H.)– Being close to those who made a revolution in culture (Nirvana, Kanye, Virgil…) makes you feel part of that revolution?
Cali – Hmmm im not sure if I felt 'close to the revolution'. There are tons of other people and artists I admire that affected me just as deeply, they just never had the full penetration that someone like Ye has. Of course there are differences and different aspects that I enjoy, but seeing Jesus and Mary Chain in 1987 is just as important for me as seeing Nirvana in 1991 or Kanye in 2019.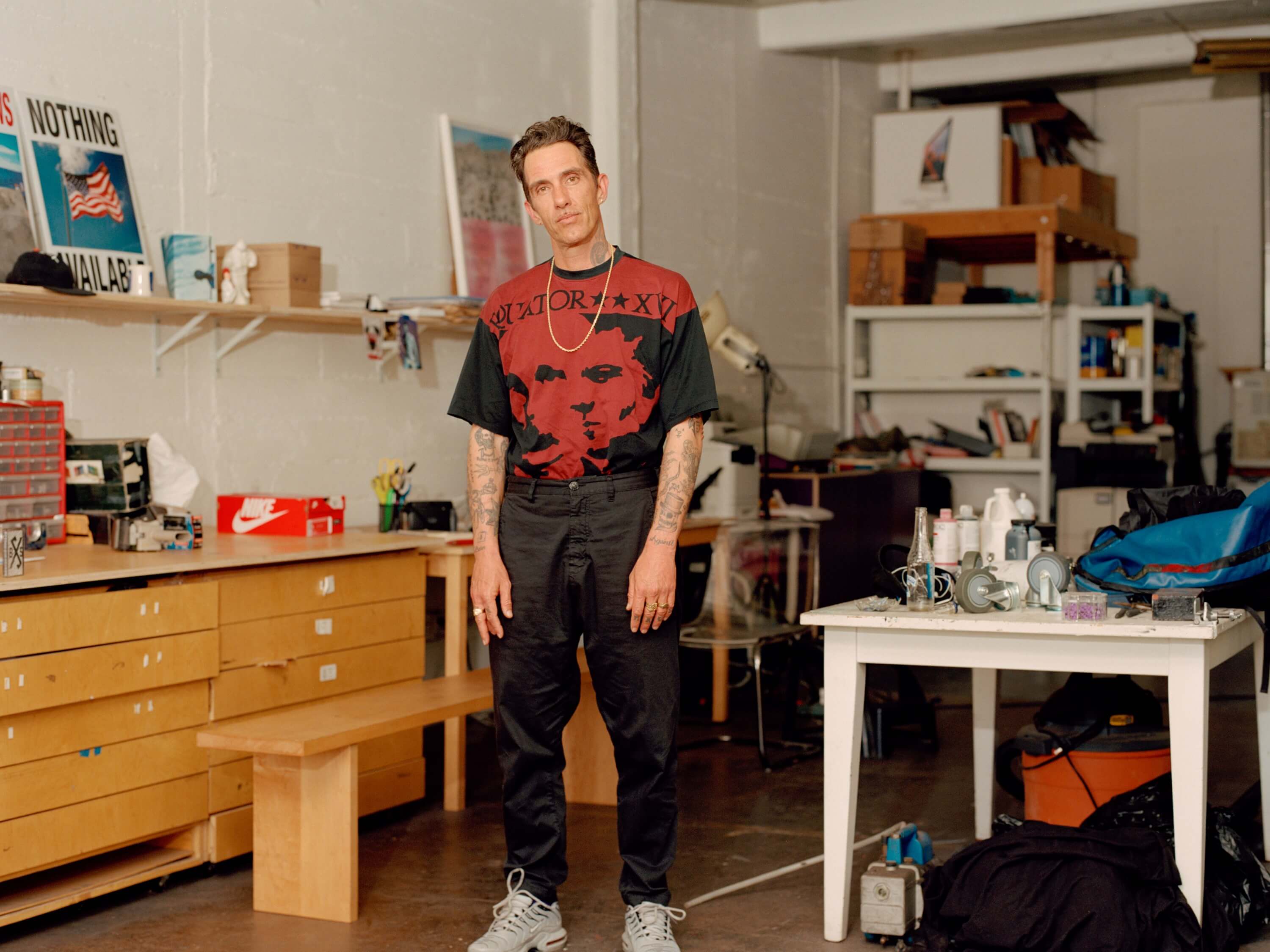 H. – You're behind images, moments and works that have established themselves as an icon all over the world, but you've never been in the hurricane of fame. Do you avoid it? Why?
Cali – Being anonymous as you move through life is preferable to being stopped in the street by strangers. I think most peoples egos tell them that being famous would somehow make life better or more complete. As a witness to this for a lot of years, i prefer to be invisible.
"Ive always found that doing things as a group is a more powerful and enriching experience."
H. – You've been within the culture of the 90's and you're still in the culture, now almost thirty years later. What has changed? What've we lost and what have we gained?
Cali – It doesnt feel like 30 years, but here i am. Im interested, still, always. Culture is language and communication that never stops morphing and I just like to keep learning the language. I think when people say "Things were better in (whatever years they were actively involved)" theyre just telling me that is when they stopped participating, they stop learning the language and eventually feel alienated. KInd of a boring old story but its very common and continues. Whatever I was lucky enough to see in the 80's, i saw or experienced the equals in the 90's to the present.
H. – What do you want to express through your work of avant-garde visual poetry, pop and satire? How does contemporary fear (US politics, climate change…) influence your creations?
Cali – The group fear has always been an influence. The idea that someone or something is to blame. Since the dawn of time the mob of humanity wants to attack and destroy things that are different. Fear is the root of all human problems.
H. – Your work has been "stolen" via bootleg and imitations, and you are still in favour of these dynamics. It's that a kind of proclamation against the elitism of art?
Cali – Ive always liked bootlegs. If something I do gets bootlegged, some of them I like, some of them I want, some of them are lame, but none of it really matters to me. SHould I spend my time fighting against it, so that I can prove something? Prove ownership? No thanks. By the time something is bootlegged I am generally onto something new anyway. I prefer not to get stuck!
H. – After giving way to almost a full cultural penetration, what remains for Cali Thornhill to do? What really makes you feel alive?
Cali – I would rather be in the ocean than almost anywhere. I think about riding waves more than almost anything else, thats where the biggest living happens. If I can keep doing that, im good! Also, long distance cycling. Thats what I like to do when the waves are flat or Im landlocked.
H. – What does an artist have to got to be on your label Teenage Teardrops or a brand to collaborate with you? Any designer that you would vibrate doing some project with?
Cali – Any collaborations Ive done have been born out of friendship and my admiration of what the person or entity is doing. I would love to do something with Vivienne Westwood. She is a brilliant teacher.
H. – How personalities such as Virgil Abloh or Kanye West influence your work? what've you learned from them and what you think they learned from you?
Cali – Its interesting for me to watch them navigate the attention. To see how someone can do that without totally collapsing in on yourself. To have that many eyes on you is very difficult, and to be able to create your vision in spite of that attention is something that is impossible for most people. So thats what I look at. What they learn from me, youd have to ask them.
"Of course with Courtney and Kurt it was a little more extraordinary because of the cultural impact and the amount of eyes on it."
H. – What part of Cali Thornhill do you show in your books that you don't do in your artwork / designs?
Cali – For me books and publications can be looser. You can show one idea with many parts, while I think with a singular artwork I tend to be more focused.
H. – What inspires you from fashion and art? How has music influenced your multidisciplinary visual work?
Cali – Music is the foundation. Most of my greatest relationships have been born out of a mutual love of certain songs or genres. I would say the main thing that inspires me from fashion, art, anything is a sense of fearlessness. A sense that the person would be doing excatly what they are doing regardless of whether or not anyone will see it or not. A purity of vision.
H. – Why that fixation in the Chicano groups of the 80's, 90's for your textile designs / typography?
Cali – Thats simply because I grew up in LA and its part of the visual language here. I saw it begin to disapear and I wanted to see it continue to live.
H. – How did Kourtney Love and Kurt Cobain mark your life?
Cali – They marked my life the way anyone close to you marks your life when youre a teenager. Every experience you have when youre that young is rich and deep because its the first time. Of course with Courtney and Kurt it was a little more extraordinary because of the cultural impact and the amount of eyes on it. I saw america and europe with them for the first times. The American south, NYC, London etc. Every week there was another first experience, another revelation. I learned alot about fame, and how gross it could be, how awful people could be. The obsession of fans, the danger of their obsession. These were all huge lessons that I carry with me today.
I'm still friends with Courtney to this day.
H. – How has Some Ware evolved since its debut at PFW 2018? Tell us a little bit about the anarchic concept NO SHOW OFFICIAL. Would it be a kind of resistance to the fashion system and the move towards to the democratization of the catwalk?
Cali – No Show Official is about friendship and community. The only reason its never been done before (brands mixing together in a catwalk environment) is ego. People dont want to share that moment, they want it all for themselves. Ive always found that doing things as a group is a more powerful and enriching experience. You learn from one another. Its sort of like, you can build the house alone, or you can build it with a crew. I prefer the crew. Human interaction and relationships. Thats what Im after. Someware is an extension of that. Working alongside Brendan is an honor and a privlige.
H. – We are sure that we still have a lot to see from Cali… What are you currently working on?
Cali – I'm becoming more focused on this idea of making a feature length movie. A horror movie. I cant divulge anymore about that yet.
Im in the beginning stages of an exhibit that will occur I think in late June in Madrid.
Im working on a new collaborative brand with Yuta Hosokawa in Osaka that will see a premiere in January.
Other stuff, but thats enough!
H. – Last question… Why @caramelbobby nickname?
Cali – Caramel Bobby (rest in peace) was my beloved poodle. @caramelbobby is both a tribute to a great canine love in my life, as well as a thin veil of anonimity.