READ IN: Español
After more than two decades since its foundation, the iconic margarita brand, Loreak Mendian, celebrates its 25th anniversary with an event together with the flagship streetwear shop in Madrid, Mini Shop. We couldn't resist and attended the label's first retrospective exhibition. They also presented a collaborative T-shirt with a new version of their first logo, the Margarita.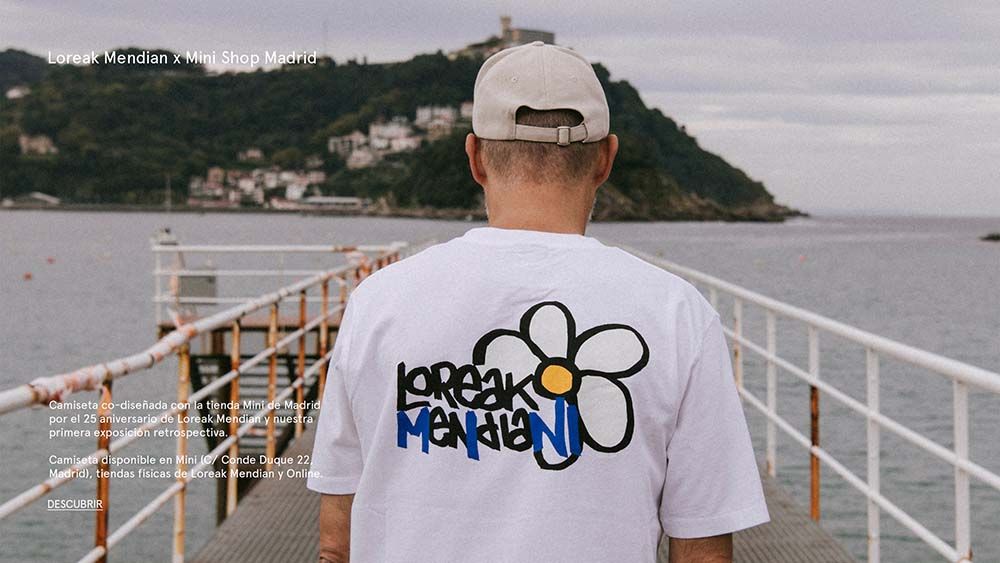 We all knowLoreak Mendian, the iconic margarita brand that has accompanied several generations in its trajectory. The label faithful to its hometown Donostia bets on high quality garments with timeless and durable designs. Dressing by Loreak Mendian means leaning towards design and functionality. A versatile way of dressing, perfect for everyday wear or for any special occasion.
The firm is committed to the environment, people and the durability of its garments. Loreak is committed to honest fashion, responsible practices and ethical materials. For this reason, most of its garments are made with organic cotton, recycled fabrics, PFC-free and with certificates that accredit sustainability. In addition, it uses technology and puts it at the service of creativity and design.
View this post on Instagram
Highxtar (H) – H25 years ago you opened the first shop in Donosti. Did you imagine at that time that you would get to where you are now?
Loreak Mendian (L) – Honestly, no. We knew we were doing something that was not abundant in Spain. We knew that we were doing something that was not abundant in Spain, we had seen it in Tokyo, London, Paris etc. but in Spain we couldn't find brands that based their designs on creativity, music, art and roots. And that's how we did it, perhaps unconsciously at first, but with increasing awareness.
(H) – What would you say has been your greatest achievement so far?
(L) – We wouldn't know which one to choose. Starting with the success of our first logo in the 90's and 00's, which gave the brand its name: the Margarita, followed by collaborating with brands such as Vans, Camper, Manhattan Portage, Sigur Ros, the Benicassim festival and even entering Colette with a capsule collection reinterpreting the mahon fabric (blue vergara) or last year managing to enter the legendary Samaritaine department store.
(H) – The daisy, the essence of Loreak, is back, stronger than ever. What has it been like to recover this generational symbol?
(L) – It was very exciting for us. We couldn't think of a better way to celebrate the 25th anniversary of the brand than going back to the origins. It was something that the public had been asking us for many years and we had to find the right moment to do it and this was it, to celebrate a quarter of a century in this world of streetwear.
(H) – Music, art and graphic design are part of Loreak Mendian. What are the artistic projects that have inspired you in 2021?
(L) – It's hard to choose. We are big fans of everything Folch Studio is doing in the world of graphic design, but especially with Acid House. It is important to train new generations in taste and know-how. As publishers like Terranova or Fulgencio Pimentel do, they always surprise us.
In music, as well as the new stuff from Homeshake, Migos, Kanye West etc., we love what Pam Pam Studios is doing, producing video clips, fashion shows, events, etc. In Donosti, where we live, new artistic collectives are emerging doing very interesting things like Zer Moduz.
(H) – Commitment to society and the environment are very present in the brand's DNA. What processes do you follow to create urban garments that are respectful of the environment?
(L) – We now have an innovation and sustainability department that is constantly on the lookout for new environmentally friendly processes and recycling of materials. This makes it much easier to integrate the resulting new materials into the creative and design processes. We design the garment and depending on its functionality we apply one fabric or another, as well as our own technologies.
View this post on Instagram
(H) – Could we then consider Loreak as part of the new smart-urban culture?
(L) – We work every day to make it happen. So that in addition to garments with a creative design, they have something that fulfils their function while respecting the environment.
(H) – MiniShop is the epicentre of streetwear in Madrid, how did the collaboration with the flagship shop of urban culture come about to celebrate your 25th anniversary?
(L) – The relationship with Mini goes back years, in the early years of streetwear in Spain there were not so many of us as we mentioned before. MiniShop has always been a reference shop, their selection of brands, their taste and above all how they create community. We admire everything they do and it was only a matter of time before we ended up doing something together, but it had to be something special, and so it was. It is the first time that the Margarita logo has been versioned, and it had to be with them. We are very happy to have finally done something together.
(H) – Can you give us a preview of any future projects?
(L) – In addition to continuing to expand our presence in different countries, we are returning to the world of trade fairs and that excites us. To be back in contact with the people in the professional sector, to travel again, etc. Because if there's one thing we do when we go to a fair, it's to take the opportunity to see what's being done in those countries: in terms of art, design, urban planning, architecture, etc.
We are in the middle of launching a collaboration with the Balenciaga Museum, a very nice project in which we have sponsored one of the pieces designed by the master and we have paid tribute to it by turning it into an illustration and putting it on a T-shirt.
In terms of innovation and sustainability for SS22 we are bringing a very cool textile recycling project that we will soon be able to start unveiling.