READ IN: Español
Beyoncé's new audiovisual prodigy, "Black is King", takes us to the roots of African culture and delights us with an unparalleled musical and aesthetic journey. Available at Disney+, the 85 minutes of footage is an unmissable treat to immerse yourself in.
As she did with "Lemonade" and "Beyoncé", the former Destiny's Child has chosen a music film to present her new work "Black is King". Deeply inspired by "The Lion King" in which Queen B gives voice to Nala, she draws a timeline that parallels that of Disney's blockbuster. The inclusion of some of the parts of the script of that film accompany the narrative of Bey's fantasy.
In this latest visual masterpiece by Beyoncé (@beyonce), the artist pays a profound tribute to African heritage. The scenery, costumes and characters involved in each scene show us a contemporary vision of an identity whose ancestral roots do not fade over time.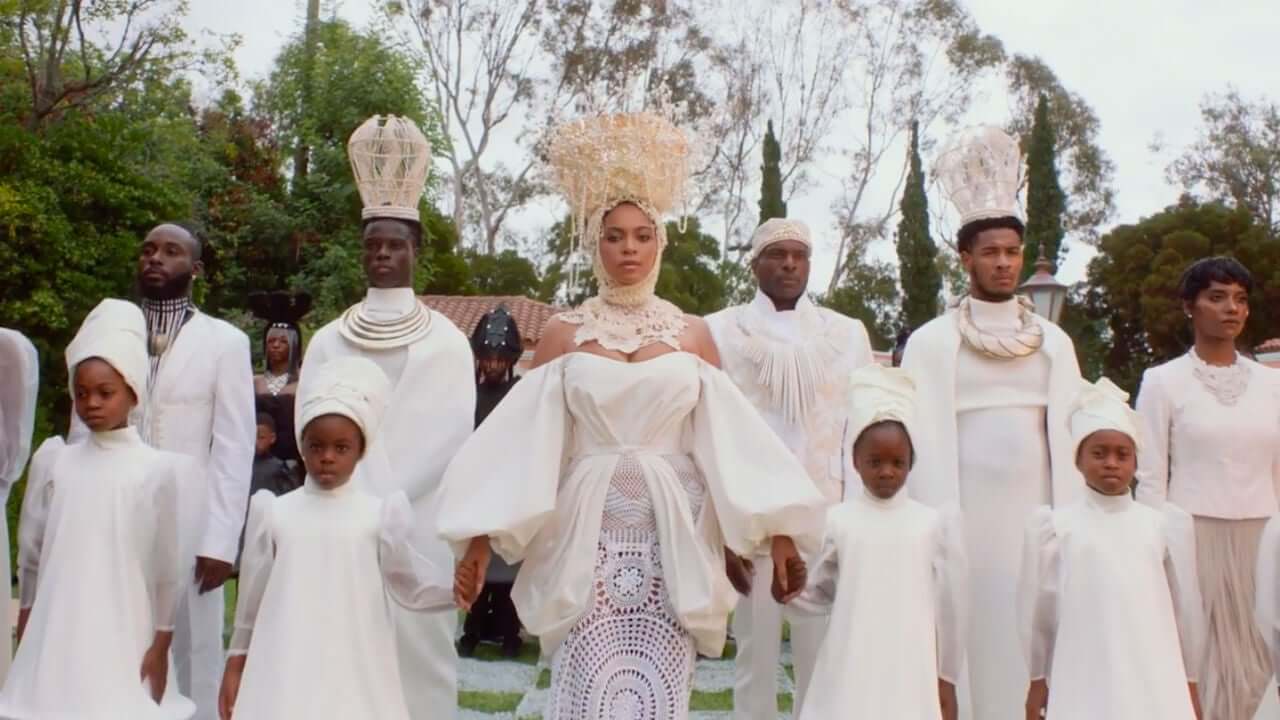 "Black is King" includes locations from USA, UK, Belgium, South Africa, Ghana and Nigeria. Beyoncé collaborated with local artists in each destination.
The symbolism on the tape is infinite. From references to the passage of Moses abandoned on the river to tributes through his wardrobe to divas of the stature of Labelle, Donna Summer or Grace Jones. The imaginary of "Black is King" is an ode to African culture and a breath of fresh air towards its imposing future.
As if Beyoncé's presence alone wasn't enough, Jay Z's partner in crime surrounds herself with the best of black power. Appearances of  Pharrell, Naomi Campbell, Lupita Nyong'o, Wizkid, Adut Akech, Tina Knowles o Kelly Rowland, known worldwide, merge with some of Africa's bests. Shatta Wale, Salatiel or Lord Afrixana bring color and freshness to Queen B's visual album with their afrobeat and dancehall beats.
About the styling
While the musical part is a jewel, the visual part is no less so. The mastery of the arrangement of all the ornamental elements of each scene is overwhelming. As it could not be otherwise, the bet for POC designers is majority. Marine Serre's  bodysuit in "Already"aims to be a staple of this season. Another outstanding piece is Burberry's custom-made corset in a cow print in this segment.
British designer Molly Goddard presents one of his AW19 designs on tape. Her tulle volumes captivated the goddess of pop.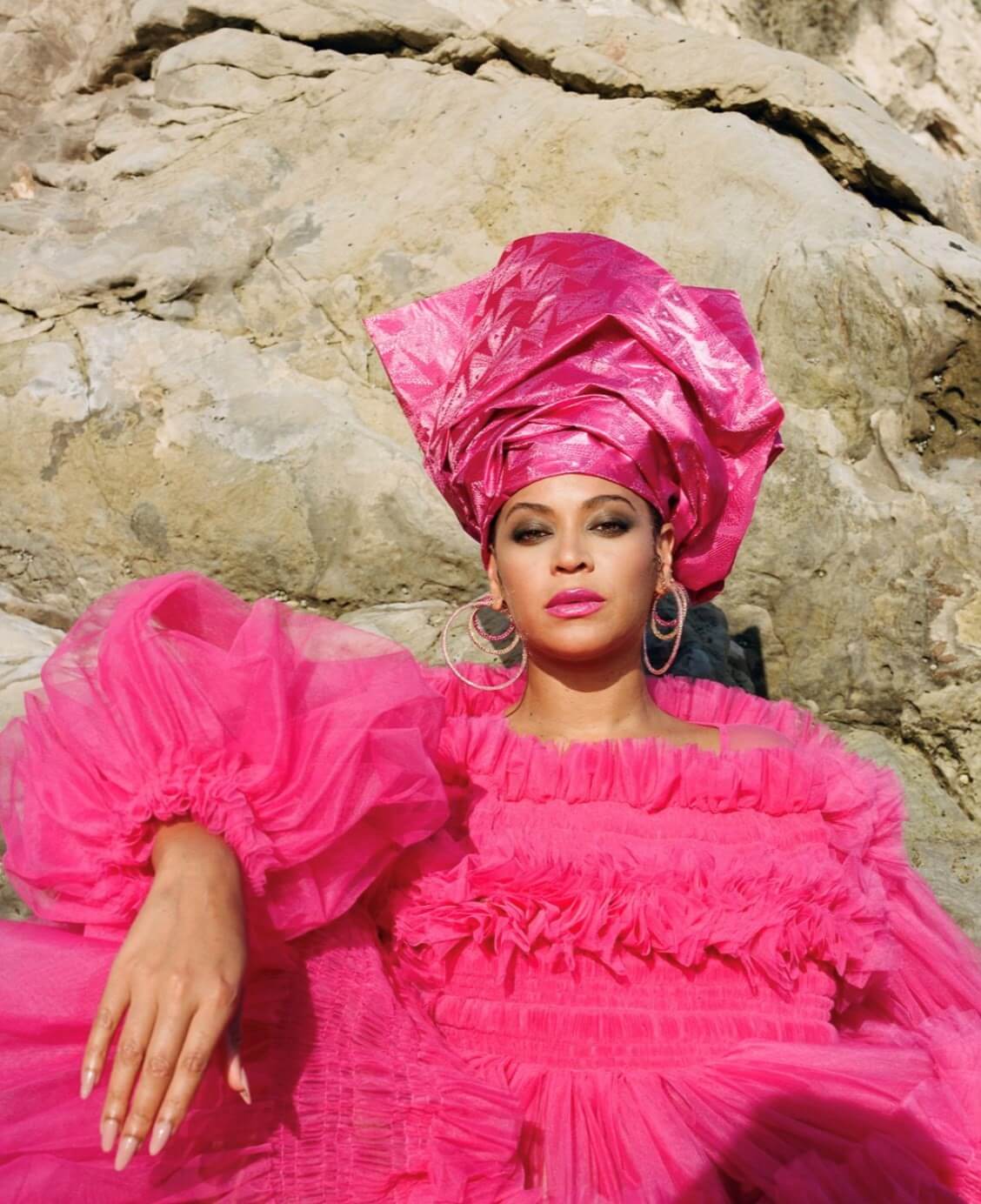 Jewelry designer Tanaya Henry has its moment of glory too by dressing Beyoncé in a superlative crystal cape. Designed a year ago, seeing Mrs Carter with it makes the wait worthwhile.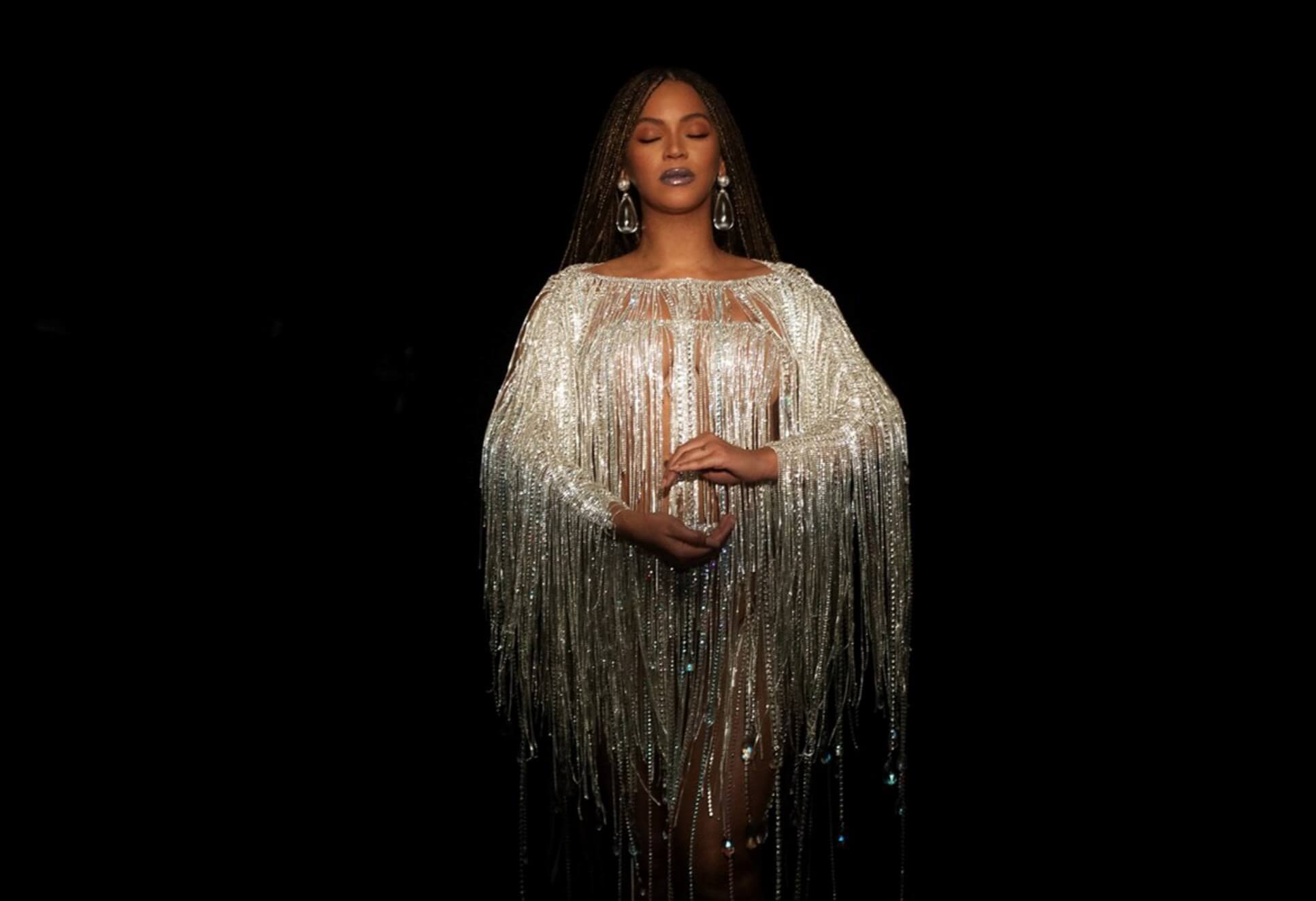 Michaela Stark, famous for her absolute exploration of all female forms, she dresses the performer in one of the most spectacular scenes in the music film. Climbing on a crane, Bey wears a silk corset and 4 meters long jeans. The infinite braids are breathtaking.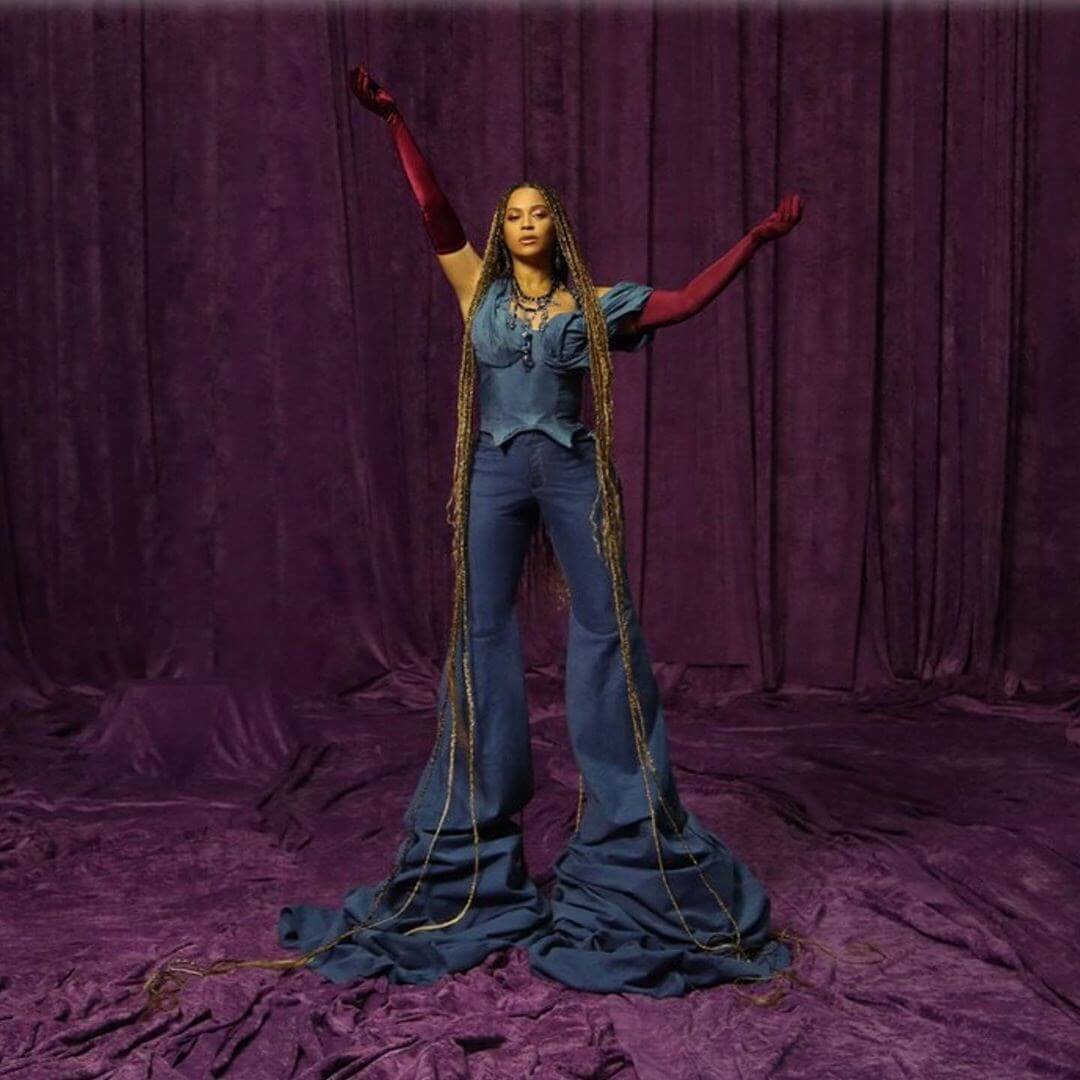 Loza Maléombho signs one of the most powerful "Black is King" looks. Born in Ivory Coast, the designer presents a jacket with a marked geometry in black and white with gold details. Kelly Rowland, Beyoncé's BFF, seems to be responsible for this addition. The former Destiny's Child has been seen wearing some of his creations before.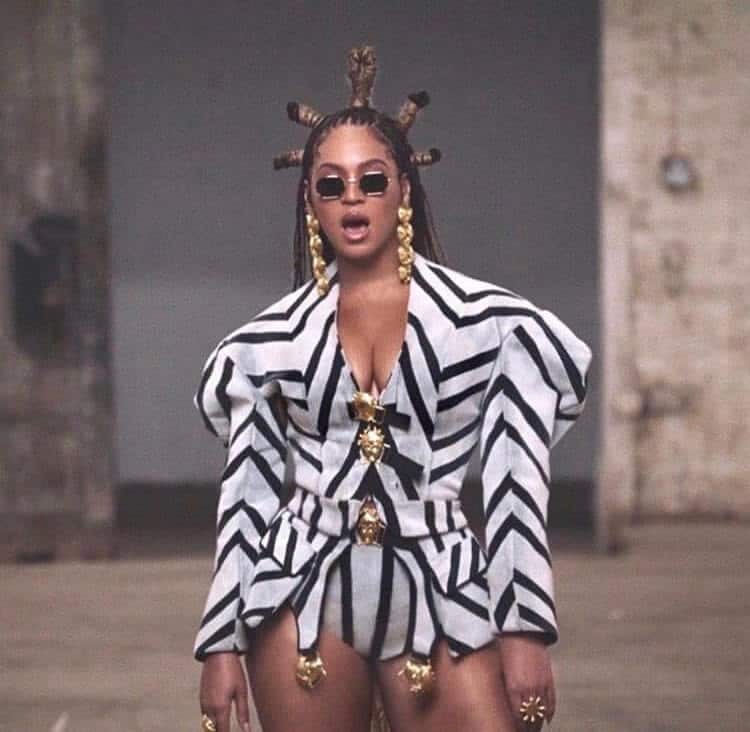 From Saudi Arabia, Ashi Studio brings the glamour in with a piece covered in stunning black feathers. This design took over 70 hours of work, and the result is huge.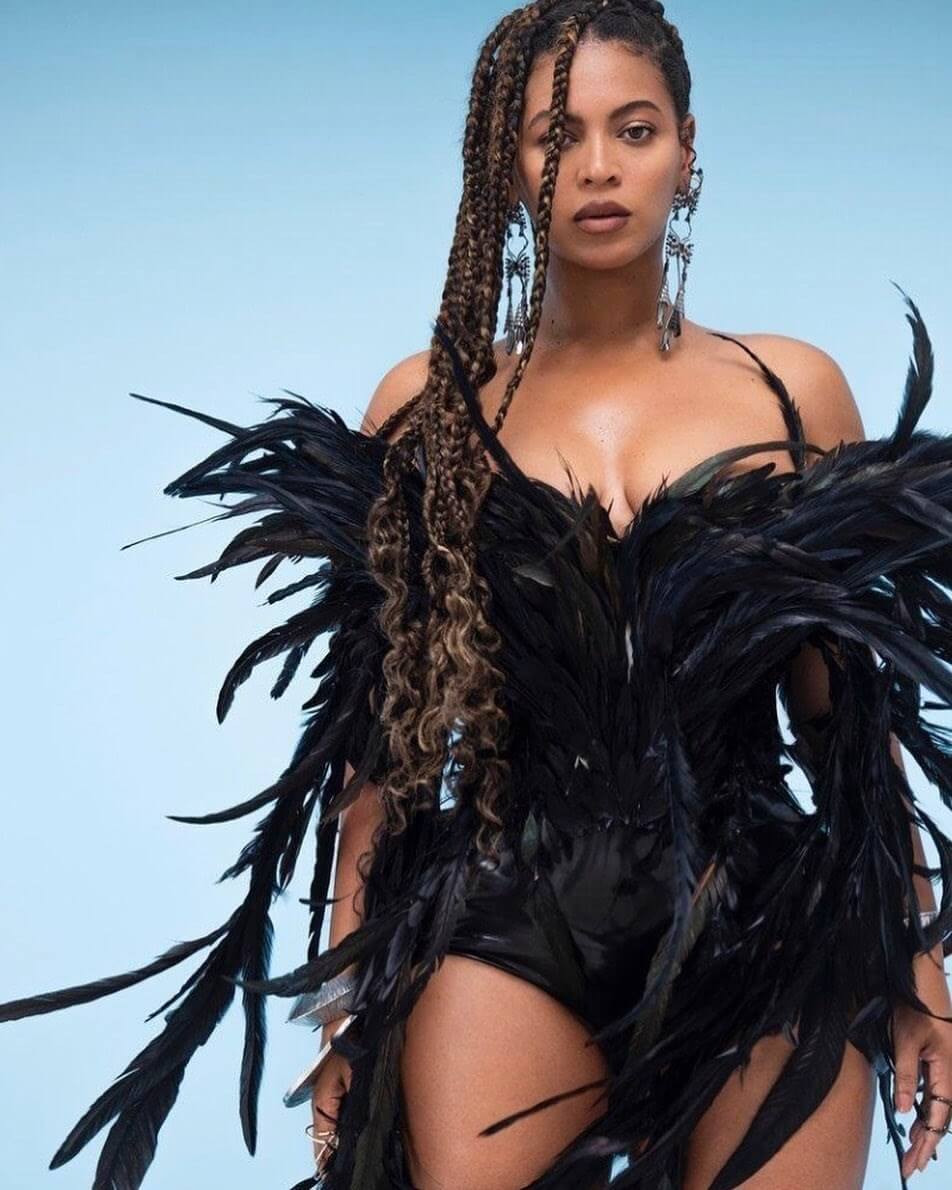 In addition to those mentioned, "Black is King" offers designs from Valentino, Area, Mugler, L'enchanteur, Alon Livné White, Erdem or Laurel DeWitt.
To top it all off, Beyoncé introduces her son Sir, raised in the air as in the scene from "The Lion King". His birth brings closure to this wonder.