READ IN: Español
Kim Jones is elevating the Dior collections to the category of museum pieces. Her collaborations are beginning to draw an imaginary loaded with artistic references and creative desires of the British genius.
Every time Kim Jones releases a collection for Dior, the fashion world comes to a standstill. Her collaborations with KAWS, Daniel Arsham and Shawn Stüssy demonstrate the line taken by the former Creative Director of Louis Vuitton. His fixation on artistic universes brings a depth to his proposals that is absolutely exceptional.
As Kim himself recalls, this time of year he was celebrating his collection show in Miami with Shawn Stüssy. A year later, he had to opt for a digital version to showcase his designs for Fall 2021.
On this occasion, the British couturier joins forces with the brilliant Kenny Scharf, a contemporary of none other than Jean-Michael Basquiat and Keith Haring. His surrealist and comic style gained him enormous popularity then, and decades later, he returns to the forefront of creative relevance. A mutual friend in Gagosian was responsible for this colorful fusion.
In Jones' words, he was organizing his home during the confinement when he found a Scharf book and he felt that, no one better than him, to represent the historical moment we are living. The brotherhood and sense of community present in the New York of the 80s was the source of inspiration to develop this proposal full of psychedelia and patterns from the Dior archive.
In these moments of uncertainty and pessimism, Kim has wanted to have fun and intends to extend that good vibe to his clients with this selection of pieces for the Fall of 2021. As expected, Scharf's colorist graphics invade many of the designs. From the ultra-popular Saddle to belts, loafers, tops… In addition, it also includes his fascination with the universe of Star Wars and The Mandalorian on the set of the virtual runway. Galactic and cosmos projections decorated the presentation.
The bohemian and deep-rooted eighties aesthetics are manifested in tailoring pieces and deeply street-inspired looks. Created between the Paris atelier and Chinese artisans, the majesty of the designs is unparalleled.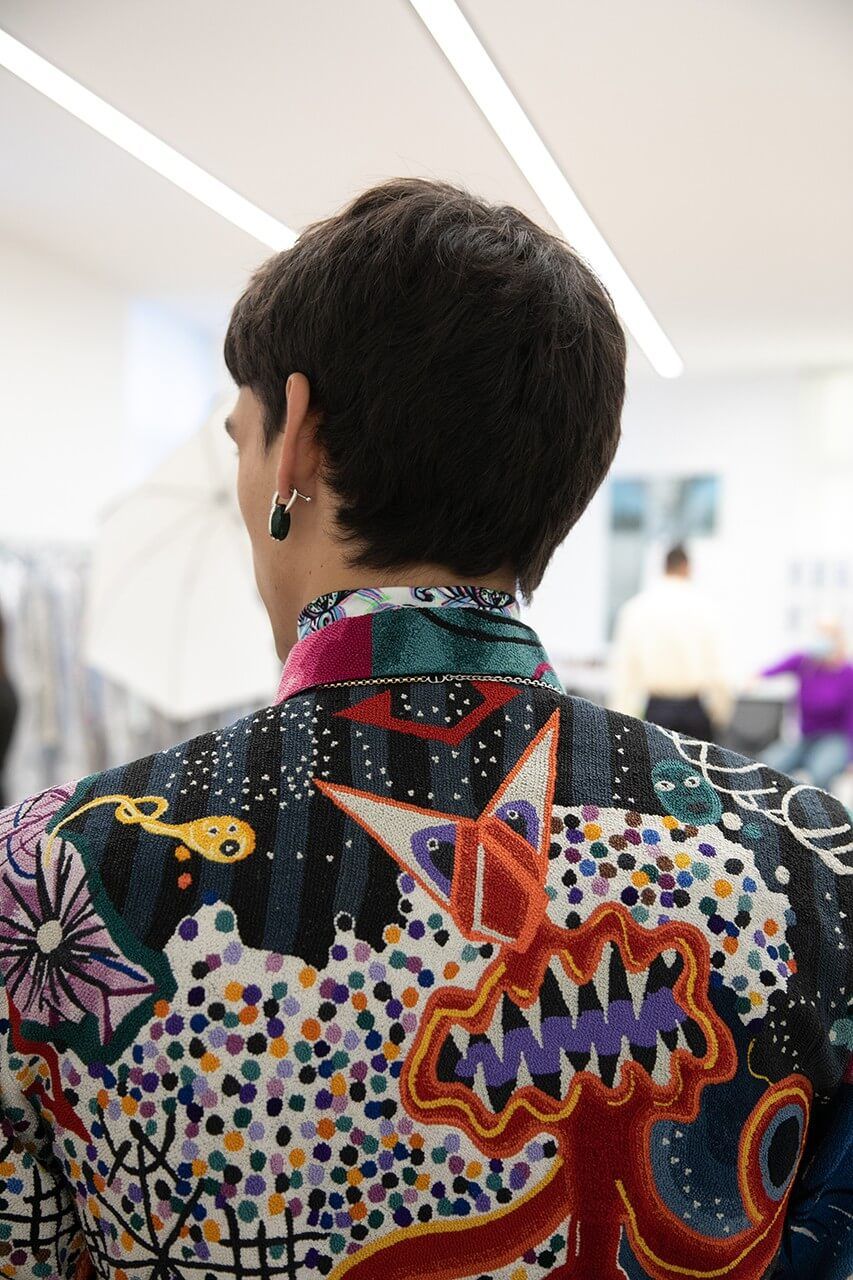 Kim Jones does not want to get stuck in the emotional slump that the world is experiencing and gives us a breath of fresh air and a palette full of color and positive energy to face 2021.