READ IN: Español
Fashion has long been a reliable vehicle for escapism from everyday life – offering, as Bill Cunningham once said, "the armor to survive the reality of everyday life.
We leave you with the parades that have truly impacted the culture, redefined the fashion landscape and even changed the way we dress.
Although we can't leave our homes, and not to think about what the June and September fashion seasons may bring, what we can do is take a step back and relive the moments that have proven to be transformative for the industry. Those that provided the blueprint for contemporary designers and that, even today, continue to inspire the entire industry.
JEAN PAUL GAULTIER FW84
It is undeniable that Gaultier's famous conical bra is a true icon of the brand. Madonna popularized it during her 1990 Blond Ambition tour, but the piece first appeared six years earlier on the designer's AW84 show.
While the silhouette has since come to define the de Gaultier brand, the designer will later claim that the shape was initially built with his childhood in mind.
MAISON MARTIN MARGIELA SS90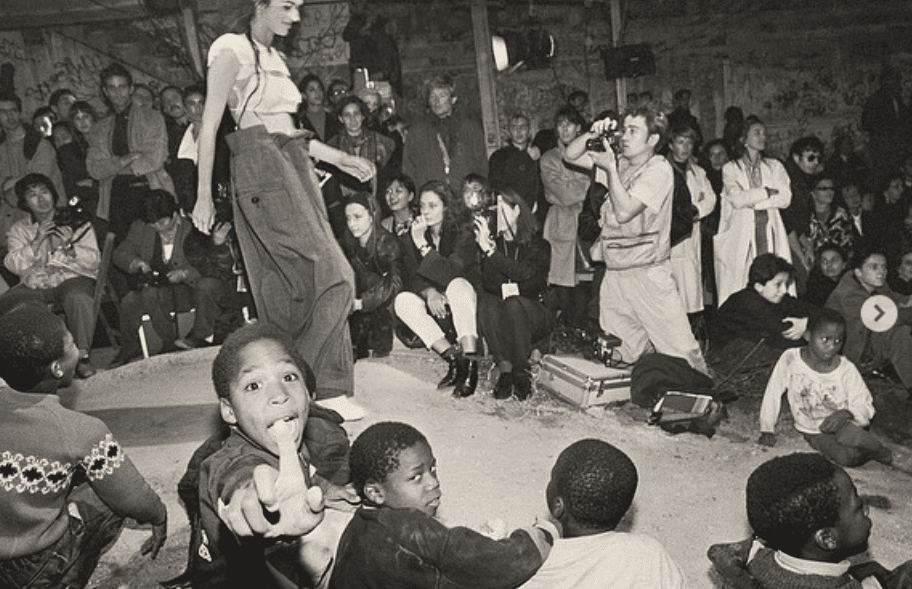 In the fall of 1989, in an abandoned courtyard in Paris' 20th arrondissement, Martin Margiela staged a show unlike anything the fashion world had ever seen: the attendees were placed in order of arrival; the front-row was full of school children; the models stumbled; the runway was uneven. The critics hated it. The industry loved it.
By the time the show started, no one knew who was the editor or who was the neighbor. "Martin hated invitations printed in calligraphy. So since it was a playground, we thought it would be an idea to have the invitations drawn by children."
"Nothing in fashion has had more emotional impact on me than Margiela's third show," said Raf Simons himself.
This is still so present that, in fact, Martine Rose held her FW20 show at his daughter's elementary school.
GUCCI FW95
"Realmente podría haber sacado cualquier cosa por esa pasarela", dijo Tom Ford a Cathy Horyn en 2015. "Era un momento en el que nadie miraba nada de lo que yo hacía". Aunque parezca insondable ahora que Ford, el hombre que sacó vello púbico en una campaña publicitaria de alta costura, realizó exitosas temporadas en Yves Saint Laurent, y posteriormente dirigió dos películas de Hollywood, estaba siendo ignorado en los 90, no fue hasta esta colección de Gucci cuando finalmente obtuvo el foco de atención.
"I really could have thrown anything down that runway," Tom Ford told Cathy Horyn in 2015. "It was a time when no one was looking at anything I was doing." Though it seems unfathomable now that Ford, the man who pulled out pubic hair in a couture ad campaign, did successful seasons at Yves Saint Laurent, and later directed two Hollywood movies, was being ignored in the 1990s, it wasn't until this Gucci collection that he finally got the spotlight.
THIERRY MUGLER FW95
Broadcasted on French television, the 1995 Mugler show has since been described as "The Woodstock of Fashion" by the New York Times, although the terms "unforgettable", "cultured" and "iconic" are also widely used to define it. One YouTube comment simply says what it is: "This is the most ridiculously glamorous thing I've ever seen in my entire jaded life.
PRADA SS96
Described by Tim Blanks as "the prettiest and ugliest Prada collection". Without a doubt, "Banal Eccentricity" was a turning point for Miuccia Prada. Just 18 years after she took over the family business, it was compared by Alexander Fury to Dior's "New Look". The show made it clear that Prada was, and is, a major player in the then very masculine fashion business.
ÇOMME DES GARCONS SS97
Officially titled "Body Meets Dress, Dress Meets Body", Rei Kawakubo's SS97 offering (largely known as the "Lumps and Bumps" collection), was significant to the point of surpassing the fashion industry as it offered a different approach to what everyone was doing. "I didn't expect them to be easy to wear every day," she would later write in the book UNLIMITED: COMME des GARÇONS.
RAF SIMONS SS98
"Black Palms", the name of both the SS98 collection by Raf Simons and the book that accompanied it, was the sixth sartorial offer from the Belgian designer and the second one to be presented with a show, but it is still for many his most important proposal.
Did you know that the model casting was done through radio ads?
ALEXANDER MCQUEEN SS01
It's true that most of McQueen's collections marked a before and after. However, the designer's 2001 show, entitled Voss, was on a different level.
Few (if any) fashion shows have come close to leaving the same impression. "It was like being in a Kubrick movie," said Michelle Olley, the show's undisputed star.
YVES SAINT LAURENT SS02
Goodbyes are always iconic. Designers seek to crown themselves and thus retire to be remembered as great. The end of Yves Saint Laurent's career was to be no less. The show, which lasted over an hour, was a big hit.
The show was followed by more than 3,000 people: 2,000 guests who attended the show at the Centre Pompidou in Paris and another thousand who gathered outside to watch it from a big screen.
–
VIA: DAZED