This week we were fortunate to be able to share with the ARMES guys the whole creative process that accompanied the anniversary of the Barcelona's concept store Wer-Haus. During these days we have understood how it is, what it is and how ARMES works and now we are ready to share it with all of you.
Esta semana hemos tenido la suerte de poder compartir con los chicos de ARMES todo el proceso creativo que acompañó el aniversario de la concept store de Barcelona Wer-Haus. Durante estos días hemos comprendido como es, qué es y como funciona ARMES y ya estamos listos para compartirlo con todos vosotros.
ARMES began as a project of three, however today it is composed of many people with great talent and artistic concerns that are grouped under that name. During the first days of the week, Philipp, Thomas Koenig, Issam (Tedeski), Serge and Yves, part of the team of ARMES & Rue Saint Laurent, have not stopped working with the objective of creating a unique 360º experience … and certainly they have achieved .
ARMES empezó como un proyecto de tres, sin embargo hoy en día se compone de muchas personas con gran talento e inquietudes artísticas que se agrupan bajo ese nombre. Durante los primeros días de la semana, Philipp, Thomas Koenig, Issam (Tedeski), Serge e Yves, parte del equipo de ARMES & Rue Saint Laurent, no han parado de trabajar con el objetivo de crear una experiencia 360º única… y sin duda lo han conseguido.
ARMES is a project that covers everything from the creation of streetwear, music through its ARMES NOISE platform, visual art, art installations, etc. It is undoubtedly one of the largest European exponents of concept brands.
ARMES es un proyecto que abarca todo desde la creación de streetwear, música a través de su plataforma ARMES NOISE, arte visual, instalaciones de arte, etc. Sin duda es uno de los mayores exponentes europeos de las marcas de concepto.
For the Wer-Haus anniversary, five exclusive pieces have been created: a crewneck, a long-sleeved T-shirt, a belt, a 5 panel and a bracelet. The creative process of each of them has been long and tedious, one of the maxims of ARMES is the DIY (do it yourself) and we can assure you that they take this technique to the next level. To make the sweatshirts have been working non-stop for five days! The pieces are very carefully made garments and each imperfection that is part of the design is the result of the organic process of creation that gives a great added value to it.
Para el aniversario de Wer-Haus se han creado cinco piezas exclusivas: un crewneck, una camiseta de manga larga, un cinturón, un 5 panel y un brazalete. El proceso creativo de cada una de ellas ha sido largo y tedioso ya que una de las máximas de ARMES es el DIY (házlo tu mismo) y os podemos asegurar que llevan esta técnica al siguiente nivel. Para hacer las sudaderas han estado trabajando sin parar durante ¡cinco días! Son prendas muy cuidadas y cada imperfección que forma parte del diseño es fruto del proceso orgánico de creación que le da un gran valor añadido a la misma.
From four days before the celebration ARMES boys have been involved in the creation of the installation led by Thomas Koenig and the creation of the clothing capsule. Between laughs, talks and effort they have managed to create something unique and different for the first time in Barcelona for lovers of concept brands.
Desde cuatro días antes a la celebración los chicos de ARMES han estado volcados en la creación de la instalación dirigida por Thomas Koenig y la creación de la cápsula. Entre risas, charlas y esfuerzo han conseguido crear algo único y diferente por primera vez en Barcelona para los amantes de las marcas de concepto.
Saturday afternoon everything was ready and it was time to celebrate. The result of a week of incessant work you can judge it with this photo. The effort always has a reward and here it becomes clear. The pieces of the collaboration was a special price during the event, for example 180€ for the crewneck and 90€ the t-shirt, very economical taking into account the whole process behind each one of the garments. ( Now you can buy it here a regular price).
El sábado por la tarde todo estaba listo y era el momento de celebrarlo. El resultado de una semana de trabajo incesante podéis juzgarlo vosotros mismos con esta foto, pero creemos que sobran las palabras. El esfuerzo siempre tiene una recompensa y aquí se hace patente. Las piezas de la colaboración tuvieron un precio especial durante el evento de presentación, por ejemplo 180€ el sweat y 90€ la camiseta, muy económico teniendo en cuenta todo el proceso que hay detrás de cada una de las prendas. (Puedes comprarla ahora a precio regular aquí).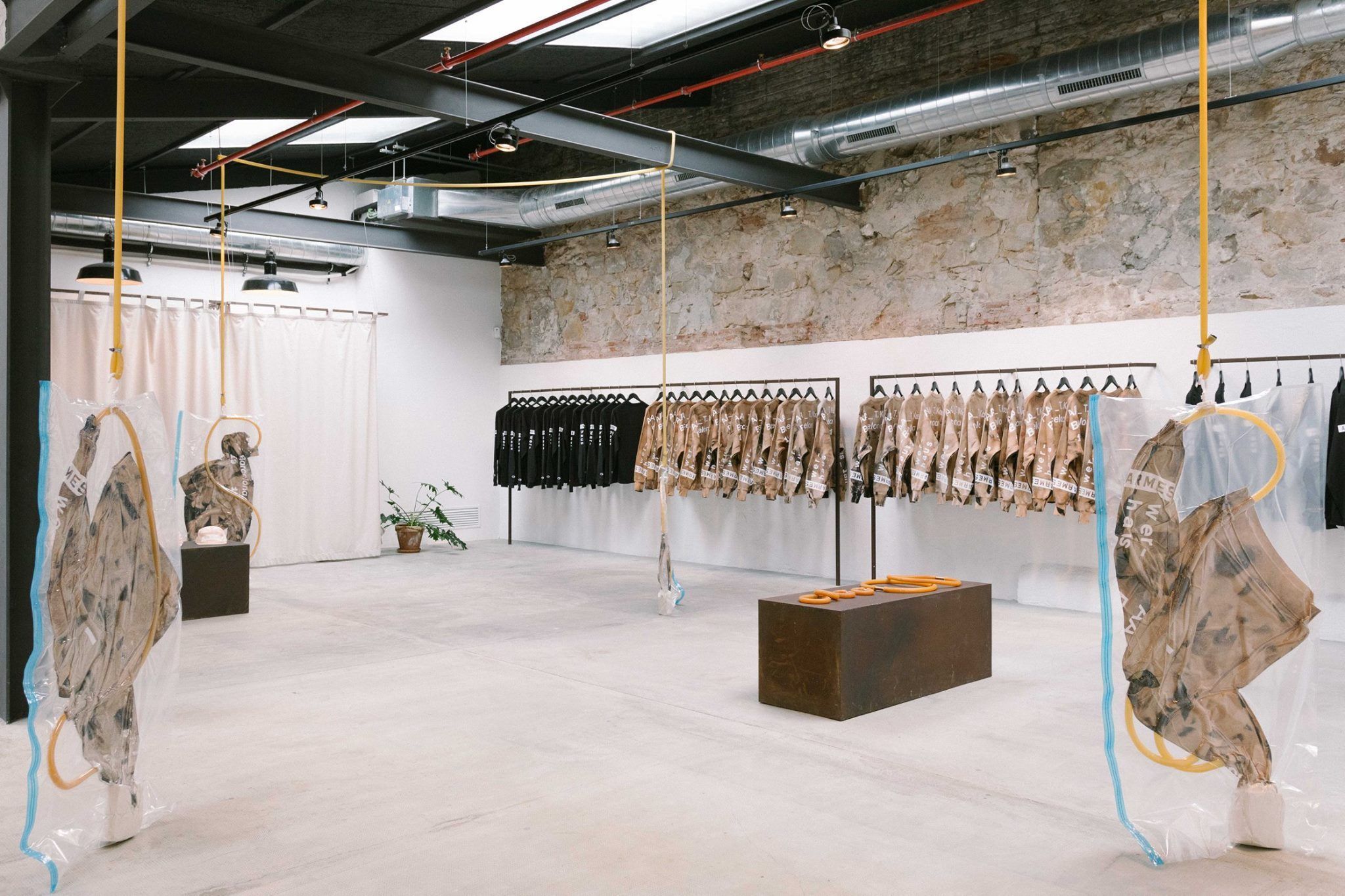 As we mentioned in this previous post the Swiss collective based in Lausanne is very well connected and their project has an international presence in the most important sites of the streetwear's world as: 424Fairfax or GR8 Tokyo.
Como comentábamos en este post anterior el colectivo suizo con base en Lausanne está muy bien conectado y su proyecto cuenta con presencia internacional en los sitios más importantes del streetwear mundial como: 424Fairfax o GR8 Tokyo.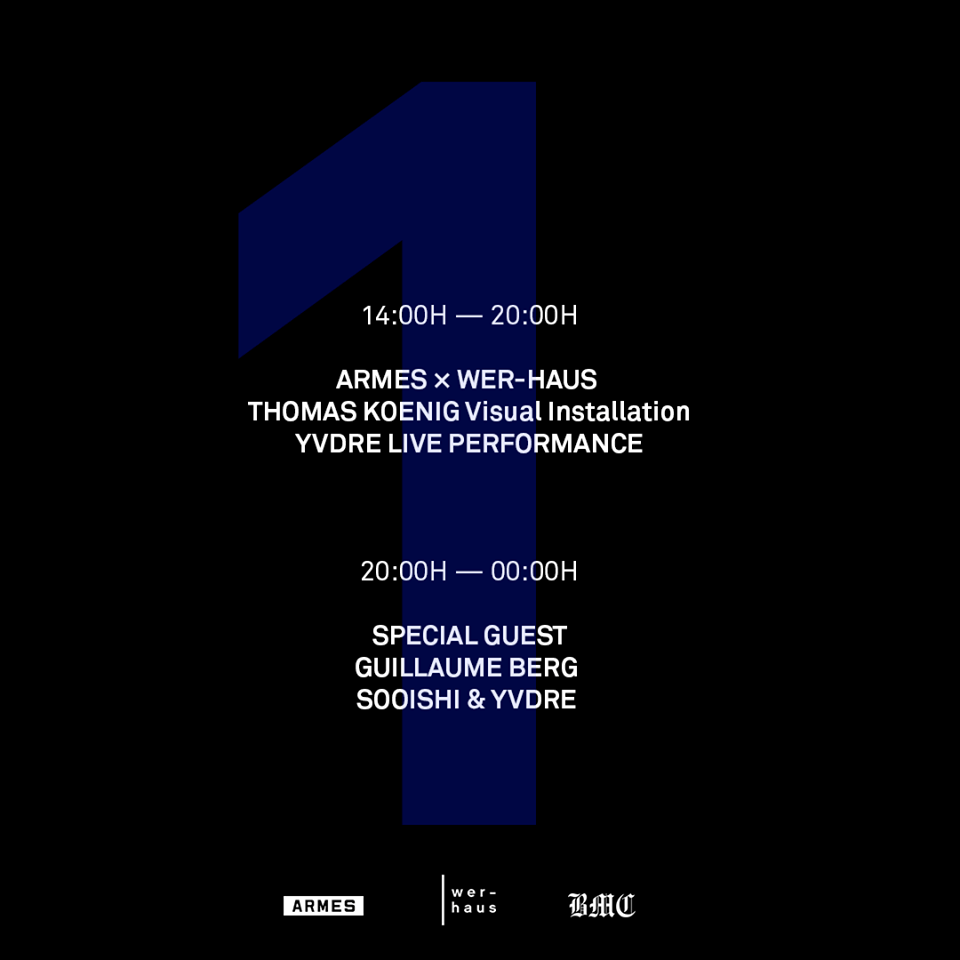 Finally after a hard week came the time to party, and there they were all, the group of ARMES and the friends of Bromance Records that together with Sooishi & YvDre were in charge of the music; On behalf of BMC we were able to enjoy Guillaume Berg & Brodinski. A perfect evening that put the end point to one of the best events I remember in Barcelona. ARMES managed to create an authentic experience that together with the collaboration with Bromance Records and Wer-Haus became something unique.
Finalmente Después de una dura semana llego el momento de la fiesta, y allí estaban todos, el colectivo de ARMES y los amigos de Bromance Records que junto a Sooishi & YvDre se encargaron de la música; en representación de BMC pudimos disfrutar de Guillaume Berg & Brodinski. Una velada perfecta que puso el punto final a uno de los mejores eventos que recuerdo en Barcelona. ARMES logró crear una experiencia especial que junto a la colaboración con Bromance Records y Wer-Haus se convirtió en algo único.
From HIGHXTAR. we would like to thank Philipp, Thomas, Issam, Yves, Sooishi, Serge, Julien & the entire ARMES team for hosting us as one more of the team. Thanks!
Desde aquí queremos dar las gracias a Philipp, Thomas, Isaam, Yves, Sooishi, Serge y a todo el equipo de ARMES por acoger a HIGHXTAR. como uno más ¡Gracias!
–
ARMES > www.armesarmesarmes.com
BROMANCE > www.bromancerecords.com
WER-HAUS > www.wer-haus.com
Sigue toda la información de HIGHXTAR desde Facebook, Twitter o Instagram