READ IN: Español
Looking for new music? Don't worry, getting bored even with our own playlists happens to all of us. That's why from Highxtar we wanted to be that friend who replies to your stories sticker recommending songs, to show you, from this article, our prediction about the top 10 alternative artists of this 2022. Ready?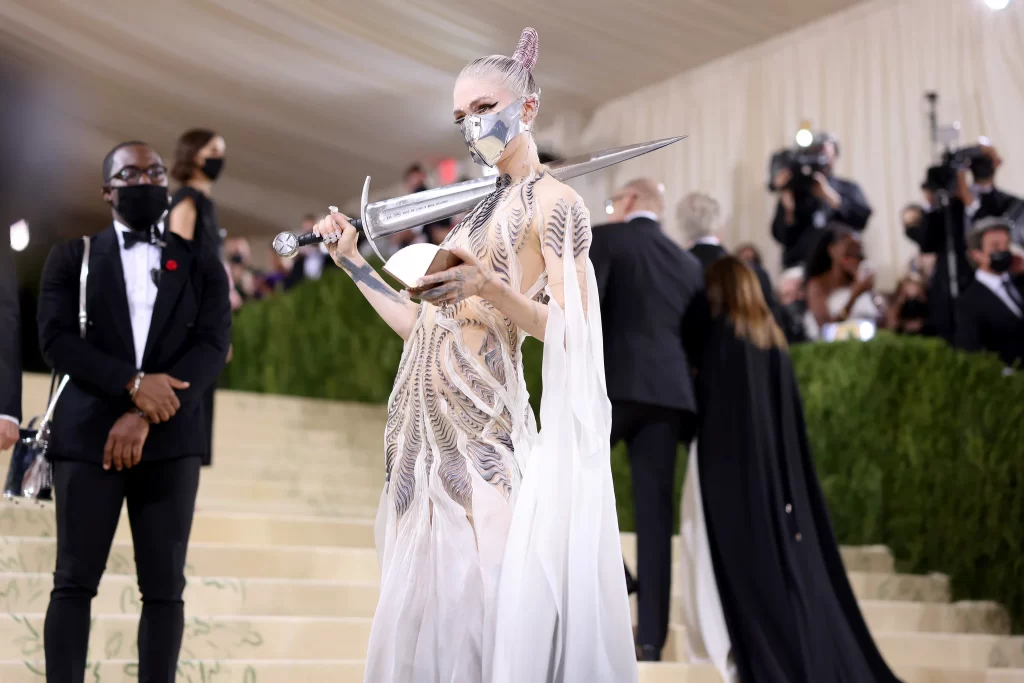 Grimes at the 2021 MET Gala
As one of the great promises of pop-experimental production, we present Sega Bodega and his single Only Seeing God When I Come, as part of his second album Romeo. The concept of this album revolves around Luci -Lucifer-, a being of light that illuminates everything around him and everything he comes in contact with.
Player Of Games, is the latest release and premiere of the new era of Grimes. It depicts a love story full of excess and toxicity that represents through a chessboard and a battle of laser swords between light and darkness. The music video also transports us to an artistic universe in which medieval and cyberpunk concur in the same space-time. Its lyrics, full of questions like this: "If I loved him any less, I'd make him stay".
Positioning herself as one of the most committed artists of the American underground scene, Eartheater, surprised the whole planet with her last album Phoenix: Flames Are Dew Upon My Skin, where the sweetness of voice melted into a classical music retouched with electronic sounds. Now, she presents Scripture, and we, dumbfounded, can only admire her work and keep waiting for new releases.
She has just released her latest album since 2020, The Incompatible Okay Kaya, and, recreating the B.S.O. of any american romantic film, it is the ideal complement for when your high school boy you have a crush on has given his last cigarette to the girl in the last row instead of you…
070 Shake is the improved version of the concept 'persona sad tumblr skater', because, literally, she gathers all these characteristics. Her music, somewhere between hip-hop pop-experimental, and her androgynous voice have given us authentic works of art. Her last album, Modus Vivendi, was released in 2020 and was so successful that she released it again that same year, but only with the instrumentals. After releasing several collaborations for other artists, she releases Lose My Cool, in which she explains that she will never stop keeping her feet on the ground despite her fame and admiration from all over the world.
Her music has come at the exact time it was supposed to. Rap already had little avant-garde to offer and without anyone knowing where it came from, goes Shygirl and releases her song BB in 2019. Melting her sound into a super characteristic virtual imagery she released in 2020 her first EP Alias. Now she surprises us with a breakthrough in her productions materialized through the single Cleo, which personally, reminds us a bit of the mainstream David Guetta moment.
With her latest EP One just released, Coucou Chloe returns to fuse electronic productions with her slow and relaxed voice. Her song Wizz has a videoclip and we leave it here for you to begin to appreciate this artist who is also marking a milestone in the new musical revolution.
If you haven't heard of it yet, I don't know where you are hiding. Arca is marking a new aesthetic and way of conceiving the sound of music as we know it today.  A few months ago she released a total of four albums in less than a week, a record a day. Each one represents a moment in her life and as a whole, her transition as a non-binary transgender person. This is a warning: if you want to be 100% on what she sounds like, you have to dig into the journey, collaborations and productions of this artist.
The new black latex queer sensation has a professional name and it's Cobrah. His music seems to hide two sides, or maybe it is rather a battle to discover your darker side. Pure avant-garde and experimental sound: the claim of what we demanded the new generations in the scene.
Last but literally not least, we bumped heads with Caroline Polachek, or as I like to call her: the new way of conceiving pop music. You've probably heard of her, but her organic ft. virtual aesthetic and sound had to be in our ranking. We are betting big on this artist, who we are sure will bring us many surprises this new year.
This has been our ranking of 2022 artists, but if you want to be aware of many other things remember that you can go through our Instagram profile.