READ IN: Español
A few days ago, Vogue Portugal (@vogueportugal) published a series of four covers representing their new "Madness Issue". One of the covers provoked an immediate reaction by presenting a model in what looks like a psychiatric ward. The images were not only insensitive and out of context, but also incredibly damaging to the current conversation about mental health.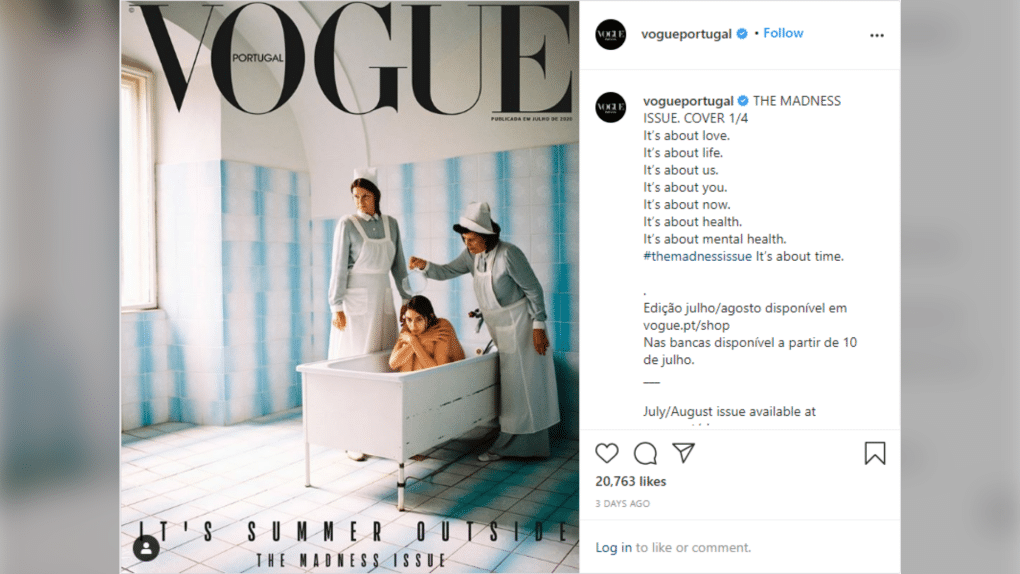 Now, the magazine has decided to withdraw the new cover and has responded with a statement on Instagram. "On an issue as important as mental health, we cannot be divided. Vogue Portugal has decided to withdraw one of the four covers of our July/August issue, which shows a scene from a psychiatric hospital, as well as the inside cover story based on the mental health issue. Vogue Portugal deeply apologises for any offence or inconvenience caused by this photo shoot. On reflection, we realize that the issue of mental health needs a more thoughtful approach. We sincerely apologize for this," wrote the magazine which, by the way, decided not to remove the previous images from its feed.
"On reflection, we realize that the issue of mental health needs a more thoughtful approach.
After the initial reaction, editor-in-chief Sofia Lucas (@sofia.slucas) defended the magazine's decision to publish the cover, writing that: "We recognize the importance of the issue of mental health and our intention, through visual storytelling, is to shed light on the important issues of today.
"The cover story explores the historical context of mental health and is designed to reflect real life and authentic stories. It is inspired by in-depth research of hundreds of reportage photographs by some of the most relevant and famous documentary filmmakers that mental health hospitals have captured," she added. Of course, Sofia Lucas received another wave of criticism. Users said the images not only perpetuate a stereotype of mental health facilities that don't match the real world, but also increase the stigma surrounding mental illness.